Looking For Texas Tech Scholarships? DoNotPay Will Help!
Getting an education at Texas Tech University can cost you from $9,300 (for in-state students) to $19,260 (for out-of-state ones) at minimum. The best way to cover these expenses is to look into Texas Tech scholarships. Gift aid allows you to pay for college without accumulating an overbearing debt.
Our guide will present:
Different types of scholarships
A procedure for finding the best aid options
The application process
A nifty tool for discovering and applying for aid within minutes
What Texas Tech Scholarships Are There?
Students who attend Texas Tech can finance their studies through a variety of college scholarships. The types of gift aid you should look into are the following:
General scholarships
Presidential merit scholarships
National merit scholarships
Current students scholarships
Transfer students scholarships
Departmental awards
External scholarships
General Scholarships
Texas Tech incoming students are automatically considered for general scholarships. When you submit your admission application as a high school senior, you become a candidate for the school's gift aid. Applying for admission early on increases your chance of getting an academic award.
Presidential Merit Scholarships
First-time freshmen can be rewarded for their exceptional academic achievements with a Presidential Merit Award. The amount depends on your high school rank and test score.
The scholarship is annual. One part goes towards the fall and the other for the spring term.
National Merit Scholarships
If Texas Tech University is your first choice and you are a qualifying freshman student, you can get a National Merit Scholarship. This financial aid will cover federally approved expenses such as tuition, fees, books, accommodation, transportation, and allowance.
Current Students Scholarships
Texas Tech made it easy for continuing students to apply for aid. If you are looking for a way to finance your following year at this school, you only need to submit one request. There is a single university application that turns you into a candidate for more than 4,000 internal scholarships.
Transfer Students Scholarships
Students who are transferring to this university are eligible for gift aid as well. Transfer students have two college-based aid opportunities:
| Scholarship Name | Award | Transferable GPA Hours | GPA |
| --- | --- | --- | --- |
| Presidential Transfer Scholarship | $3,000 per year | 30 | 3.0 |
| Proven Achievers Scholarship | $4,000 per year | 60 | 3.5 |
Departmental Awards
Each college within Texas Tech University has specific scholarships for its students. You can get more information about the aid that your department offers by contacting its staff.
External Scholarships
Internal financial aid isn't your only option. Expand your search to outside donations as well. You can get more money by looking into programs based on your unique characteristics.
Foundations, organizations, companies, philanthropists, and other private funders provide money for students who support their cause in some way. You can be surprised by a variety of external scholarships dedicated to different categories, such as:
How To Find a Texas Tech University Scholarship
There are numerous scholarships in Texas and at your university that you might be eligible for. Where to find these aid options? You need to turn to several sources, including:
Texas State financial aid and scholarship office
Texas Tech financial aid office
Local foundations and organizations
Your church
Internet
A better and simpler way of surfacing scholarship opportunities is with the DoNotPay app. You can get an overview of all gift aid you are eligible for within minutes. Our app will even include info on requirements, deadlines, and award amounts.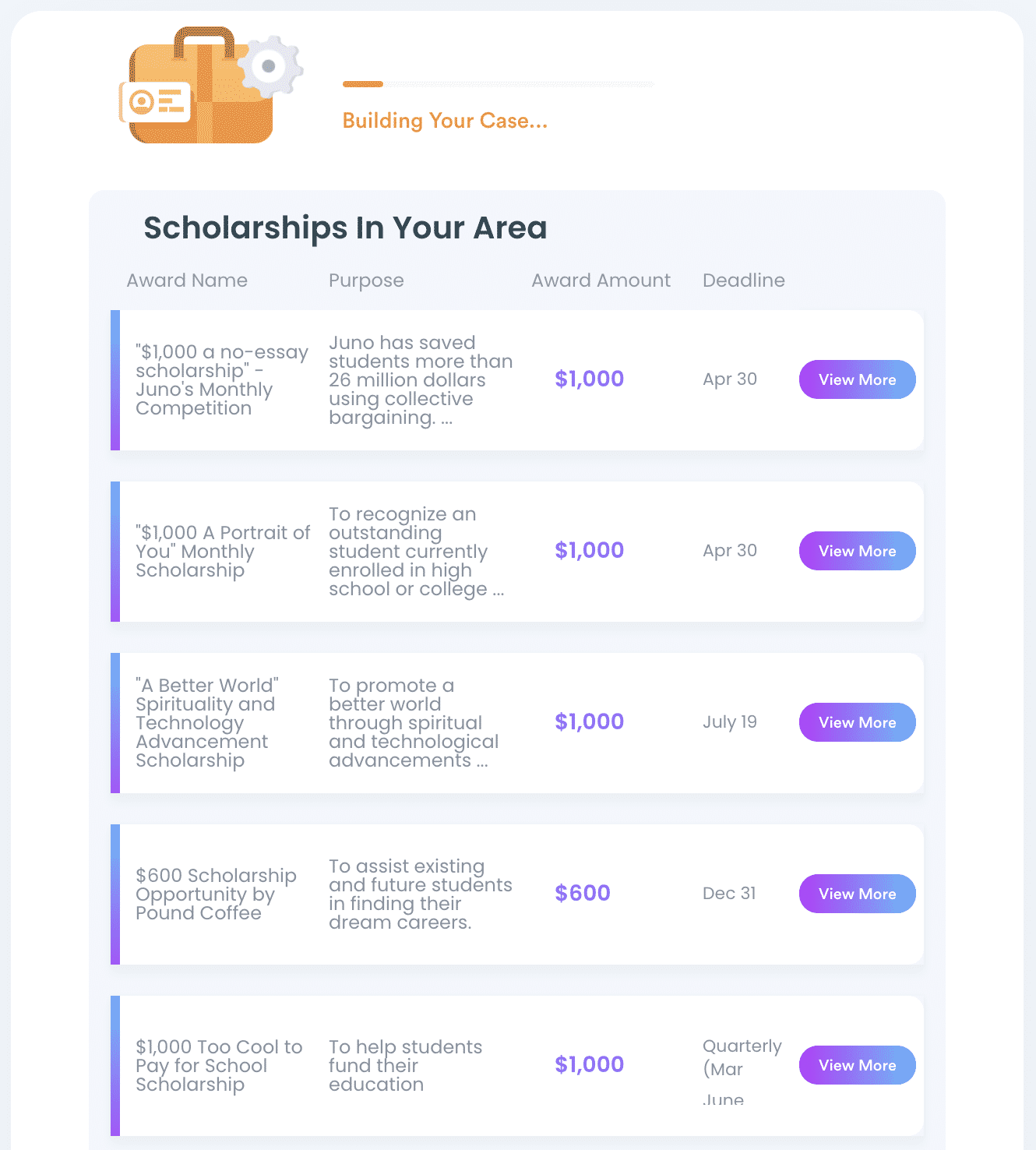 What You Must Know About Texas Tech Scholarship Application
To receive a college scholarship at Texas Tech, you must meet the following requirements:
Be a full-time student
Have and maintain a 3.25 GPA or higher
Compose a Thank You Letter to the donor
Go to a Donor Appreciation breakfast
Certain scholarship programs assess your financial need. To be eligible for those types of aid, you will need to complete the Free Application for Federal Student Aid (FAFSA) form. If you are a Texas resident and a non-US citizen, you'll need the Texas Application for State Financial Aid (TASFA).
You can apply for Texas Tech gift aid by using one of the following methods:
ApplyTexas application
CommonApp
Outside scholarships usually have their unique procedures, so check on their websites to find out what the requirements and application steps are.
Besides filling out the forms, you might also need to supply the following:
Applying for Texas Tech scholarships comes with a $75 fee. If you are considering several colleges, these additional costs can amount to hundreds of dollars. You might be able to waive the fee if you follow our guide.
Texas Tech Scholarship Deadline
Don't miss a chance to apply as soon as possible. Check out the table below and find out when you can send your scholarship request to Texas Tech University:
| Application | Opening Date |
| --- | --- |
| ApplyTexas and Coalition Application | July 1 |
| Common App | August 2 |
| Continuing Student Scholarship Application | October 1 |
| FAFSA | October 1 |
In terms of deadlines, these are the dates you need to respect:
| Scholarship | Deadline |
| --- | --- |
| Spring Priority Scholarship | November 1 |
| Fall Priority Scholarship | December 1 |
| Continuing Student Scholarship | February 1 |
| Incoming Freshmen Merit Scholarship | June 1 |
Apply for a Texas Tech Scholarship Stress-Free With DoNotPay
Get your tailored list of all available scholarships and grants with the help of DoNotPay. Our AI-powered app can find the right aid for high school students, undergraduates, graduates, doctoral, or international students in less than three minutes.
All you need to do is follow these easy steps:
Subscribe to DoNotPay and log in
Select the Apply for Scholarships tool
Answer a few simple questions about your academic level, grade, interests, and similar
Review the list and apply for no-essay scholarships in the app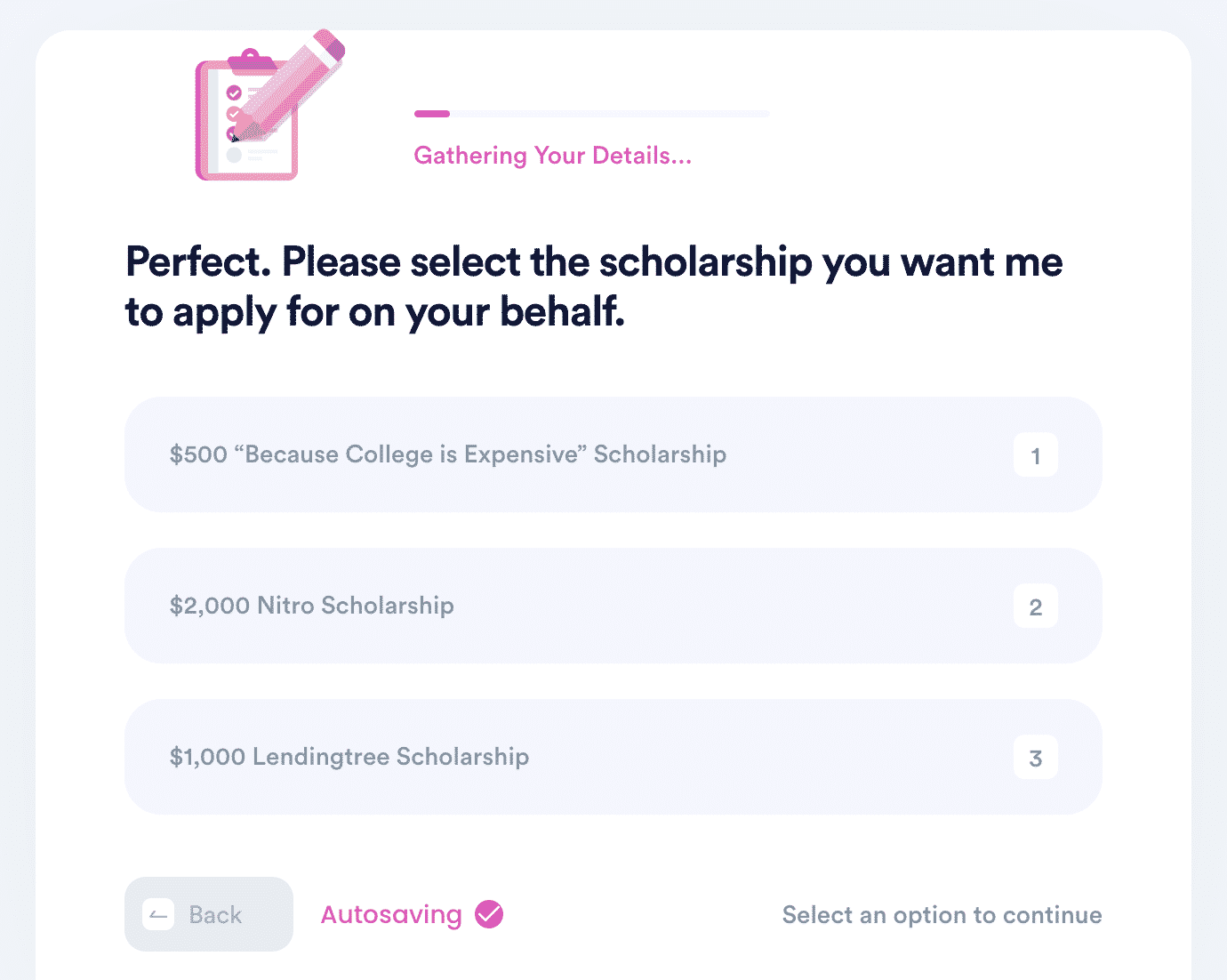 Anything Else You Need?
DoNotPay offers an exhaustive range of products and services for one low monthly fee. You can take full advantage of our offer once you resolve the issue at hand.
Our app can both save you money and help you earn it—sign up to appeal parking tickets, get assistance with utility bills, get compensation from airlines, request a refund, have your college application fees waived, find your missing money, reduce property taxes, enter any sweepstake, or send a financial aid appeal letter to any school.
We can also turn your gift card balance into cash, help you apply for scholarships, and assist you in getting compensation as a victim of crime.
There's Even More to Our Offer
The world's first robot lawyer can turn any nightmarish admin or legal procedure into a piece of cake. Look into our knowledge base to find out how to send a letter of warning to your bad neighbor, submit an anonymous complaint to your HR, fight workplace discrimination, get access to public records, deal with a stalker or harasser, put an end to robocalls, and file a complaint with any company.