All Questions About Texas A&M Scholarships Answered
If you want to become an Aggie, you need to prepare around $30,000—if you are a resident—or a whopping $60,000 as an out-of-state student. Where to get that kind of money? Texas A&M scholarships are the perfect solution.
Some types of financial aid—such as loans—need to be repaid, which isn't the case with scholarships. If you manage to find programs you qualify for, you can get free money and study at Texas A&M University (TAMU) stress-free.
Prepare to collect all awards you can receive with the help of our simple guide. DoNotPay reveals the best scholarships at TAMU and gives you guidance on how to apply.
Types of Texas A&M University Scholarships
You can win grants and scholarships for different levels of studies and a variety of purposes. Start looking into your possibilities by reviewing the following categories:
Freshmen scholarships
Current students scholarships
Graduate students scholarships
International students scholarships
Transfer students scholarships
Regional scholarships
Additional scholarships
Texas A&M University Scholarships for Freshmen
High school seniors can consider the following university aid opportunities for freshmen:
President's Endowed Scholarship—$3,000
Lechner Scholarship—$2,5000
Century Scholars Program—$5,000
Dependent Children of Texas A&M Employee Scholarship—$500 to $2,000
Opportunity Award—$100 to $15,000
McAllen Higher Education Center Scholarships—$2,500

Veterans

Scholarships—Amount varies
Century Scholarship—$5,000
College and department scholarships—Amount varies
Texas A&M University Scholarships for Current Students
Undergraduates at TAMU—including sophomores, juniors, and seniors—can get scholarships such as:
Academic Excellence Award—Amount varies from $500 for one year up to $10,000 for three years
Aggie Ring Scholarship Program—$25,000 or more
Dependent Children of Texas A&M Employee Scholarship—$500 to $2,000
Scholarships for

students with disabilities

—including:

Carter Logan Crews Memorial Scholarship—$2,000
Cory Douglas Monzingo '11 Endowed Memorial Scholarship—$1,125
Lott-Sadow-Cleveland Scholarship—$4,000

Southerland Aggie Leadership Scholarships—$4,000 or more
Education abroad scholarships—$500 to $2,000
College and department scholarships—Amount varies
Texas A&M University Scholarships for Graduate Students
Your wish to pursue a graduate degree can be rewarded with the University aid programs like the ones listed below:
Graduate Assistantships—Amount varies
Graduate Fellowships—Amount varies
College and department scholarships for graduates—Amount varies
Texas A&M University Scholarships for International students
International students have a chance to get financial assistance from TAMY directly. Some of the programs they can be eligible for are:
International Freshman Scholarships—Amount varies
International Transfer Scholarships—Amount varies
International Continuing Student Scholarships—Amount varies
Nursing Scholarship Program—Amount varies
Healthcare Heroes Scholarship Program—$5,000
Texas A&M University Scholarships for Transfer Students
Are you transferring to TAMU from a different school? You can finance your studies at the University with the following scholarships:
Aggie Transfer Scholarships—$4,000 or more
College and department scholarships—Amount varies
Dependent Children of Texas A&M Employee Scholarship—$500 to $2,000
Foundation Excellence Award—Amount varies
Texas A&M University Phi Theta Kappa Transfer Scholarship—$2,000 to $5,000
Regional Scholarships
Another basis on which you can receive financial aid is your area of residence. Here are some of the most notable scholarships for TAMU students in different areas:
Region
Scholarships
Brazos Valley

A&M Consolidated High School Graduates—Alice & C. A. 'Bonnie' Bonnen Endowed Scholarship
Bryan High School—S.C. Lindsay Scholarship
C.H. Yoe High School—Calloway Foundation Scholarship

Central Texas

Elks National Foundation Scholarships—Austin
Horatio Alger Scholarship Program—

Texas

Austin Community Foundation Scholarship for the

Hispanic

Professional

Engineers

Houston

Future Farmers of America (FFA) Scholarship
Houston Endowment/Jones Scholarship
Linda Lorelle Scholarship Fund

San Antonio

Bexar County 4-H Scholarship
San Antonio Area Foundation
Southern Texas PGA Foundation Scholarship
Additional Scholarships
Funding for your TAMU studies can come from outside sources as well. Clubs, organizations, foundations, corporations, and other institutions can offer aid for Aggie students. Check out these prominent programs:
Aggie Moms' Clubs Scholarships
CSI Executive Search STEM Scholarships
Creative Biolabs Scholarship Program
Undergraduate Scholarship for Veterans' Children
Mike Evans Family Foundation Scholarship
The Sumners Foundation Grants and Scholarships
Gloves Scholarship Program
Texas Electricity Ratings "Energy For Life" Scholarship
Where To Look For Scholarships for Texas A&M Students
The more scholarships you apply for, the merrier. That's why you should use all tools at your disposal to discover programs you qualify for.
Here are a few sources of information for potential gift aid options:
TAMU Financial Aid and Scholarship Office
Specific department office at TAMU
Texas Education Agency
Scholarship search engines—such as CareerOneStop and the British American Foundation of Texas (BAFTX)
Internet
Make sure to have in mind your gender, ethnicity, hobbies, interests, and religion when searching for aid. You can come across specific programs for women, Africans, filmmakers, Eagle Scouts, Christians, and more.
Does the research process sound exhausting? You can get it over within a couple of minutes if you . Fill out a simple questionnaire about your education qualifications, and we'll curate a full list of college scholarships you are eligible for.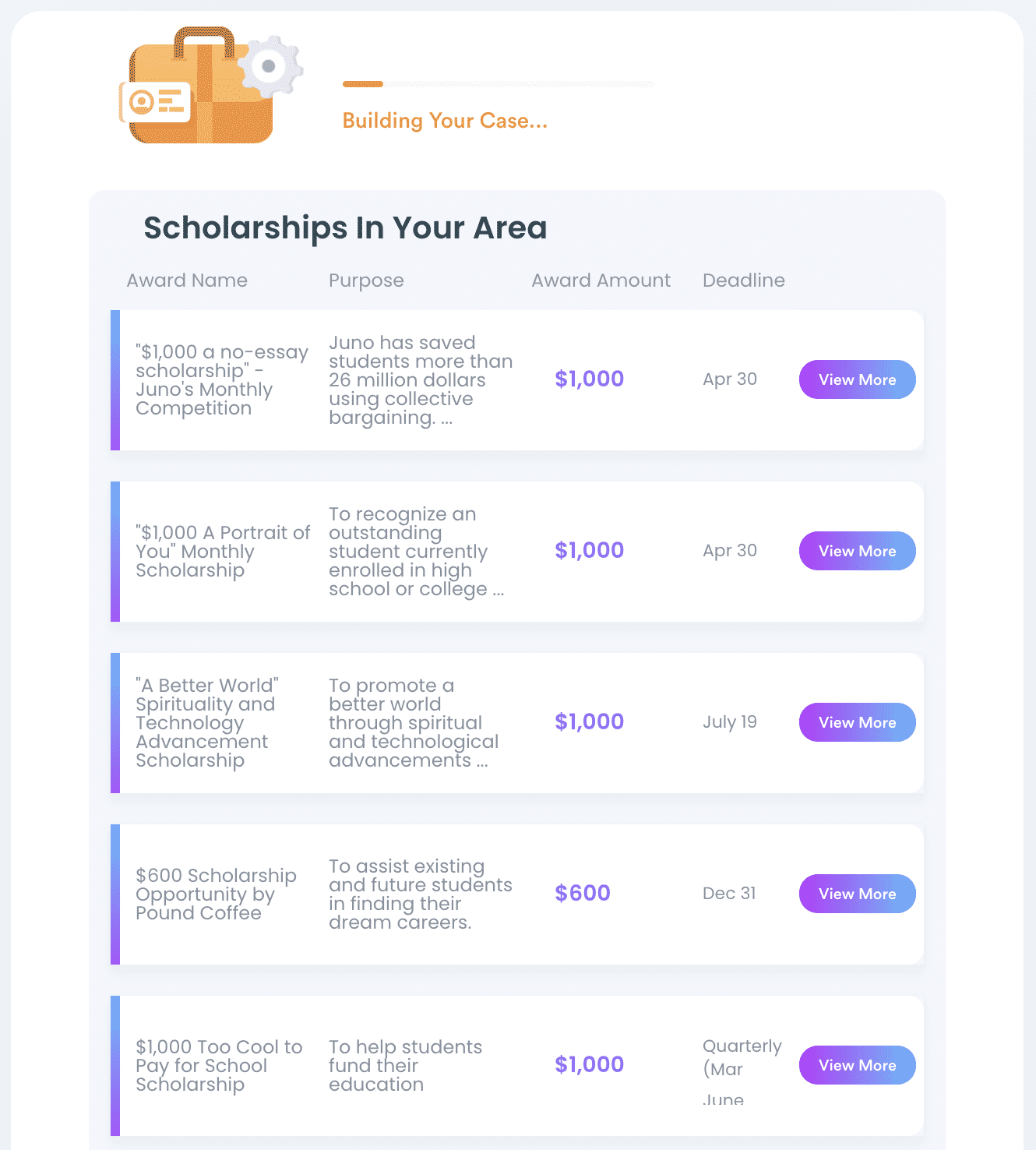 The Basics of Texas A&M Scholarship Application
Want to apply for Texas A&M scholarships without hassle? Follow these tips:
Complete the TAMU online application (on ApplyTexas Application or the Coalition Application) on the priority deadline date
Follow directions for every program
Give yourself a deadline which is one or two weeks before the actual date
Complete the Free Application for Federal Student Aid (FAFSA) form even if you apply for private scholarships
Start writing

scholarship essays

ahead of time
Ask for letters of recommendation a few weeks before the deadline
Complete a Self-Reported Academic Record (SRAR) with care
Note that applying for TAMU scholarships comes with a $75 fee. You might waive it if you follow the instructions in our brief guide.
Use DoNotPay and Get Your Texas A&M Scholarships List in a Minute
Finding gift aid programs doesn't need to be a drag. With DoNotPay, you only have to:
Select the Apply for Scholarships product
Answer our chatbot's questions
If you come across no-essay scholarships you qualify for, apply in the app automatically with only a few clicks.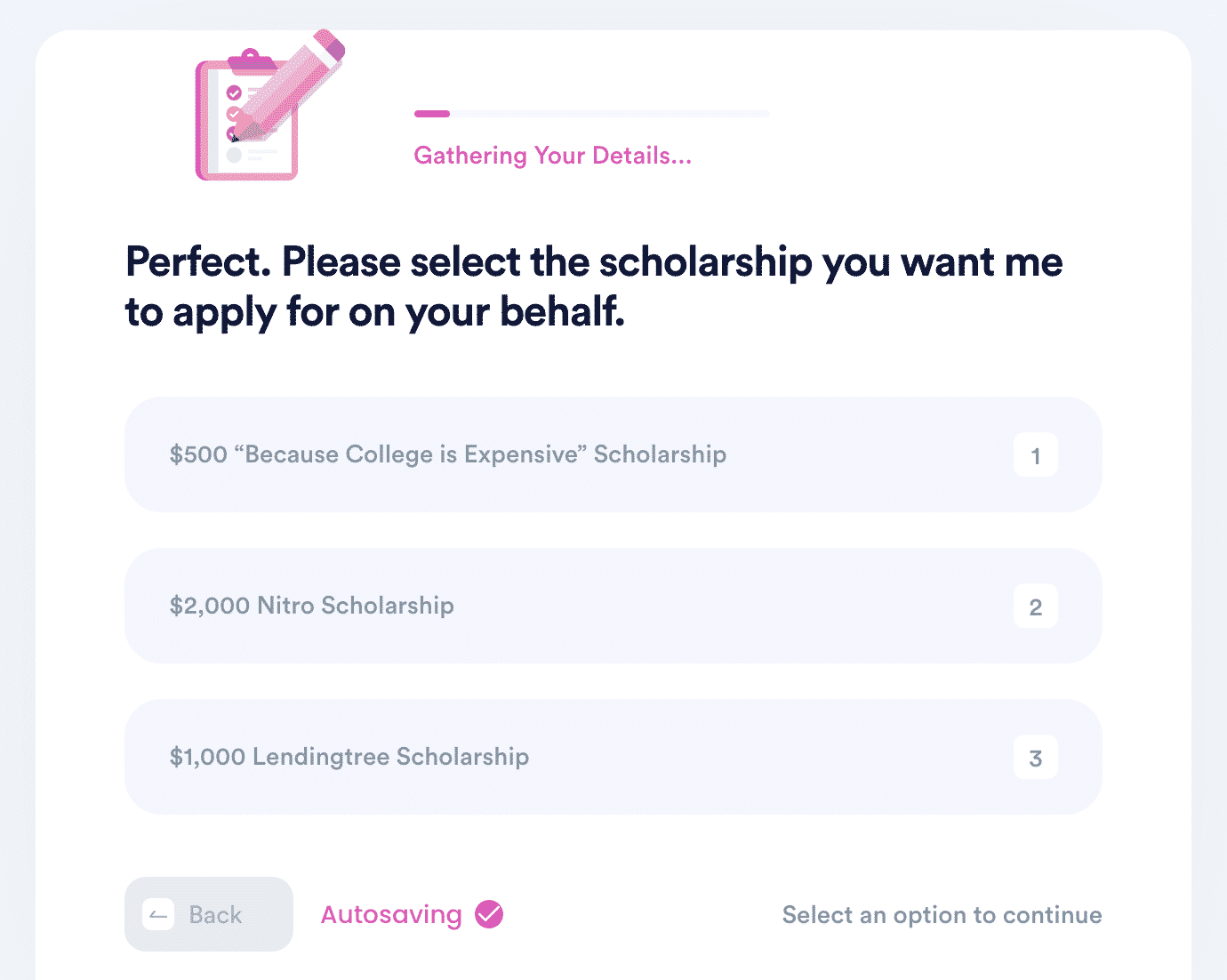 Anything Else You Need?
DoNotPay offers an exhaustive range of products and services for one low monthly fee. You can take full advantage of our offer once you resolve the issue at hand.
Our app can both save you money and help you earn it—sign up to appeal parking tickets, get assistance with utility bills, get compensation from airlines, request a refund, have your college application fees waived, find your missing money, reduce property taxes, enter any sweepstake, or send a financial aid appeal letter to any school.
We can also turn your gift card balance into cash, help you apply for scholarships, and assist you in getting compensation as a victim of crime.
There's Even More to Our Offer
The world's first robot lawyer can turn any nightmarish admin or legal procedure into a piece of cake. Look into our knowledge base to find out how to send a letter of warning to your bad neighbor, submit an anonymous complaint to your HR, fight workplace discrimination, get access to public records, deal with a stalker or harasser, put an end to robocalls, and file a complaint with any company.