A Complete Guide to the Target Return Policy on Cosmetics
Have you bought cosmetic products at Target only to realize that they aren't the right fit? You will want to know how long you have to return the items. This article will tell you all you need to know about the Target return policy on cosmetics and the ways to return the items you don't want. to streamline the return process.
Target Beauty Return Policy—The Basics
Target allows its customers to return beauty products within the following time frames:
90 days with the original receipt
120 days if you paid with a Target RedCard
One year if the product you purchased is a Target-owned brand
What Happens if You Don't Return the Items on Time?
If the time limit for returning items has expired, Target will refuse to accept your return. You may still be able to exchange the items you're unhappy with at the discretion of the store manager.
You can return makeup after 90 days, but the company won't grant you a full refund. Target will reward you the equivalent of the products' lowest price on a merchandise gift card, which you'll be able to use only for in-store purchases.
Can You Return Opened Makeup to Target?
Target allows its customers to return opened and slightly used beauty products within 90 days of the purchase or 120 days if the purchase was made with a Target RedCard. The company does not accept empty packages or fully-used products.
The Target beauty return policy also applies to defective products, such as dried makeup, but only if you have the original receipt. You may be denied a refund or exchange if the items you want to return are damaged.
Can You Return Beauty Products to Target Without a Receipt?
It is possible to return an item without a receipt, as long as you provide another proof of purchase.
Target can trace purchases if you used one of the following methods of payment:
Target RedCard
Visa
MasterCard
AmEx
Discover
Personal check
Target gift card
If you paid in cash, Target won't be able to trace your purchase. In case of an online purchase, you can find your digital barcode or receipt in your Target.com account.
How To Return Cosmetic Products to Target
You can start the Target cosmetics return process in the following ways:
| Can You Initiate a Return Request Via | Yes/No |
| --- | --- |
| In person | Yes |
| Phone | No |
| Online | Yes |
| DoNotPay | Yes |
| Email | No |
Returning Items in Person
You can return an item in person whether you bought it in store or online. Follow the steps below to return your item in person:
Find the proof of your purchase
Head over to Target
Go to the customer service counter
Ask the clerk to process your return request
The refund will be made to your original method of purchase.
Returning Items via Mail
You can return items via mail only if you made your purchase online. If you want to return items via mail, you'll need to follow these steps:
Log in to your Target account
Print a UPS shipping label
Pack the items and attach the shipping label
Send the items via mail
Target should refund you within ten days of receiving the items. The company might send a check within two weeks of returning if you don't have a payment method on file.
Requesting a Return Is Fast and Simple With DoNotPay
DoNotPay can save you the trouble of deciphering the company's policy and file the return request on your behalf. All we need are the details of your purchase, and we'll start your return process immediately.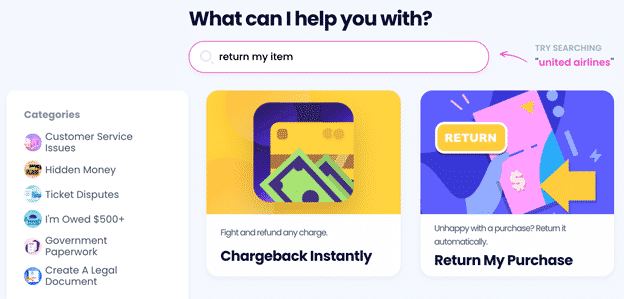 Follow the steps below to start:
Select the Return My Purchase product
Provide information about your purchase and add a photo (if you have any)
Submit your request
After you click on Submit, DoNotPay will create a request letter on your behalf and email it to Target immediately. To speed up the process, we will also include a deadline by which Target needs to complete the processing of your return.
We will also provide a shipping label you can use to save money on shipping fees.
That is not all—DoNotPay has a vast knowledge base of return policies for a variety of companies, such as: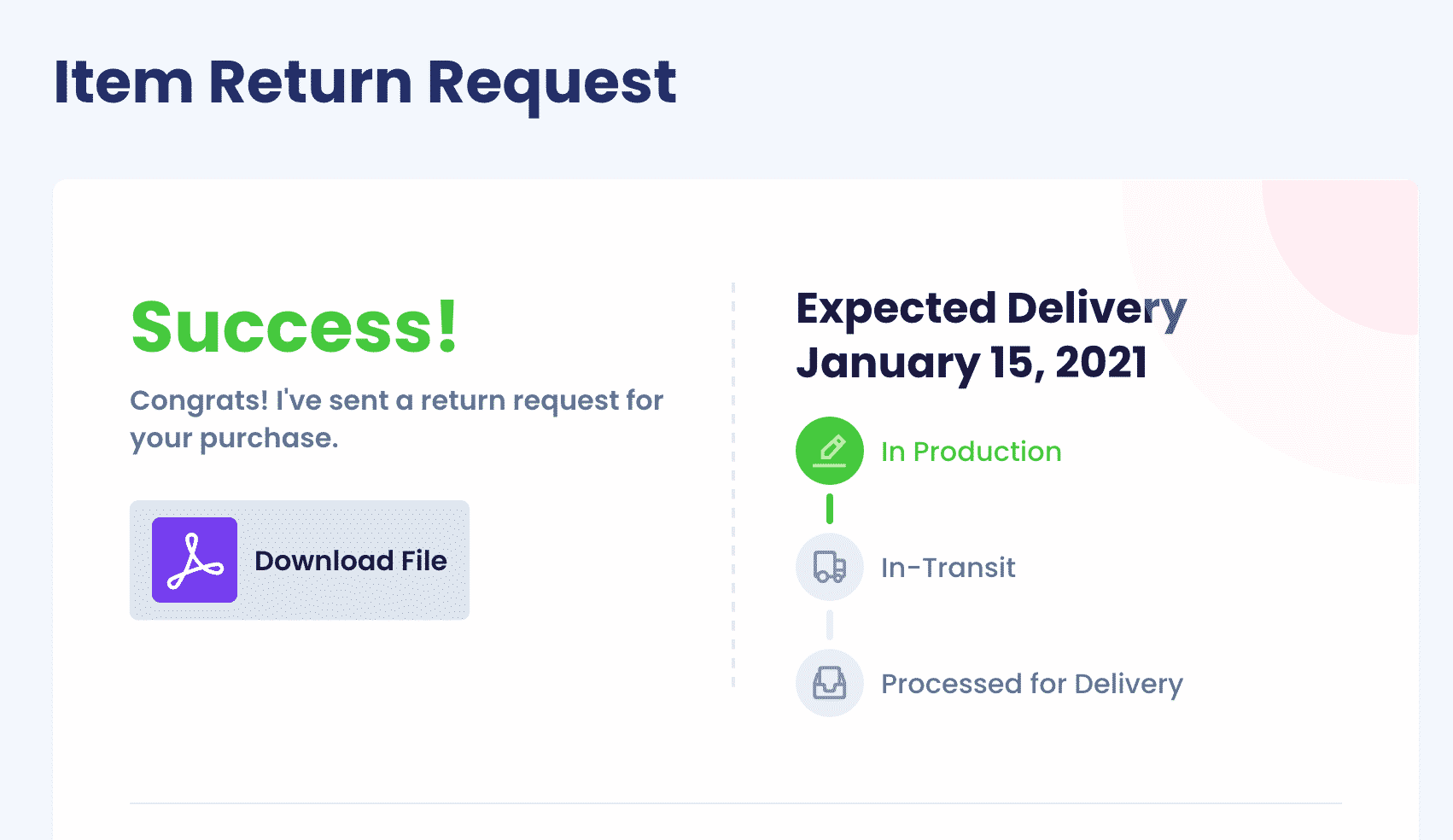 DoNotPay Can Also Help With Refunds!
Requesting refunds is energy- and time-consuming, and that's why DoNotPay offers to do it for you. You don't have to look through the Target refund policy because DoNotPay already knows all about it. We'll use our knowledge to request a refund on your behalf.
All you need to do is access DoNotPay and follow these instructions:
Open the File a Chargeback tool and click on Get Protected
Complete a questionnaire about your purchase
Click on Submit
Sick of Dealing With Companies? We'll Take Over
Companies that don't respect your consumer rights are the reason why DoNotPay exists—our range of AI-powered products is here to help you fight for justice.
If you want to demand a refund for a rescheduled flight, cancel your free trial using our virtual credit card, sue any company or individual in small claims court, appeal your parking tickets, protect your work from copycats, claim warranty and insurance, rely on your AI-driven personal assistant.
Don't want to pay sky-high lawyer fees for simple legal tasks? You shouldn't—use DoNotPay to draw up any legal document, including a child travel consent form, divorce settlement agreement, power of attorney, and many more.
Complete All Tasks From the Comfort of Your Home
As soon as you subscribe to our versatile app, you'll be able to do all of the following without leaving your home: