How to Get an Amazon Refund When You Cancel the Order
Amazon is a big name in the field of e-commerce. The services the company offers are ever-expanding, but people mainly use it to purchase or sell goods online. If you happen to cancel your Amazon order, read on to see how to get a refund in just a couple of minutes. 
Does Amazon Refund a Canceled Order?
The first question you probably have in this case is whether or not Amazon refunds money on canceled orders — and the answer is yes!
One of the most significant advantages of companies that are as big as Amazon is that they usually have a sound refund policy. Amazon sellers are contractually obliged to refund money on canceled orders.
Note that purchased orders can only be canceled if the shipping process has not begun. If the order you wish to cancel has been shipped, read on to learn what to do in that case or refer to the Amazon support page.
Amazon Cancel Order Refund Policy
Amazon's policies for both buyers and sellers are thorough and include many details to ensure quality service and user protection. With regards to refunds on canceled orders, Amazon sellers must fully refund their buyers in the following situations:
Subscribers canceled their order before shipping

Buyers received a flawed product

A bought product did not fit the description in the listing

A seller's product is no longer available
How to Get a Refund on Canceled Amazon Order by Yourself
Now that we know you can and must be fully refunded if you cancel your Amazon order, let's go through some practical tips on how you can get your money back. There are two situations in which Amazon grants refunds:
Canceled orders

Unsatisfactory delivery
There is only one way to request a refund manually in both these cases — using your Amazon website account. 
Canceled Order Refund
Once you cancel the order that's not been shipped yet, Amazon will automatically start a refund process. Make sure you've gone through the next steps to get your money back:
Log into your Amazon account

Navigate to the top right corner to enter Your Orders section

Select the order you want to cancel

Check if the order is not yet shipped to proceed with this action

Click on Cancel Item/s if the order is not yet shipped

Confirm by clicking Cancel Checked Item/s
Don't worry about the funds that might be missing in your bank account. Amazon doesn't charge you for purchases that are not shipped, so canceling a placed order is the same as requesting your refund, and the held funds are released back into your account upon canceling.
Unsatisfactory Delivery Refund
Another situation in which you might want your money back is if you have received an item you wish to return. Luckily, Amazon has a policy called the Amazon A-to-z Guarantee that allows refunds for bought items in cases of:
Shipments that didn't arrive

Products that arrived different from their listing description

Sellers who failed to grant a refund on returned items
If any of these apply to your situation, follow these steps to request a refund:
Log into your Amazon account

Enter Your Orders section

Find the order you want to be refunded for

Click on Problem With Order

Explain your issue with the product

Click Submit to confirm
Order an Amazon Refund Through DoNotPay

If you are struggling to request your Amazon refund on your own, your safest bet is to let DoNotPay help you in the process. We pointed out that big names, such as Amazon, have thorough refund policies, but it is because they do that the rules can often be unclear. Customers can fail to get what they want due to miscommunication or misinterpretation of the terms of service.
By requesting a refund for you, DoNotPay can act as a mediator between you and the company.
The process is easy and quick — just follow these steps:
Log into DoNotPay from your

web browser

Go to the Chargeback Instantly section

Provide payment details of your Amazon order

Specify it's Amazon you wish us to request a refund from

Verify your request by your signature
| | |
| --- | --- |
| Can You Request a Refund Via | Yes/No |
| DoNotPay | Yes |
| Email | No |
| Phone | No |
| Letter | No |
| Website | Yes |
| In Person | No |
How Long Does It Take Amazon to Refund a Canceled Order?
Now that you know how Amazon grants refunds, you might be wondering when you can expect the return of your money. The time depends on the situation under which you requested your refund and is more related to your respective bank policies. In case you filed for the Amazon A-to-z Guarantee refund, note that the company may take up to a week to reply to your request.
I Canceled an Order on Amazon but No Refund?
It is unlikely that a refund on your canceled Amazon order doesn't arrive. You have to understand that the funds you spend when you order something from Amazon remain in your bank account until the shipping process doesn't start. It is because of this that Amazon instantly refunds your money when you cancel an order, and your funds should be back in no longer than two days.
If your refund on the unsatisfactory delivery is late, your safest choice is to contact Amazon support team immediately. You may do so by:
What if Amazon Misused You?

Huge companies can often get the better of us. If you feel like you're being misused by Amazon or are in any way dissatisfied with its services, DoNotPay is here for you. You can sue any person or company in a small claims court with DoNotPay. We'll help you fill out your paperwork and gather the evidence to increase your chances of winning the case.
Try Out the DoNotPay Virtual Credit Card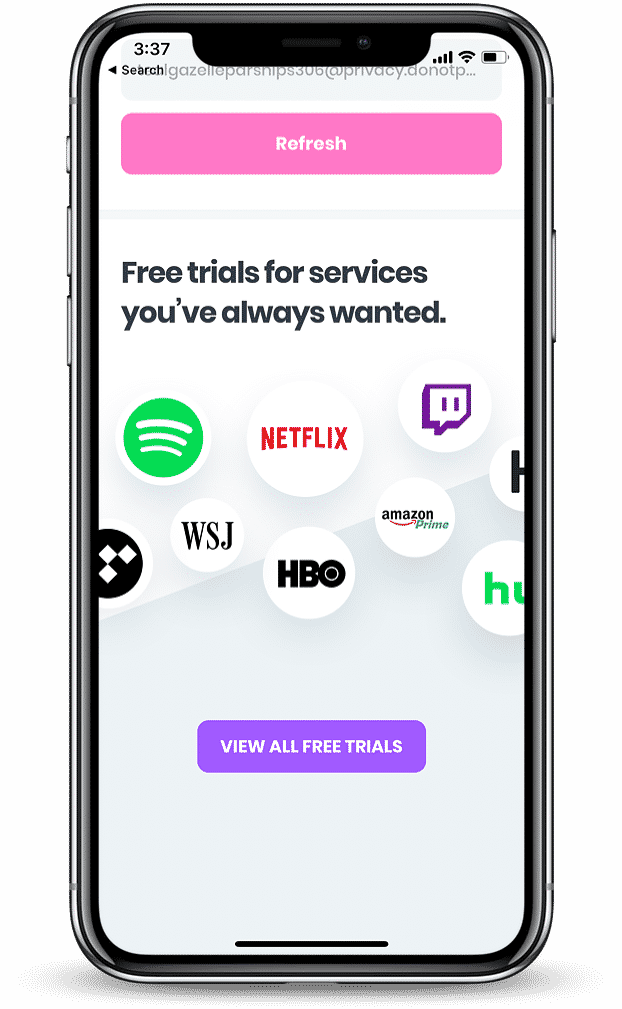 Suing Amazon or any other company is not all DoNotPay can help you with. Today we make use of subscription services, like Amazon, all the time. Since our lives are so hectic, we can't easily keep track of all the free trials we signed up for, which then leads to unwanted charges after the trials end.
Avoid this by trying out our Virtual Credit Card. It works just like a regular card, so companies will process it without a problem. Once your free trial period ends, you are sure to go unsacathed because this card isn't connected to your bank account. You can use DoNotPay's virtual credit card generator to quickly create a new credit card you can use once and forget about those pesky unwanted charges.
Having Other Amazon Dilemmas?
If you are a regular user of Amazon, you might be lost when it comes to all the services they offer. Check out the following articles to learn more about:
DoNotPay helps you to manage and cancel all of your subscriptions with a click of a button.
Frustrated with paying for subscriptions you don't even use? You're not alone. DoNotPay allows you to manage and cancel all of your subscriptions and memberships, saving you time and money! Here are just a few more subscriptions we've helped our users cancel:
Don't Stop There With DoNotPay

What you've just read covers only a couple of services DoNotPay offers. You'll be wanting to open your DoNotPay account from any web browser to find out about all the ways we can solve your issues with big and small companies. Some of what our robot lawyer can do instead of you is:
Contest traffic tickets

Contest speeding tickets
Frequently Asked Questions on Amazon Cancel Orders
Can You Cancel Amazon Orders That Shipped?
Yes, you can. Amazon sellers are legally bound to offer you a refund when an order is canceled, regardless of its shipping status. In fact, you can cancel your order within 14 days after delivery.
How Long Does It Take to Refund a Canceled Order?
Refund time varies by your payment method. It usually takes 3-5 business days for credit cards, and up to 10 business days for debit cards and checking accounts.
Why Are Some Amazon Orders Canceled Automatically?
Amazon will automatically cancel your order if the merchant has not confirmed shipment after 7 days of the projected shipping availability date.