How To Get Your Missing Items From Sacramento Airport Lost and Found
Need help retrieving an item you've lost at Sacramento International Airport? You've come to the right place. This article will tell you how to get in touch with the Sacramento Airport Lost and Found Office the easy way so you can .
Who Should You Contact When You Lose an Item at Sacramento International Airport?
Depending on where you lost your item, you may file a missing item report with any of the following departments:
Airport terminal—Sacramento Airport Lost and Found
Security checkpoint—Transportation Security Administration (TSA)
Airplane—The airline in charge
Airport business premise—Sacramento Airport Customer Support
Lost an Item in a Sacramento International Airport Terminal?
Any property lost in an airport terminal or its surrounding areas can be reported to the airport's Lost and Found office. The office is located between terminals A and B at 7001 Lindbergh Drive and is open Monday through Friday from 7 a.m. to 6 p.m.
You can also contact the staff through the website or via:
Email: Air-SMFLostandFound@saccounty.net
Phone: (916) 874 0701
When contacting them over the phone, leave a detailed message about your missing valuables in the voicemail. Due to a high number of calls, Lost and Found staff will only respond back to you if they manage to locate your item.
Lost an Item at TSA Checkpoints?
If you lose your item at a TSA checkpoint, consult the table below to find out how to contact the agents:
| Phone Number | (916) 830 0227 |
| --- | --- |
| Operating Hours | Monday to Friday 8 a.m.–3 p.m. (closed during holidays) |
| Email | smf.lost@tsa.dhs.gov |
Make sure to be as detailed as possible when describing the property you lost.
The Sacramento Airport TSA will contact you once they manage to find your item. Some claims may take longer to investigate, especially if law enforcement is involved.
All lost items are subject to a 30-day holding period. If you fail to claim your item during that time, the TSA will either sell it, turn it over to the government, or dispose of it. You can claim your item in person or arrange delivery and cover the shipping costs.
Lost an Item on a Plane?
Do you think you lost your item on an aircraft? Click on the contact link of the airline in question below to file a claim:
Lost an Item on the Premises of an Airport Business?
If you left or lost something in an airport shop or restaurant, contact the Sacramento Airport customer agents so your claim can be forwarded to the relevant representatives.
Contact the Sacramento Airport Lost and Found Office Without a Hitch With DoNotPay!
Whether you lost a ring, wallet, phone, keys, glasses, or any other valuables, retrieving a lost item can be tedious. You may have to make multiple trips to the airport just to make little progress with your lost item investigation.
You won't have to waste time recovering lost items if you subscribe to DoNotPay. We will contact the airport in question on your behalf. Here's how you can use DoNotPay to your advantage:
Navigate to the Find Lost Airport Items tool
Answer a few questions regarding your lost item and the airport where you lost it, and provide other relevant details about the incident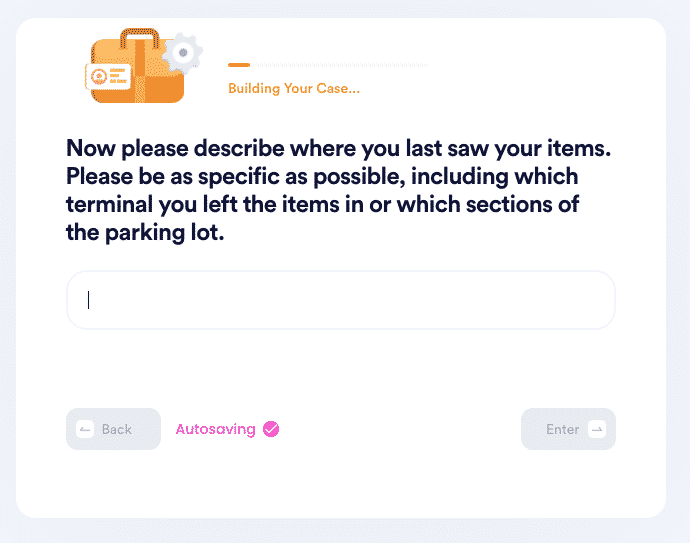 Our app will draft a comprehensive lost item report based on your responses and send it to the relevant airport representatives.
We can also help you out if you wish to claim compensation for delayed bookings, canceled flights, or dissatisfying airline service.
Need help tracking down your lost baggage? You can use our app for that, too!
Our Platform Makes Your Life Simpler
DoNotPay offers a vast spectrum of life-changing services, including the ones listed below:
| Services | With Our App, You Can: |
| --- | --- |
| Eliminating spam and harassment | |
| Saving and getting more money | |
| Providing other useful services | Convert various files to other formats |
DoNotPay Helps You Get the Necessary Paperwork in a Heartbeat
Do you need to compose a power of attorney, revocable living trust, or a health care directive but don't know how? No worries—DoNotPay can do it for you! If you need comprehensive and valid legal documents tailored to your wishes and needs, there's no better way to get them than subscribing to our app!
We can also draft personalized FOIA requests, divorce agreements, homeschool notices of intent, and various complaints.