Submitting a Southwest Lost Baggage Claim Without Breaking a Sweat
Seeing that your luggage didn't reach the destination after a flight is one of the biggest disappointments you may experience when traveling. Such scenarios are common with Southwest Airlines, as this company loses more bags than any other air carrier—along with American Airlines.
If this happens to you, you must react fast to retrieve the missing luggage as soon as possible. The best way to track down the lost baggage is to inform the airline about the incident by submitting a Southwest lost baggage claim. This article helps you familiarize yourself with this process and explains how subscribing to DoNotPay can speed it up!
What Should You Do if Your Luggage Gets Lost After Flying With Southwestern?
If your luggage doesn't appear within four hours from arriving at the airport, you should report the loss to the company's Baggage Service Office:
Here's how to do both:
Method
Steps To Follow
Phone

Dial (800) 435-9792
Let the operator know that your baggage got lost
Provide additional details, such as:

Personal info
Luggage tag number
Destination you came from
Plane ticket number

In person

Visit the Baggage Service Office (it's located in the baggage claim or ticketing area)
Find the representative and inform them about the incident
Disclose all the details the reps may need to locate your lost baggage more easily
Provide your contact info to the agents so that they can contact you if they have further questions
Regardless of the contact method you choose, you will get a receipt with a number once you file a missing luggage report. There's no other way to check the status of your claim than to call the Baggage Service Office, provide the agent with the code, and let them check if there are any updates.
How Long Will It Take the Agents To Locate Your Lost Bags at Southwest?
The proposed time frame for finding your luggage is five business days. If the company doesn't manage to track it down by the end of this deadline, the operators will offer you a form you should complete to pursue your claim with Central Baggage Services.
What if Your Baggage Was Damaged?
The procedure for reporting the damaged item is similar to the one for reporting the missing luggage, but you should have the following in mind:
Southwest isn't responsible for manufacturer defects or wear-and-tear damage, such as:

Scuffs
Cuts
Scratches
Marks
Dirt
Punctures
Dents

The airline is also not liable for damage due to overstuffed bags or passenger compartments in aircrafts
What Can DoNotPay Do To Make Contacting the Airport Easier?
Whether you are looking for a missing phone, wallet, or a lost piece of baggage, getting in touch with the airport or a specific airline is unavoidable. To report the missing item, you must wait for the agent to pick up your call and spend a significant amount of time explaining how the incident occurred. The good news is—we can facilitate this process for you!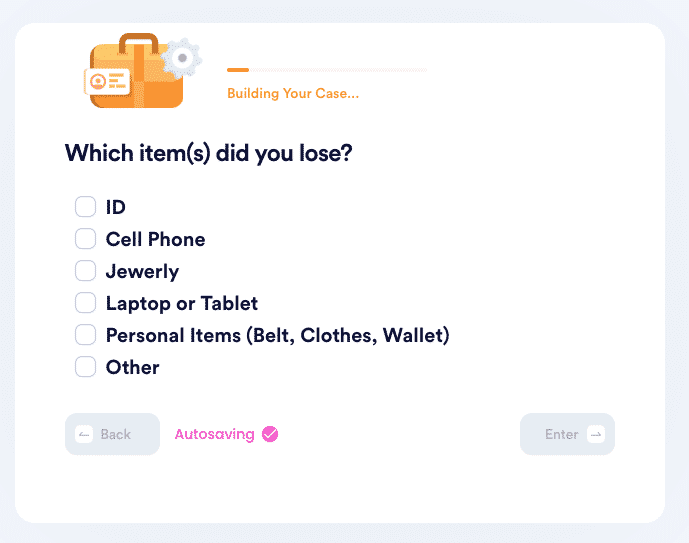 DoNotPay can:
Gather the essential details about the incident and the missing item
Reach out to the specific airport on your behalf
Help you track down what you lost more swiftly
To get our help, follow the prompts below:
Create an account with DoNotPay and log in
Look for the Find Lost Airport Items feature
Fill out a quick questionnaire regarding the lost item/baggage
Our app can also assist you with submitting a refund request for delayed and canceled flights! All you should do is provide us with the essential info about how the company has wronged you. We will get in touch with the airline in your stead and get your money back quickly!
We Have Even More To Offer!
Find more information about the perks we offer in the table below:
Stay Safe by Relying on DoNotPay
One of the primary purposes of our app is to improve your safety. We help you stay secure and avoid incidents or privacy issues by:
Blocking:
Fighting against:
DoNotPay will also help you avoid unwanted personal info disclosure with single-use burner phone numbers. Our app can create a virtual credit card with a fake name and card details and prevent you from getting charged once your free trials expire!