Reach Out to the Turkish Airlines Lost and Found Department Effortlessly
Realized that you lost your phone, wallet, or luggage after flying with Turkish Airlines? Looking for missing belongings is never fun, especially if you don't know where to start the search. The good news is that the situation isn't as dire as it may seem because DoNotPay has developed a tool to help you with your search!
In our article, you'll find out how to get in touch with the Turkish Airlines Lost and Found department and find your lost item as effortlessly as possible.
Ways To Reach Out to Turkish Airlines Lost and Found Department
You have multiple ways of contacting the Turkish Airlines Lost and Found department to ask about your item. You can:
Fill out an online form
Call the company's customer service
How To Fill Out an Online Form
To report your missing item after flying with Turkish Airlines, you need to visit their baggage tracing page, and:
Check New Feedback
Select Missing Item in the dropdown menu
Provide a detailed description of your item in the Reason for contact panel
Upload a copy of:

Your passport or ID
Your flight ticket or boarding pass
A list of the items you're missing and their prices (you can provide invoices or receipts)

Provide your personal information, such as:

Name
Surname
Email
Phone number

Complete the captcha
Hit Save
How To Call the Company's Customer Service
If you don't want to fill out endless online forms, you can reach out to the Turkish Airlines Lost and Found office by dialing 1800-874-8875. Once the company's representative answers, you should explain your situation and describe your missing item in detail. Try to remember where exactly you've lost it (e.g., airport terminal, on the aircraft, and similar) and when you think it happened. The more details you provide, the higher the odds of your item being found.
Don't forget to leave your contact information so the customer service can contact you in case your belongings turn up.
DoNotPay Can Help You Find Your Missing Item Hassle-Free
Reporting your missing item on short notice is crucial because:
Lost and found offices don't keep lost items forever
Your item may be listed as unreturnable if it's not collected on time
Don't want to waste time talking to customer service representatives or filling out unnecessarily long forms? Subscribe to DoNotPay! Our AI-powered app will contact the Turkish Airlines Lost and Found office to inquire about your lost item. Our product is simple to use, and it will facilitate your search. Here's how it works:
from your preferred browser
Select our Find Lost Airport Items tool
Give us the important details about the missing item
We will process your request quickly and contact Turkish Airlines to see whether your item has turned up.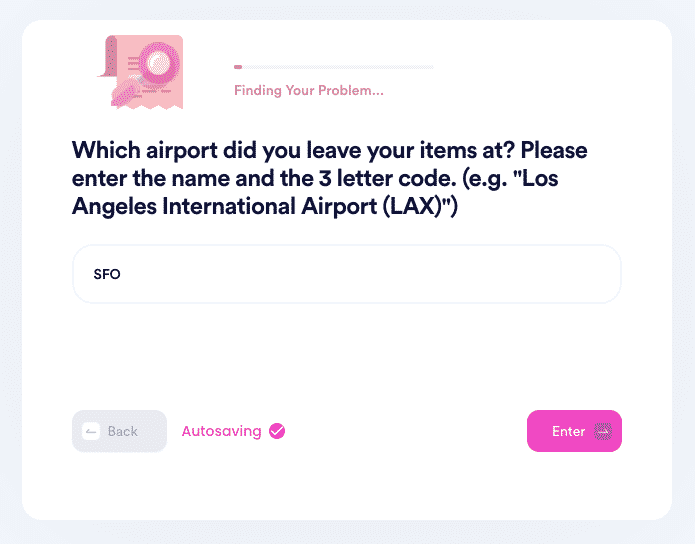 DoNotPay's help doesn't end here! Not only can our app help you find missing items or track your luggage, but we can also assist you in getting compensation for canceled or delayed flights from any airline.
Avoid Losing Items When Traveling by Plane
Here are some tips to help you avoid losing your belongings when flying:
Tip
Explanation
Mark your belongings
Marking your items will make them distinctive and easy to spot. This will help Lost and Found office representatives locate it more easily.

You should also consider writing your name and contact info wherever possible so you're informed as soon as someone finds your lost item

Watch where you place your items
You should avoid placing your items in the following places:

Airplane seats
Airport bars
Seats around the terminal or gate

Be extra careful at security checkpoints
Most people forget items at security checkpoints while trying to get on to the plane as fast as possible. Double-check whether you took everything with you before boarding the plane
Our Virtual Lawyer Has Got Your Back
DoNotPay has solutions for all those burdensome tasks you would rather avoid or entrust to someone else. Our AI-empowered app can assist you with copyright protection, clinical trial applications, DMV appointments, FOIA requests, mailing services, item returns, and delivery refunds. It also generates standardized legal documents and gets them notarized or faxed with zero fuss!
Through the same app, you can:
File tourist visa applications
Make Education More Accessible and Affordable With DoNotPay
College expenses can be quite a burden for the entire family. Luckily, DoNotPay can have your tuition expenses waived or assist you in applying for various types of financial aid, such as scholarships.
We also offer you a chance to prepare for government tests in a much simpler way or contact embassies or consulates quickly and efficiently if you want to travel abroad to continue your education. If you are a parent who wants to withdraw their kid from a standard school, we will help you draft a notice of intent to homeschool and send it to the local authorities with no stress!