Reporting the Aer Lingus Missing Baggage With Zero Fuss
Have you realized that your baggage didn't reach the airport after an Aer Lingus flight? No worries—it's a common scenario, and you can retrieve your belongings. All you need to do is learn the right way to inform the company about the loss.
This article will teach you how to:
How To Report the Aer Lingus Lost Luggage
If you believe that Aer Lingus mishandled your baggage, the best way to deal with the matter is to report the loss/delay as soon as possible. You can do it:
Filing a Lost Baggage Report in Person
Here are the steps you should follow to report the misplaced baggage in person:
Visit the information desk at the airport where you landed
Explain to the agent that your luggage is missing
Provide them with specific details that may help them trace your bags, such as:

Personal details
Baggage tag number
State/city you're coming from
Airplane ticket number
The operators will contact you once they track down your luggage to arrange the delivery to your home address.
Filing a Lost Baggage Report via Phone
The procedure of reporting missing luggage over the phone is similar to the in person one. The only difference is that instead of visiting the airport help desk, you should call the baggage department at (855) 567-8224 and describe the issue.
How To Check the Status of the Aer Lingus Lost Baggage Claim
Aer Lingus's specific software allows you to check the status of your report claim. Here's a step-by-step explanation of how to do it:
Go to the Aer Lingus official website
Select the Travel Information tab
Click on Missing or Damaged Baggage under the Baggage Information section
Scroll down to the Check Your Baggage Status button and select it
Enter your Baggage File Reference Number and your name
Pick Submit
How Much Time Will It Take for Agents To Trace Your Luggage?
The Aer Lingus agents should be able to find your missing belongings within 72 hours (three days).
If they don't manage to do it by the specified deadline, the next step for you is completing a delayed baggage questionnaire and submitting it to the Central Baggage Tracing Service. The email address to which you should send it is central.baggage-tracing@aerlingus.com.
The company will return your questionnaire within 3–21 business days and solve the matter accordingly.
What if Your Baggage Is Damaged?
You report damaged items by using the same communication channels as when reporting missing luggage. The report must be submitted as soon as possible after arrival. If you hold any type of travel insurance, it's best to contact the provider first and start a claim.
Here are more details about the responsibilities Aer Lingus bears when it comes to damaged items or baggage:
| Your Baggage | Is Aer Lingus Responsible for It |
| --- | --- |
| Was damaged during the flight | Yes |
| Has minor or normal wear and tear damage to the exterior of the luggage | No |
| Misses an item (items) | Yes |
| Was damaged in cabin | No |
Use DoNotPay To Reach the Airport With Zero Hassle!
Reaching the desired airport may require numerous phone calls, which can go unanswered if the lines are busy. You can personally send an email to the desired department, but the agents may take days to respond to your query.
If you need to contact the airport office more quickly and efficiently, DoNotPay will spare you the trouble and do it for you! All you should do is:
Pick Find Lost Airport Items
Give us more details about your lost luggage and additional info about the incident
We will use the details you provide to reach out to the airport for you, which will improve your chances of getting the misplaced item back!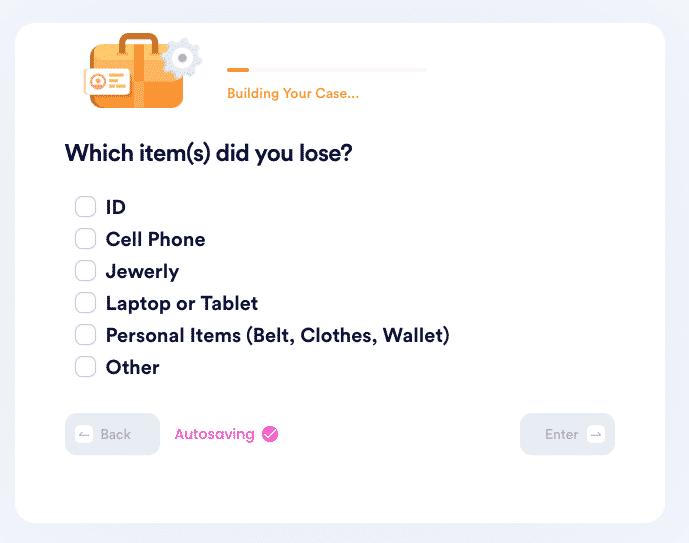 What Else Does DoNotPay Have in Store?
Our user-friendly platform provides solutions for all your bureaucratic problems and tiresome tasks. Once you sign up for DoNotPay, we can help you demand refunds from airlines and other companies, get compensation for late deliveries, and submit item return requests. The app also allows you to send online faxes, use our mailing services, and convert files to dozens of formats!
If you are unhappy with the situation at work, DoNotPay can file anonymous HR or work discrimination complaints in your stead. Discover how to generate legal documents such as divorce agreements and powers of attorney and have them notarized without heading to the notary's office!
Our App Reduces Education-Related Costs
Do you find it difficult to cope with college-associated expenses? DoNotPay sends help your way! Get ready to make your education journey simpler by:
If you believe that educating your child at home would be a less pricey option, we help you compose a customized notice of intent to homeschool in no time!