Contact the Chicago O'Hare Airport Lost and Found Without Difficulties
The Chicago O'Hare Airport is one of the busiest airports in the U.S., so it's no wonder that people often lose valuable items there. Whether you left your wallet at the security checkpoint or lost your phone while boarding the flight, the only way to find the missing object is to contact the appropriate airport department.
Making countless phone calls or sending a bunch of emails is difficult and time-consuming. For this reason, we prepared a guide to contacting the Chicago O'Hare Airport Lost and Found without direct communication or hours spent in phone queues! , and we will show you how to track your lost luggage or any other object more easily.
What Should You Do if You Lose an Object at the Chicago O'Hare Airport?
If you realize that one of your valuable items is missing, the first step is to report the loss. Here's what the entire reporting process looks like:
Try to recall the exact place where you may have left the item in question. It will help you determine which airport department or office you should reach out to. If you don't know the exact location where you lost the object, it's best to get in touch with all available associated departments
Use the appropriate communication channel to get in touch with the specific department
Provide as many details about the object as possible, including its size, color, specific marks, and visible flaws
Wait for the representative to check the collection of found items or disclose your contact details so that they can call/email you when they have more info
What Department Should You Reach Out To?
Here's how to find the adequate department to which you will direct your report:
If you know you have left the object in an aircraft, at a ticket counter, or a gate area, you must contact the specific airline
If the item was lost at a TSA security checkpoint, you should reach out to the TSA Lost and Found office
For tracing the objects lost at an airport parking lot or any other public area within the airport, you should get in touch with the Chicago Police Department
The item lost in an airport restaurant must be reported to the Food Services
The belongings you have left on the airport transit system should be reported to the O'Hare Airport Transit System office
Valuable Chicago O'Hare Airport Contact Details
The table below lists all communication channels you can use to report lost items depending on the specific situation:
| Department | Contact Info |
| --- | --- |
| Particular airline | Find the contact details of all airlines operating in this area on the official website of the Chicago O'Hare airport |
| TSA Lost and Found office | Phone number: (773) 894-8760 |
| Chicago Police Department | Phone number: (773) 686-2385 |
| Food Services | Phone number: (773) 377-7804 |
| O'Hare Airport Transit System | Phone number: (773) 601-1817 |
Track Your Lost Belongings More Quickly With DoNotPay
Even with all available contact details, reaching the desired office at the airport may be difficult and involve a lot of waiting and transferred calls. If you want to find what you lost without getting in touch with the company directly, DoNotPay is the way to go!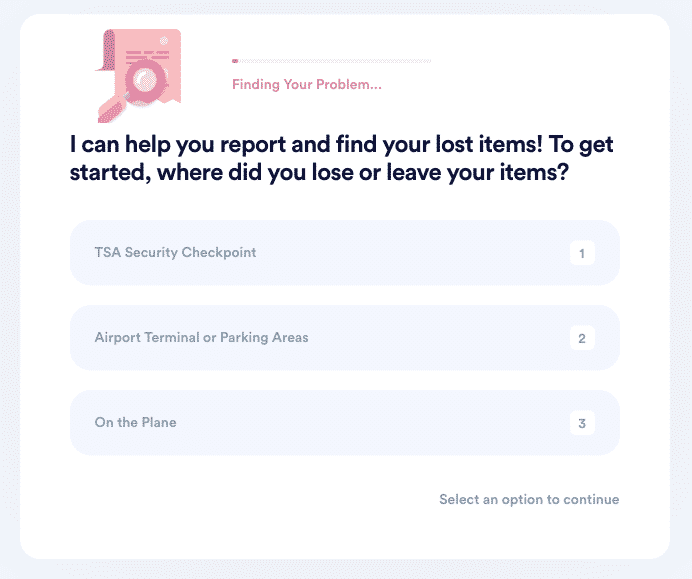 Our app helps you avoid:
Wasting your time on multiple calls or emails
Submitting late reports and losing your items for good
Explaining the same issue to each department you must contact
Here's what you should do:
and log in to your account
Click on Find Lost Airport Items
Disclose the most significant details about the incident and the missing object
Once we have all the info we need, DoNotPay will automatically contact the airport in your stead and assist you in pinpointing the location of the lost item more easily! You can demand a refund from any airline if your flight was delayed or canceled from the same platform!
How Can DoNotPay Tackle Tricky Tasks for You?
Using DoNotPay is like having a magic wand that helps you with the assignments you are too busy or bored to do. Here are some procedures we can simplify for you:
Generating various legal documents

, including

advance health care directives

and

powers of attorney

Submitting error-free tourist visa applications
Keeping in Touch Is Simple With Our App
Are you having trouble communicating with your loved ones in jail? Our app features a tool that enables you to send letters to inmates from any device! We can help you get in touch with a notary public who can notarize your legal documents virtually or reach out to embassies and consulates or government reps. Reaching customer care centers also gets much simpler with DoNotPay by your side as you can skip phone queues the easy way.
We can help you avoid unwanted communication by stopping persistent robocalls and text or email spam. All you need to do is sign up for our services!