The Ins and Outs of Lost Luggage Tracking
Did you lose your luggage and don't know how to find it? Our article will tell you all about lost luggage tracking and help you conduct a proper search stress-free! With DoNotPay's tools, finding any lost item is a piece of cake!
How To Track Lost Luggage
Most airlines have an online tracking system that allows you to locate your lost luggage. The systems work differently depending on the company, but the process usually requires you to:
Visit the official website of the airline in question
Go to the Track Baggage page
Sign in to your account
Go to the Baggage section
Type in your name and other information as required
Enter your baggage tag or reference number (given to you by the airline attendant at the check-in)
Once you complete these steps, you will be redirected to the page that shows the location of your luggage.
You can also contact the airline in question over the phone or via email, but if you choose this option, you might have to talk to multiple customer service representatives and write multiple emails.
Tracking your lost luggage on your own is time-consuming. That's why you should use DoNotPay and find your luggage while the airline still holds onto it.
How To Find Lost Luggage Effortlessly With DoNotPay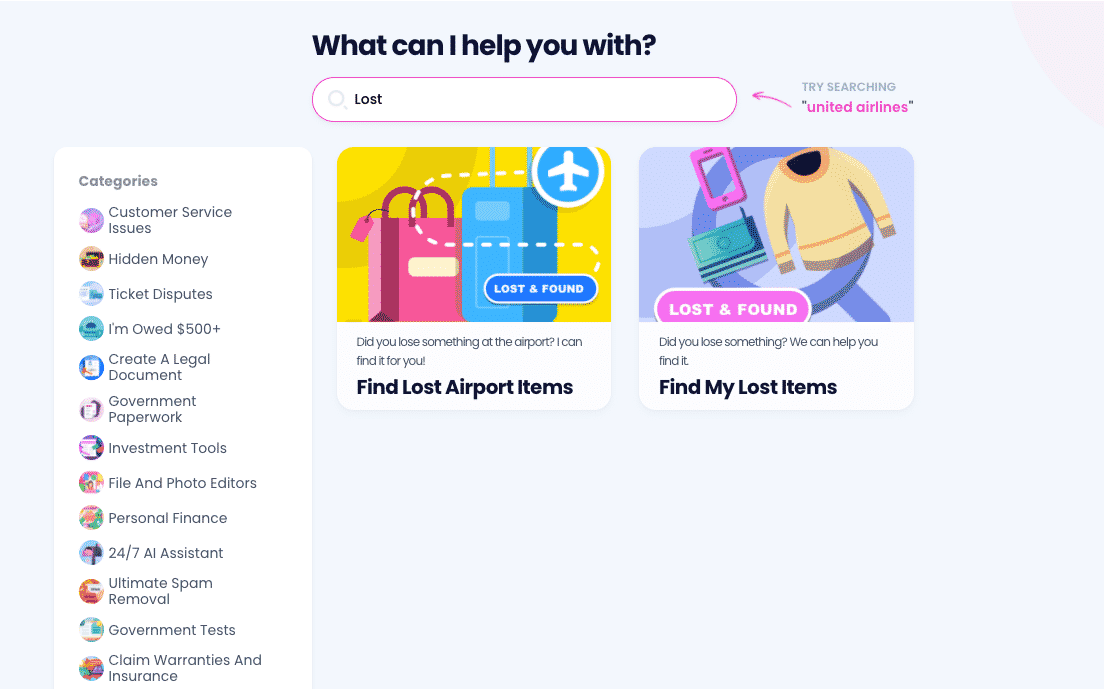 The easiest way to find lost luggage is to use DoNotPay! Our AI-powered app is simple to use and doesn't require you to follow countless steps. We know that reporting lost luggage as soon as possible is crucial if you want to find it. That's why we made the process simple and quick. Here's what you should do:
Sign up for DoNotPay from your preferred browser
Choose our Find Lost Airport Items tool
Answer our chatbot's questions regarding your:

Flight details
Lost luggage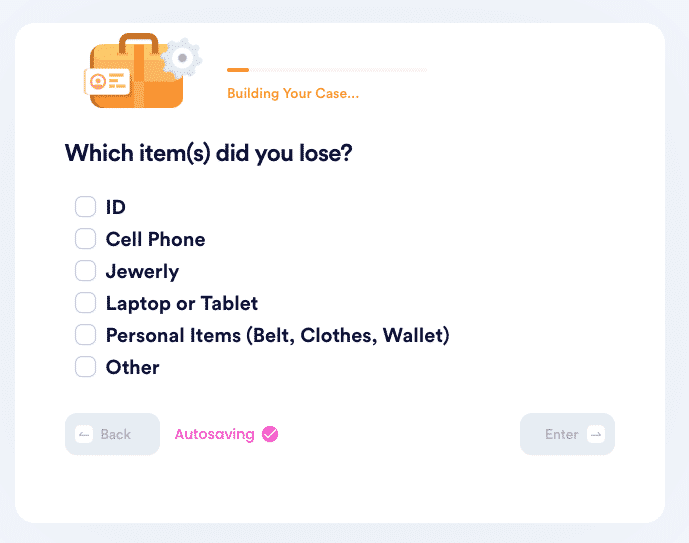 We will contact the airline in question and help you track your luggage down. With our help, you can not only locate your missing luggage but also:
Tips That Can Help You Avoid Losing Your Luggage in the Future
Check out the table below for tips on how to avoid losing your luggage:
Tip
Details
Get a brightly colored suitcase
Having a pink or aqua colored suitcase will make it stand out and easy to find
Attach a personalized luggage tag
Use a distinctive luggage tag with your name and contact info written on it
Purchase a GPS tracking device
Tracking devices can help you locate your luggage via your phone. You can find them all over the Internet, and some of the most popular ones are:

Trakdot
LugLoc
PocketFinder
Frequently Asked Questions Regarding Lost Luggage
To help you stay informed, we've answered some of the most frequently asked questions regarding lost baggage, such as:
Can you file a claim for damaged luggage?
How often do airlines lose luggage?
What happens to lost luggage?
Can You File a Claim for Damaged Luggage?
In case your bag arrived damaged and cannot be repaired, you will get a replacement or reimbursement. The amount of money you'll get is based on the value of the bag and the damage it has suffered. The maximum liability for a lost or damaged bag is $3,500.
How Often Do Airlines Lose Luggage?
On average, around two out of every thousand bags are lost by airlines in the United States. Although the odds of losing your luggage are low, you should prepare yourself for such a scenario nonetheless.
What Happens To Lost Luggage?
Most airlines keep luggage around the terminal where it was lost for about five days. If no one claims it during that period, it's shipped to a central warehouse. After two months, luggage is either donated to charity or sold.
DoNotPay Is Your Ultimate Money-Saver
Don't spend your hard-earned money on subscriptions you don't use—cancel them with our app in a few simple steps! The best part is—that's not all we can do to help you save some coins. DoNotPay can also reduce other expenses by helping you:
Kiss Spammers and Harassers Goodbye for Good With DoNotPay
Our app offers handy features that can assist you with blocking irritating robocalls and getting rid of pesky spam texts and emails. It also gives you peace of mind by helping you fight workplace discrimination, stalking and harassment, annoying neighbors, and defamation.
With DoNotPay, you will always be able to maximally protect your safety by searching updated sex offender databases and avoiding unpleasant situations. Suppose you have already been a victim of harassment or any other crime. In that case, we can help you get compensation with no difficulties!