How To Find Your Lost Luggage and Get Compensated
Did you know that there are 1.4 million lost luggage items every year? That's massive—and even more stressful if you happen to be one of the unlucky damaged parties.
In this guide, we address the vital questions about losing your luggage at an airport or an airplane—how to retrieve your missing luggage, how to track your lost baggage, and, most importantly, how !
What You Should Do First in the Case of Missing Luggage
If you come out empty-handed from the airport's Baggage Claim—do not panic. According to some airlines, the passengers' luggage can be delayed up to five days upon the airplane's arrival.
If you are still at the airport, locate the nearest info booth for your airline and relay the baggage issue to the attendant. Similarly, if you have left the airport already, get in touch with the airline's representative in the city and explain the problem.
They will likely ask you to provide these details:
The location you came from
Your airplane ticket number (always hold on to it even after reaching your destination)
Your luggage tag number that you got during the check-in
Your name and passport number
Giving the airline representative these details will help them figure out what exactly happened to your luggage—whether it is lost or delayed.
What To Do When Your Luggage Is Lost
If the airline provides you with a definitive answer that your luggage is lost, it will be able to track it in case it ended up on a plane bound to a different destination.
If your baggage never arrives, you should follow these steps to recover it:
Contact the airline's check-in desk agent
Leave your contact information and request baggage delivery to your accommodation
Request the checked baggage fee reimbursement
Request a toll-free number where you can get updates on your lost luggage
How To Track Your Lost Luggage
Your airline's website should have a section where you can track your lost luggage. Follow these steps to make the most of this service:
Sign in to your account and find the Track Checked Baggage section (the wording on your airline's website may be different)
Type in your name under the section where you can check your bag's status
Provide details from your flight on the Tracked Baggage page
Type in your baggage's tag number or file reference number located on the folder given to you by the airline attendant that checked you and your baggage in
You will be redirected to a page that provides the location of your bag.
Let DoNotPay Assist You in Finding Your Lost Baggage!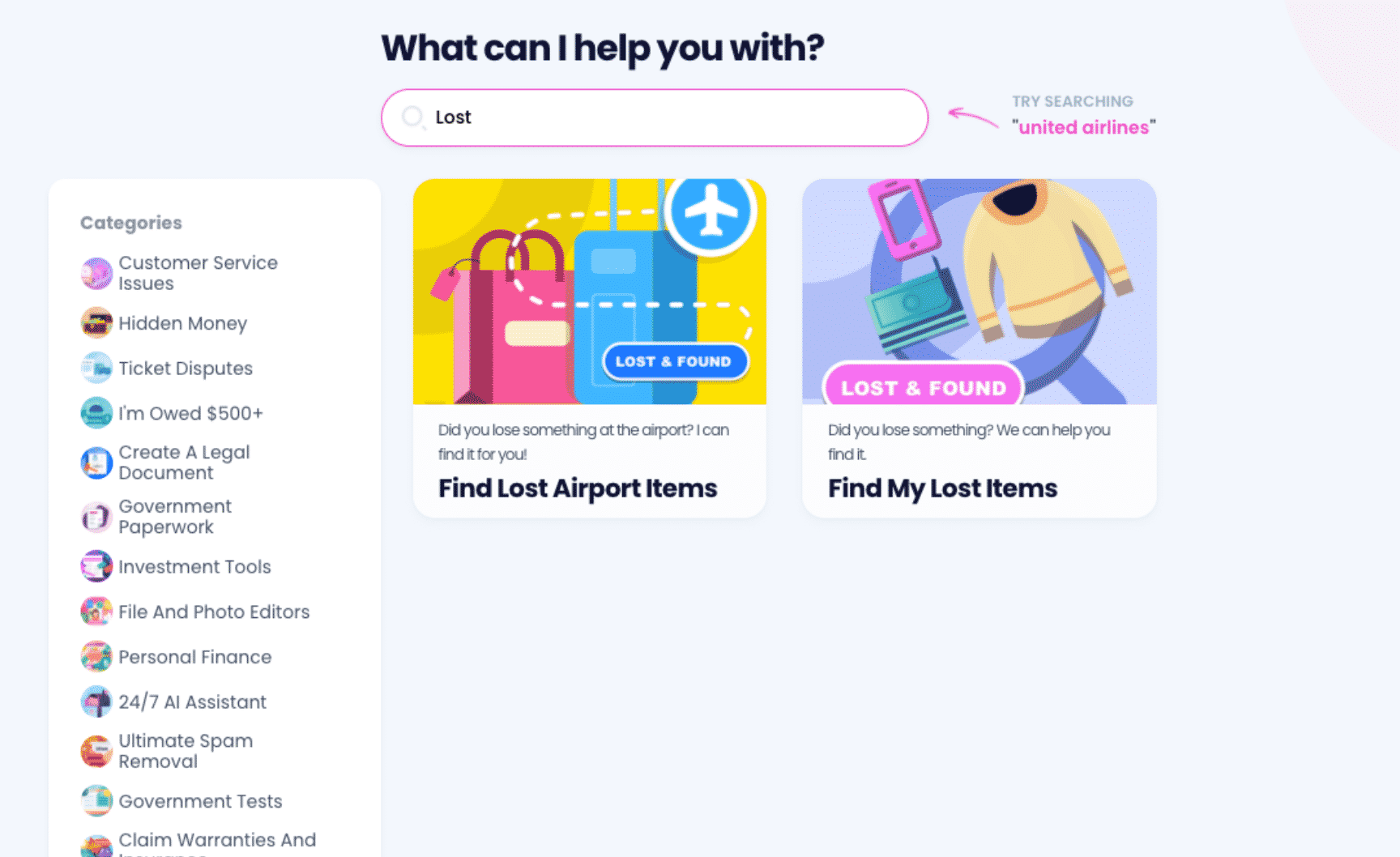 There is no need to go through the drawn-out processes of contacting the airport or your airline, describing your lost items so that they could find them, and hoping for the best. DoNotPay can do it all instead of you! Through DoNotPay's Find Lost Airport Items service, you can find numerous lost items, such as your phone or wallet. Here is the entire process you need to follow:
Look for Find Lost Airport Items
Answer a few questions regarding your baggage
Our AI-powered app will contact the airport for you and help you locate your belongings! Don't forget that, with DoNotPay, you can also get a full refund for canceled or delayed flights for any global airline company—whether it's American Airlines, Turkish Airlines, Spirit Airlines, or any other.
How Not To Lose Your Luggage Ever Again
To make sure you never lose your luggage again, here are some useful tips and tricks:
Stick a name tag to your bag
Attach a personalized luggage sticker
Buy a GPS/Bluetooth baggage tracking device to find your bag with your phone or computer
Get a unique, colorful suitcase so that you can find it easily
Administrative Issues Are No Longer a Problem With DoNotPay
By signing up with DoNotPay, you can say goodbye to tiring bureaucracy and:
Our App Generates Legal Documents and Letters in Your Stead
If you need some important paperwork, DoNotPay can generate it for you in record time! Our tools can assist you in drafting the following categories of documents:
Legal Documents
Appeals and Letters

Revocable living trusts

Advance health care directives

, including living wills and medical powers of attorney

Standard powers of attorney

Divorce settlement agreements

Defamation demand letters

Property tax appeals
All legal documents you create can also be notarized and faxed online in our app!
Lost Luggage — Frequently Asked Questions
Is my airline responsible for damaging my baggage?
Yes, airlines are responsible for reimbursing you for damaged baggage. However, this is subject to caps on liabilities, and airlines are not required to pay more than the maximum liability amount:
Domestic flights: $3,800 (excluding assistive devices such as crutches, braces, wheelchairs, hearing aids, Portable Oxygen Concentrators, Continous Positive Airway Pressure machines, and prescription medications)
International flights: $1,780
My baggage is delayed, is my airline responsible?
Yes, you are entitled to compensation by the airline, subject to the maximum liability limits mentioned above.
My baggage is lost, am I entitled to compensation?
Once your baggage is "officially lost", the airline is required to
compensate for your baggage, subject to the maximum liability limits mentioned above
refund any fees you paid for baggage transportation