Sea-Tac Airport Lost and Found—All Your Questions Answered
Employees at the Sea-Tac Airport Lost and Found office receive more than 250 lost items daily. On an annual level, it's more than 30,000 objects left by passengers—including laptops, cell phones, clothes, wallets, and jewelry. If your misplaced belongings were directed to this department but you have trouble getting in touch with the office, we can help you solve the matter fast. Find out how to contact the Lost and Found representatives and improve your chances of tracking lost items and baggage with DoNotPay!
How To File a Missing Item Report With the Seattle-Tacoma Airport Lost and Found
The Lost and Found office at the Seattle-Tacoma International Airport collects all the items that were left at various locations in the airport area, including:
Baggage claim area
Terminals
Conveyors
Gate areas
Restrooms
Restaurants
Parking lots and garages
Security checkpoint
Any other part of the airport interior and exterior space
If you have lost something at one of the places mentioned above, you should submit a missing item report to the airport's Lost and Found department. The only way to do it is to send an online report form via the airport's official website.
Here's what the procedure looks like:
Go to the airport's official web page
Pick the SEA Airport tab and select Airport Lost and Found
Select the green Report Lost Item button under the File a Report section
Click on New Report
Fill out the form and submit it
What if I Lost an Item in a Plane That Passes Through the Sea-Tac Airport?
The items left on airplane seats or anywhere in an aircraft aren't forwarded to the Lost and Found office. They are sent to the particular airline's storage premises, which is why you should contact the air carrier directly. The list of airlines that use the services of the Sea-Tac Airport is shown in the table below:
| Airline | Report the Missing Item Via |
| --- | --- |
| Alaska | |
| American Airlines | |
| Delta | |
| Southwest Airlines | |
| United | |
Seattle International Airport Lost and Found Office Hours and Location
The Seattle Airport Lost and Found is open for pick-ups from 8 a.m. to 6 a.m. on working days. It's closed on weekends, Memorial Day, Independence Day, Thanksgiving, Christmas, and New Year.
The department is located across from carousel 13 on the baggage claim level. If it's hard for you to find the location, you can use the interactive map provided on the official airport's website.
Finding It Hard To Reach the Airport? DoNotPay Will Speed Up the Process for You!
If you aren't sure about the exact location where you have lost the item, you must contact multiple departments and describe the issue all over again each time. Reaching the airport's customer care can also be difficult due to overly engaged phone lines and other communication methods. To avoid complications and reach the desired department more quickly, use DoNotPay!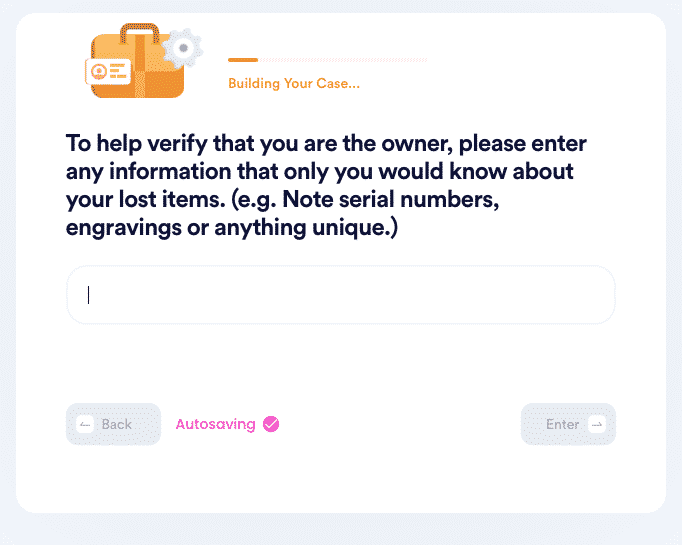 Once you disclose all the required info, we will use it to contact the airport on your behalf, which will improve your chances of tracking down whatever you lost!
Here are the instructions you should follow:
Go to Find Lost Airport Items
Tell us more about the missing item and describe the incident
That's not all! Have you been wronged by an airline that kept your ticket money after your flight was called off or delayed? DoNotPay assists you in retrieving your cash by submitting a refund request in your stead! No need to get in touch with the company yourself—our app does all the grunt work!
DoNotPay Handles Lengthy and Challenging Tasks on Your Behalf
No time to dedicate yourself to drawn-out procedures or solve administrative issues yourself? Keep calm—that's why DoNotPay is here! By creating an account on our platform, you will be able to:
Keep the Cash in Your Pockets With Our App
DoNotPay doesn't bring you money-saving hacks—it actually assists you in cutting out expenses and living more economically. The tools we provide are made to help you pay less for utilities, end unwanted paid memberships, have college fees waived, or get lower tax bills. You can also save more on education-related costs by applying for scholarships and other financial aid via our app!
If you have a few forgotten gift cards lying around, don't let them go to waste. DoNotPay can cash them out and send the remaining funds to your home address!