Get in Touch With the Las Vegas Airport Lost and Found Office Easily
Lost your phone, wallet, or any other precious item at the McCarran International Airport? Fret not because we're here to assist you. In this guide, you'll find out how to file a missing item report with the Las Vegas Airport Lost and Found department. If you'd like to skip the hassle of contacting various customer support representatives, !
McCarran International Airport Lost and Found
To report a lost item, you must contact the agency in charge of the area where the incident happened. At McCarran International Airport, you can contact:
The airport's Lost and Found office—For items misplaced in public areas of the airport, including terminals, gate areas, and security checkpoints
The airline's Lost and Found service—If you left an item on a plane, you can notify the airline in charge of the flight to report the incident
Contacting the Airport's Lost and Found Department
You must submit a missing item report as soon as you notice that your belongings are lost. To do so, you can visit the Lost and Found department in person or file a report online. The airport's Lost and Found offices are located at:
Terminal 1 Esplanade—On the Level 2 near the United Service Organizations (USO) Office
Terminal 3—Located not far from the Airport Police office
All lost items found on the premises of the Las Vegas Airport are returned to the Lost and Found office. The department will keep missing items in the inventory and place their information on the public database for 30 days.
The Lost and Found department will notify you if they find an item that matches your description, and you must claim it within the deadline. Failure to claim missing items in time will result in their disposal.
If you have any inquiries or require further assistance, you should dial (702) 261 5134. The office is open from Sunday to Friday, 7:30 a.m.–6 p.m. PST.
Contacting the Airline's Lost and Found Department
If you lose an item on a plane, you must contact the airline directly. Below is the list of some major airlines that serve McCarran International Airport.
| Airline | Phone Number |
| --- | --- |
| Aeromexico | 1 800 237 6639 |
| Air Canada | 1 888 247 2262 |
| Alaska Air | 1 800 426 0333 |
| Allegiant Air | 1 702 505 8888 |
| American Airlines | 1 800 433 7300 |
| Avelo Air | 1 346 616 9500 |
| Delta Air Lines | 1 800 221 1212 |
| Flair Airlines | 1 204 285 0844 |
| Frontier | 1 800 432 1359 |
| Hawaiian Airlines | 1 800 367 5320 |
| JetBlue | 1 800 538 2583 |
| Southwest | 1 800 435 9792 |
| Spirit Airlines | 1 855 728 3555 |
| Sun Country Airlines | 1 866 359 6786 |
| Swoop | 1 587 441 1001 |
| United Airlines | 1 800 864 8331 |
| VivaAerobus | 1 888 935 9848 |
| Volaris | 1 866 988 3527 |
| WestJet | 1 888 937 8538 |
You can also contact the numbers if you have lost your baggage and would like to track it.
DoNotPay Offers a Stress-Free Solution To Report and Locate Missing Items
Reporting and retrieving lost items at the airport is usually a hassle. Usually, you have to get in touch with multiple departments just to file a claim.
Save your time with DoNotPay! With us, you only need to create your report once and rely on us to handle the rest. Here's what you need to do:
Click on the Find Lost Airport Items feature
Tell us the airport name, description of the item, and date of the incident
We'll take it from there! Your report will be forwarded to the department in charge within minutes.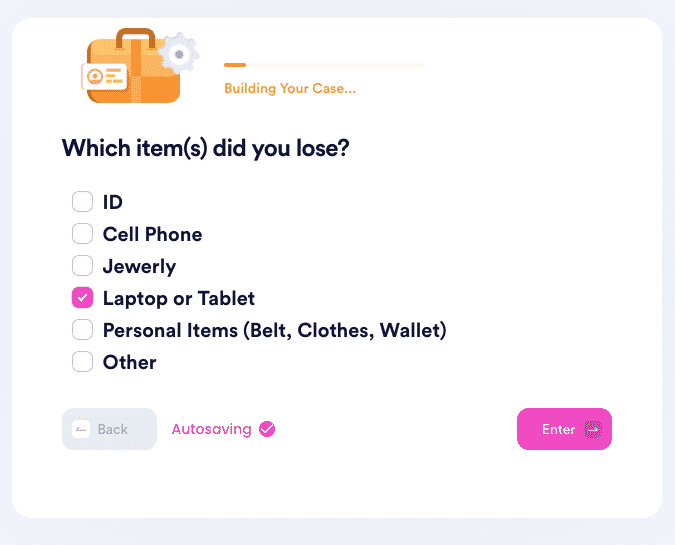 Our app can also walk you through the process of claiming airline compensation for:
Delayed flights
Poor WiFi
Administrative Issues Are No Longer a Problem With DoNotPay
By signing up with DoNotPay, you can say goodbye to tiring bureaucracy and:
Our App Generates Legal Documents and Letters in Your Stead
If you need some important paperwork, DoNotPay can generate it for you in record time! Our tools can assist you in drafting the following categories of documents:
Legal Documents
Appeals and Letters

Revocable living trusts

Advance health care directives

, including living wills and medical powers of attorney

Standard powers of attorney

Divorce settlement agreements

Defamation demand letters

Property tax appeals
All legal documents you create can also be notarized and faxed online in our app!