Retrieving Your Lost Belongings From the New Orleans Airport Lost and Found
You have lost your phone or misplaced your wallet at the airport and are unsure how to proceed to retrieve those valuable items. Now what?
In case you traveled via New Orleans' Louis Armstrong Airport, this guide is for you as it teaches the essentials of New Orleans Airport's Lost and Found policy!
We will also explain how the from any airport!
What Should You Know About the Louis Armstrong Airport Lost and Found Office?
All the items lost at the New Orleans Airport are kept by the airport's Customer Service Department.
If you happen to lose your luggage or any other item at the concourse checkpoints, you need to address this issue with the Transportation Security Administration (TSA) since this is their jurisdiction.
Here are the essential contact details that could help you locate your lost belongings:
Location of the Lost and Found office: Level 1 Baggage Claim near Bag Belt 6
Working hours: Monday through Friday from 8 a.m. until 4 p.m
Phone: 504-303-7790 (or 504-303-7700 for help outside of working hours)
TSA contact: msy-msoc@tsa.dhs.gov or 504-463-2252
How To Report a Lost Item to the New Orleans Airport Lost and Found
The process of reporting a lost item at the Louis Armstrong Airport is simple.
Open the official Lost and Found page and fill out the form by providing the following details:
Lost item description
The type of item you lost
Date and possible place of losing the item
Your name, address, email address, etc.
New Orleans Lost and Found Office Terms and Policy
Louis Armstrong Airport's Lost and Found office keeps the lost items for one year at most.
There are some exceptions to this rule:
Items that the passenger abandoned knowingly will be donated to a charity after 24 hours
Lost IDs and driver's licenses will be mailed to the address on the ID after seven days
If you lose a credit or debit card, the Lost and Found staff will destroy it after 24 hours
Lost military IDs will be sent via mail to the U.S. Army after seven days
Any lost passports will be handed over to the U.S. Customs and Border Protection agents after seven days
Your Social Security cards will be sent to the Social Security Department after seven days
Food will be disposed of immediately
Foul-smelling items are destroyed after 24 hours
Make sure that you contact the New Orleans Airport Lost and Found office within the appropriate timeframe for a specific lost item to ensure it is not discarded, destroyed, or donated.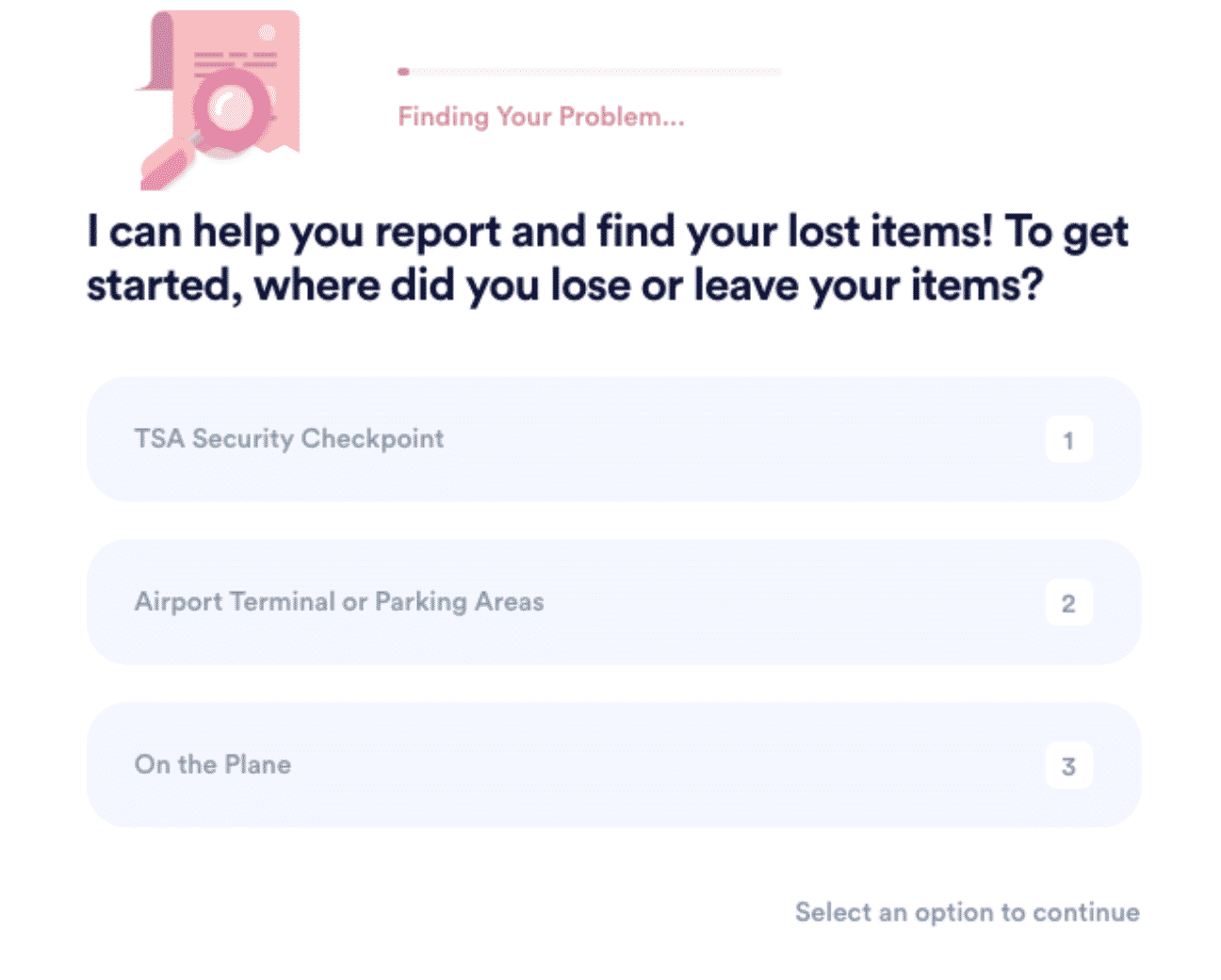 How To Locate Your Lost Items With the Help of DoNotPay
If you feel overwhelmed by the New Orleans Airport Lost and Found procedures or start panicking due to the loss of your belongings, don't worry because you don't have to deal with complicated procedures on your own—DoNotPay is here to help. Our AI-powered app drafts the lost item request letter and helps you track your luggage and retrieve any items lost at airports across the U.S.
All you need to do is provide some essential details about your lost items by following these steps:
Locate the Find Lost Airport Items feature
Provide the details that will help us with the search, such as the date of losing your items, airport name, etc.
After this, DoNotPay gets in touch with the New Orleans airport on your behalf and communicates with the representatives to help you find your lost item so you can pick it up.
DoNotPay can also help you get a full refund for canceled or delayed flights in case airlines prove too difficult to cooperate with.
Our Platform Makes Your Life Simpler
DoNotPay offers a vast spectrum of life-changing services, including the ones listed below:
| Services | With Our App, You Can: |
| --- | --- |
| Eliminating spam and harassment | |
| Saving and getting more money | |
| Providing other useful services | Convert various files to other formats |
DoNotPay Helps You Get the Necessary Paperwork in a Heartbeat
Do you need to compose a power of attorney, revocable living trust, or a health care directive but don't know how? No worries—DoNotPay can do it for you! If you need comprehensive and valid legal documents tailored to your wishes and needs, there's no better way to get them than subscribing to our app! We can also draft personalized FOIA requests, divorce agreements, homeschool notices of intent, and various complaints.