Tips and Tricks for Reaching the Cleveland Airport Lost and Found
The storage area at the Cleveland Airport Lost and Found department counts thousands of items—including clothes, jewelry, wallets, tablets, and cell phones. This collection grows with each passing day as dozens of people forget valuables around the airport area or in planes.
Reclaiming your missing belongings can seem difficult since you may need to wait in a phone line for an hour or more to reach customer support. Luckily, if you , you can simplify the process and report lost items without direct contact with the airport officers. Check out this article and find out how to do it with minimal hassle!
Submitting a Lost Item Report to the Cleveland Hopkins Lost and Found
The Lost and Found office at the Cleveland Airport proposes three ways to report the missing object:
Phone
Online form
In person
How To Inform the Lost and Found About the Loss via Phone
To report the lost item over the phone, dial (216) 265-0777 and explain what you have left at the airport and the exact location where it happened if possible. If you provide a thorough description of the object, it may be easier for the representative to locate it in the storage area. The operator will get your contact details and contact you once they have an update.
How To Inform the Lost and Found About the Loss Online
To file an online report form, proceed as follows:
Visit the airport's website
Hit Contact
Find the Lost and Found section and click on Contact Us Here
Provide your home address and contact details
Disclose the info related to the incident and describe the item
Click on Submit
How To Inform the Lost and Found About the Loss in Person
You can also visit the department and file a missing object report in person. The office is located at the central information desk on the ticketing level.
How Can You Pick Up the Item Found at the Cleveland Airport?
If the Cleveland Airport Lost and Found office or any other department in charge finds your missing item in their storage area, you can claim it by:
Visiting the office in person to pick it up—you must set an appointment with the office staff in advance
Arranging with the department to ship it to your home address
Where Else Can the Items You Lost at the Cleveland Airport Go?
Besides the Cleveland Airport Lost and Found department, you can search for your missing object in:
Transportation Security Administration (TSA) Lost and Found Office—It's the first place where you should check for the items lost at the security checkpoints. You can reach it by calling (216) 362-4231
Storage space of the airline you flew with
Here's a list of all airlines that use the services of the Cleveland Hopkins Airport:
| Air Carrier | Phone Number |
| --- | --- |
| Allegiant | (702) 505-8888 |
| Air Canada | (888) 247-2265 |
| American Airlines | (800) 433-7300 |
| Delta | (800) 221-1212 |
| Frontier | (801) 401-9000 |
| JetBlue | (800) 538-2583 |
| Southwest | (800) 435-9792 |
| Sun Country Airlines | (651) 905-2737 |
| Spirit | (855) 728-3555 |
| United | (800) 864-8331 |
Tired of Waiting on Hold? Let DoNotPay Communicate With the Airport for You!
If you don't feel like spending half an eternity in a phone queue or speaking to multiple operators and explaining what you lost all over again, DoNotPay can help!
You can tell us what you lost and provide more details by answering a few simple questions, and we will contact the airport and forward the info you provided! The process of reporting the missing item with us doesn't take more than five minutes, and it significantly improves your chances of getting your item or lost luggage back!
Here's what you should do:
Visit the Find Lost Airport Items section
Fill out a straightforward questionnaire
Besides tracking lost luggage and items, we can help you get compensation for postponed and canceled flights. DoNotPay can contact the airline in your stead and request your money back in no time!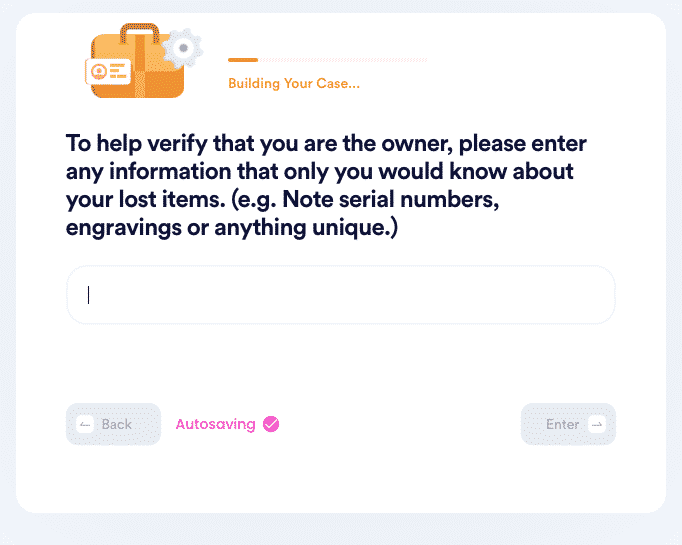 Administrative Issues Are No Longer a Problem With DoNotPay
By signing up with DoNotPay, you can say goodbye to tiring bureaucracy and:
Our App Generates Legal Documents and Letters in Your Stead
If you need some important paperwork, DoNotPay can generate it for you in record time! Our tools can assist you in drafting the following categories of documents:
Legal Documents
Appeals and Letters

Revocable living trusts

Advance health care directives

, including living wills and medical powers of attorney

Standard powers of attorney

Divorce settlement agreements

Defamation demand letters

Property tax appeals
All legal documents you create can also be notarized and faxed online in our app!