The Ins and Outs of Boston Logan Airport Lost and Found
You flew to or from the Boston Logan Airport when you realized that something was amiss: you left your phone, your wallet, or some other personal item behind!
First of all—don't panic. The Boston Logan Airport Lost and Found Office handles situations like these, and this guide is here to help you get a grasp of how it operates.
If you don't feel like reporting your lost item yourself, for you!
The Basics of Lost and Found at the Boston Logan Airport
Massachusetts Port Authority's Public Services Department is in charge of the Boston Logan Airport's Lost and Found Office.
The vital thing to note about the Logan Airport Lost and Found is that it doesn't manage and is not responsible for items lost on airplanes as well as airline gate boarding areas and TSA checkpoints.
This office handles only the items lost at:
Security checkpoints
Customs Hall
For personal items you have lost at checkpoints, you should contact the TSA at 614-516-2047 or submit a report using the online form. Don't forget to pick Logan International Airport from the dropdown menu.
For items you have lost at Customs and Border Hall, call 617-568-1810.
In case you've lost an item on an aircraft or airline's boarding area, contact your airline company directly.
| Where Did You Lose Your Item? | Who Is in Charge of Finding It? |
| --- | --- |
| Airport terminals, curbside areas, airport shuttles, parking lots | Boston Logan Airport Lost and Found |
| Airplane | Your airline |
| Rent-a-car/door-to-door shuttles between gates/taxis | The companies that provide these services |
How Can You Report Your Lost Items to the Boston Airport Lost and Found?
There are two ways you can report a lost item to the Lost and Found:
Via phone
Online
If you want to report a lost item via phone, you can do so by calling 617-588-7514 and describing your lost item to the operator. You should provide any information that may be helpful to the operator, including the:
Terminal
Airline
Location where you lost the item
The airport's Lost and Found department will contact you if they find your missing item.
When reporting the loss of your item online, fill out the form on the airport's website.
How To Retrieve Your Lost Items From Logan Airport's Lost and Found
Once the airport staff has found your lost item, you can retrieve it in person from the Lost and Found Office located between Terminals C and E next to the Badge Office.
The business hours are from 7 a.m. to 11:30 p.m. daily. Due to COVID-19, their working hours are subject to change, so call the airport in advance when planning to pick up your item.
Alternatively, you can use a local shipping service to have the item sent back to you. You are responsible for covering the cost of the shipping.
Boston Airport Lost and Found advises that all passengers use a baggage tracking device to keep track of their bags.
Unsure How To Proceed? DoNotPay Can Help!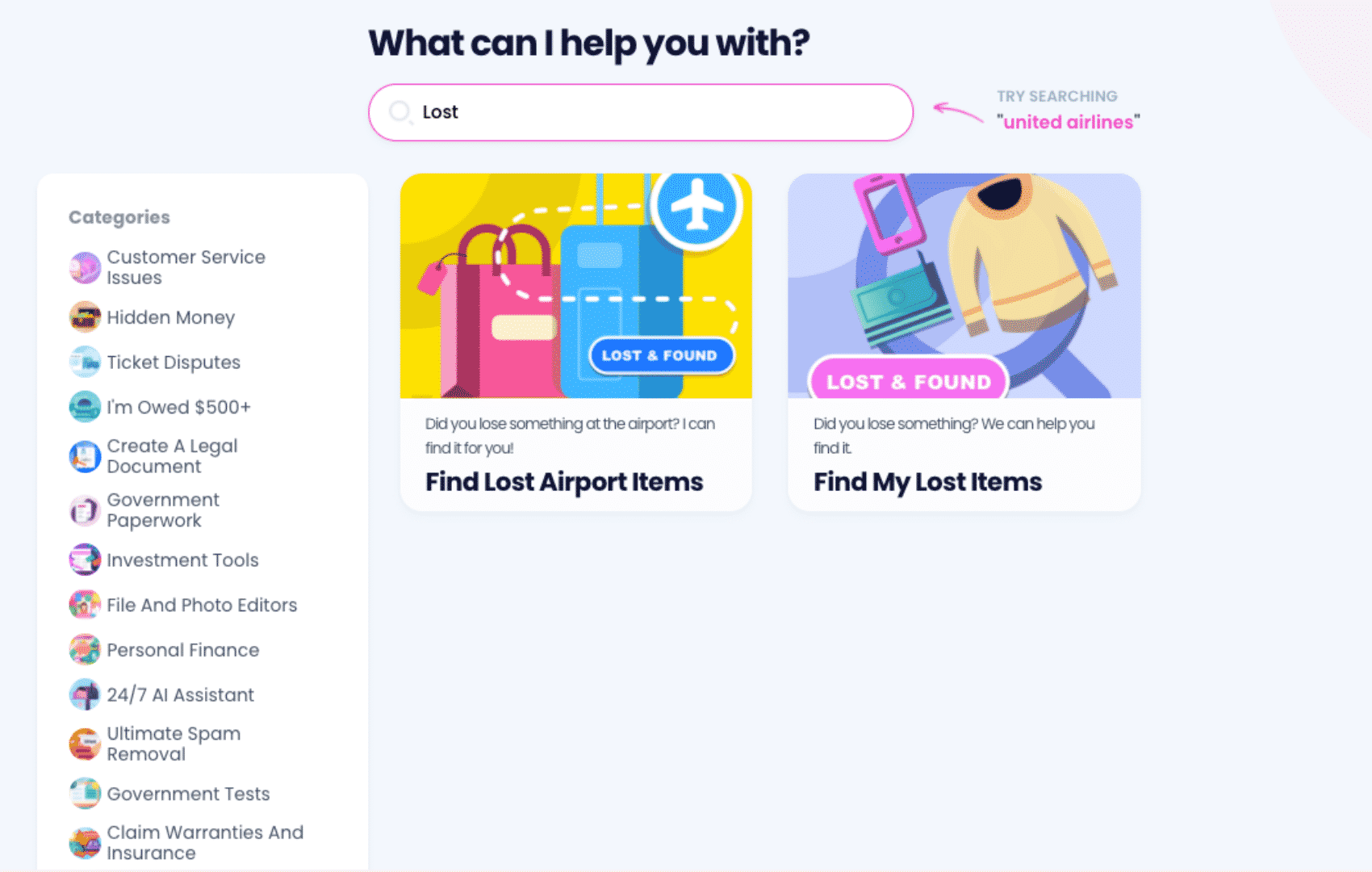 Even though we have covered the entire process of retrieving a lost item from Boston Logan Airport's Lost and Found service, you may still feel like the whole process is too complicated, or you don't have the time to go through all the back and forth with the representatives.
That's why DoNotPay is here—our AI-powered app takes on the entire procedure for you without endless correspondence. DoNotPay will contact the airport on your behalf right away and help you locate the missing items without unnecessary delays. Follow these simple steps to get a hold of your lost item once again:
Locate the Find Lost Airport Items feature
Provide more information about your lost possessions
With DoNotPay, you can also get a full refund for canceled or delayed flights and deal with many other annoying bureaucratic issues.
Choose From a Vast Variety of DoNotPay's Handy Services
DoNotPay boasts an enviable collection of various tools that help you cope with administrative matters more efficiently. Here is a small portion of the services we generously offer:
We Can Help You File
We Can Create

Property tax assessment appeals

Tourist visa applications

Revocable living trusts

Advance health care directives

Powers of attorney
Be Safe Online With the Help of Our App
Keeping your details confident when using the internet is simpler with DoNotPay! Check out virtual credit cards our app can generate for you, and have fun with the free trials no one can charge you for! If you need a quick solution for phone authorization but don't want to use your actual phone number, we can create burner ones and keep your info private. DoNotPay assists you in reporting defamation as well as stalking and harassment, prevents copyright violation, and helps you eliminate spammers and their annoying texts, emails, and robocalls.