Here's How To Contact the Miami INTL Airport Lost and Found Office!
Miami International Airport is one of the busiest airports in the world, with over 80 airlines flying to more than 150 destinations worldwide. In an airport of that scale, it's all too easy to misplace valuable possessions amidst the hustle and bustle.
To initiate the search for your lost belongings, you need to contact the Miami INTL Airport Lost and Found office. Spare yourself the trouble and let DoNotPay handle the job in your stead!
Contacting Miami International Airport Lost and Found
Regardless of whether you lost a phone, wallet, or key or want to track lost luggage, you can file a report with the Miami International Airport Lost and Found department free of charge. The office is located on Level 4 of the North Terminal D and is open all week from 8 a.m. to 6 p.m. You can get in touch with a representative in person or over the phone by dialing 1-888-335-0690.
If you lost your possession in any of the specific areas from the table, you can direct your inquiries to the relevant lost and found department, as follows:
Last Known Location of the Item
Lost and Found in Charge
Onboard
If you lost an item on a plane, contact the Lost and Found office of the airline in question
A Transportation Security Administration (TSA) Checkpoint
Items left at TSA checkpoints will be delivered to the airport's Lost and Found office the following business day. This policy doesn't apply to confiscated items
Rental car center
You can get in touch with the Lost and Found office by dialing 1-888-761-8227
Other areas
Complete the Lost Item Claim form with:

Your contact details
The description of the lost item
Relevant information about the incident

After filing a report, you will be given a claim number to track the item recovery progress. You will be notified via email if there is any development
If you think your valuables were stolen, you can file a stolen property report with the Miami-Dade Airport Police.
DoNotPay Can Contact the Miami International Airport Lost and Found Department on Your Behalf
The entire search process can take a long time if you decide to handle everything on your own. By the time you finish the reports, your valuables would have been missing for far too long. If you'd like to avoid multiple trips to the airport just to file a missing item report, you should rely on DoNotPay.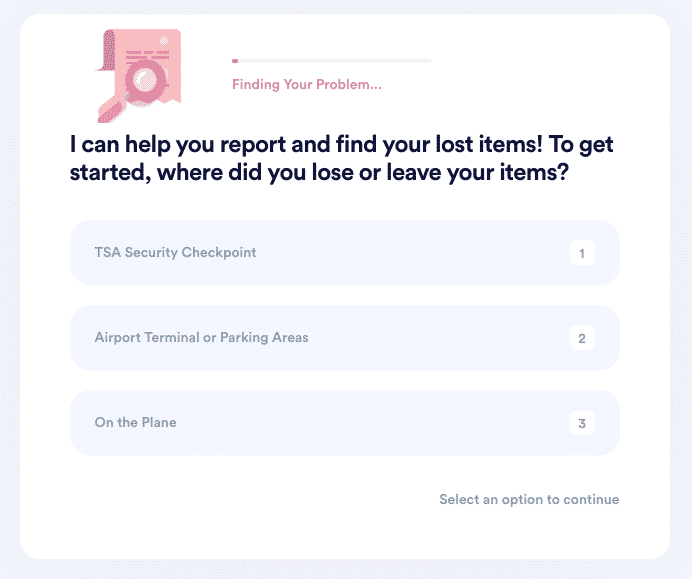 We will help you get in touch with the appropriate Lost and Found office in a matter of clicks. All you need to do is:
Navigate to the Find Lost Airport Items product
Type in the airport name, description of the item, date of the incident, and other relevant details
Our app will generate and send a personalized report to the airport you specified within minutes.
If you wish to request compensation for canceled or delayed flights, our app can walk you through the process and help you get your money back!
Claiming Lost Items From Miami International Airport Lost and Found
If your item is found and stored in the Miami International Airport Lost and Found office, you have thirty days to claim it. To prove that you're the rightful owner, you must be able to:
Describe the item in detail
Give evidence of ownership
Present a valid identification document
To retrieve found items, you can opt for any of the following methods:
In-person pickup—You can retrieve lost items that are proven to be yours in person during business hours. A clerk will require you to provide the claim number and your ID
Mail delivery—You can make shipping arrangements with the Lost and Found office if you can't pick up your lost goods in person. All shipping costs will be your responsibility, including taxes and customs fees
DoNotPay Handles Lengthy and Challenging Tasks on Your Behalf
No time to dedicate yourself to drawn-out procedures or solve administrative issues yourself? Keep calm—that's why DoNotPay is here! By creating an account on our platform, you will be able to
Keep the Cash in Your Pockets With Our App
DoNotPay doesn't bring you money-saving hacks—it actually assists you in cutting out expenses and living more economically. The tools we provide are made to help you pay less for utilities, end unwanted paid memberships, have college fees waived, or get lower tax bills. You can also save more on education-related costs by applying for scholarships and other financial aid via our app!
If you have a few forgotten gift cards lying around, don't let them go to waste. DoNotPay can cash them out and send the remaining funds to your home address!