How To Report a Lost Item to the Tampa International Airport Lost and Found
If you have lost a cherished item while passing through the security checkpoint or any other area of the Tampa Airport, you may have dozens of questions on your mind. How to track down what you lost? How can the Tampa International Airport Lost and Found office help you locate a missing phone, laptop, wallet, or any other lost item? What happens if you lose something during a flight?
Check out DoNotPay's manual, subscribe to our app, and find out how to connect with the Lost and Found office within minutes with minimal fuss!
Which Lost Items Does the Tampa Airport Lost and Found Collect?
The Tampa International Airport Lost and Found office holds the items that were left at various locations within the airport, such as:
Airsides
Shops
Shuttles
Restaurants
Restrooms
Terminals
Parking lots
Baggage claim locations
Security checkpoints
Ticketing areas
Tampa International Airport Lost and Found Office Working Hours
The Lost and Found department at the Tampa International airport works from 8 a.m. to 6 p.m. every day. It's closed for the holidays.
How To File a Lost Item Report With the Tampa Lost and Found Office Yourself
There are three ways to communicate the incident to the Tampa Airport Lost and Found department—by:
Phoning the office
Filing an online query
Mailing a query to the airport
Reporting the Lost Item via Phone
Here's how to report the missing object over the phone:
Dial (813) 554-1414
Tell the operator what happened
Provide a thorough description of your item
Reporting the Lost Item Online
To file an online report form, do the following:
Go to the Lost and Found page of the airport's official website
Select the Click Here To Create a Lost and Found Claim hyperlink
Provide the details related to your missing object
Leave your contact info
Submit the form
Reporting the Lost Item via Mail
You can also submit your query by:
Writing a letter explaining how you lost your item
Including the description of the missing object
Mailing the letter to: Tampa International Airport Lost and Found, PO Box 22287, Tampa, FL 33622
Does the Tampa Airport Lost and Found Hold the Items Lost in a Plane?
No, the Lost and Found department isn't responsible for the objects you have left in an aircraft. In such situations, you should contact the airline and ask them to locate your item.
The table below displays airline companies' contact details:
| Airline | Phone Number |
| --- | --- |
| Air Canada | (813) 396-3568 |
| Alaska Airlines | (877) 815-8253 |
| American Airlines | (813) 396-8675 |
| British Airways | (813) 676-4207 |
| Cayman Airways | (800) 422-9626 |
| Delta Airlines | (800) 325-8224 |
| Edelweiss | (877) 359-7947 |
| Frontier Airlines | (813) 879-8270 |
| JetBlue | (813) 350-9342 |
| Lufthansa | (800) 645-3880 |
| Silver Airways | (727) 394-3838 |
| Southwest Airlines | (813) 371-5660 |
| Spirit Airlines | (813) 676-4424 |
| United Airlines | (800) 335-2247 |
| WestJet | (866) 666-6224 |
How Can DoNotPay Assist You in Reporting a Misplaced Item More Swiftly?
If you aren't sure where exactly you have dropped your belongings, you must contact more than one department and explain the situation multiple times. Since this can be a real burden, DoNotPay can help you by:
Gathering all crucial details about the incident and the missing luggage or item
Reaching out to the airport in your name
Saving you from spending hours on hold and engaging in tiresome correspondence with the airport authorities
Increasing your chances of tracing the lost baggage or other objects more swiftly
To take advantage of our service, you should:
Find the Find Lost Airport Items product
Answer a few simple questions provided by our chatbot
Our app also offers a helpful tool that can assist you in getting your airplane ticket money back if the flight was canceled or delayed. We will generate a refund request in your stead and send it to the company within minutes, saving you time and nerves!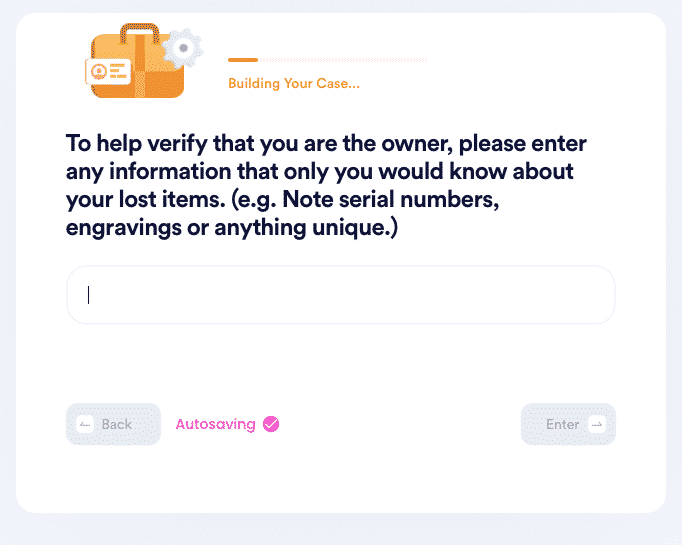 Turn to DoNotPay and Remove Bureaucratic Issues in a Snap
Does paperwork bring you to the edge of a nervous breakdown? With our help, you will skip all administrative impediments and get ready-made legal documents before you know it! No failed drafts or huge legal fees!
DoNotPay can generate:
Once you create the desired document, you can fax it online without a faxing machine or have it notarized with zero complications in the same app!
Your Info Is Safe With Our App
You don't need to leave your credit card info or personal details if you want to start free trials that won't turn into paid subscriptions without notice. DoNotPay will create a virtual credit card with a fake name and generic credit card number for you in just a few clicks. This way, greedy companies won't take a single penny from your account without your authorization!
Our app can also help you file anonymous HR complaints or create burner phone numbers to avoid disclosing your real info when signing up for apps and platforms.