Ins and Outs of Protective Extended Warranty
Protective Asset Protection is a Missouri-based company selling extended warranties for RVs, marine vehicles, and new or used cars.
What Does Protective Auto Warranty Include?
This organization features several extended warranty plans. Depending on the car model, the coverage can go up to seven years or 100,000 miles—whichever comes first.
The table below shows the overview of the most popular warranty plans this company offers:
Extended Warranty
Levels

Protective Vehicle Protection Plan

Powertrain

—fluids, engine, filters, lubricants, seals and gaskets, hybrid components

Enhanced

—fuel, brakes, heating, cooling, electrical, and air conditioning, and items covered by the Powertrain level

Premium

—steering, suspension, electronics, high-tech package, and items covered by the Enhanced level

Complete

—all components from other levels and optional coverage

Protective Auto Care Plan

Powertrain

—fuel, engine, filters, drive axles, transmission, hybrid components

Plus

—steering and electrical system, and items covered by the Powertrain level

Advanced

—brakes, hi-tech, cooling, heating suspension, air conditioning, seals and gaskets

Ultimate

—any mechanical failure except the excluded ones

CostGuard Extended Warranty

Powertrain

—transmission, diesel/gasoline engine, front/rear-wheel drive

Basic

—brakes, steering, electrical, front suspension, air conditioning, and items covered by the Powertrain level

Plus

—Basic coverage on other components
When Should You File a Warranty Claim?
Upon noticing a malfunction, you should file a warranty claim as soon as possible. Delaying a visit to a dealership can exacerbate the problem and lead to new complications.
File a Protective Asset Protection Auto Warranty Claim With DoNotPay
Claiming Protective Asset Protection warranty doesn't have to be complicated or burdensome. DoNotPay has developed an amazing feature to help you get your car fixed in no time. To use this service, open our app in any and follow these instructions:
Search for the

Claim Warranty

feature and pick

Car Warranty

Type

Protective Asset Protection

as the name of the provider

Describe the problem in as many details as possible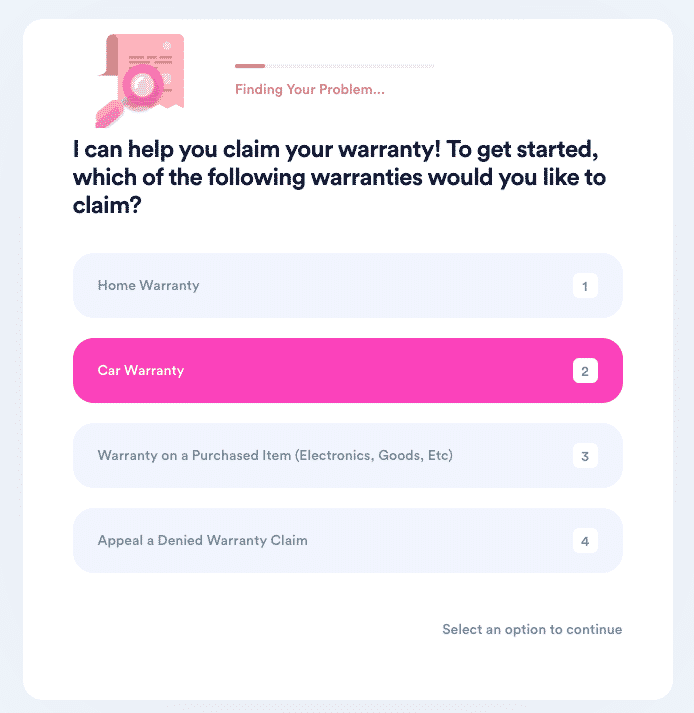 That's all we need to create a claim letter and send it on your behalf. Using the same procedure, you can claim standard car warranties or any home warranty in America too!
How To Claim a Protective Car Warranty on Your Own
To file a claim, you must visit the dealership or branch where you bought your warranty plan. Here's what the procedure should look like:
Take your vehicle to the issuing dealership

Tell the staff you wish to file a warranty claim and provide them with your service contract number and the adjustor's phone number—

(866) 493-0184

Wait until the dealership gets approval from the company and assesses the damage and costs

Pay a deductible if necessary

Submit proof of repair to the company within three months from contacting the dealership
Note that the warranty company can refuse to pay the repair costs if you don't submit the evidence.
Did the Company Deny Your Claim? Submit an Appeal With DoNotPay
Don't get surprised if your warranty claim gets rejected—it's a common situation. Companies usually deny first-time claims or prolong the cancellation of extended warranties. Such actions are their way of avoiding responsibilities, but our app has a solution for that too.
Here's how you can file an appeal in no time using our Claim Warranty feature:
Find

Claim Warranty

and choose

Appeal a Denied Warranty Claim

Choose whether you are appealing against the decision of an extended warranty provider

or a car manufacturer

Tell us more about the company in question and provide a digital copy of the rejected claim
Our system will automatically generate and send an appeal letter in your stead. Upon receiving your details, the company will get in touch with you.
You can use this procedure when you want to cancel your extended warranty or appeal a rejected home warranty claim.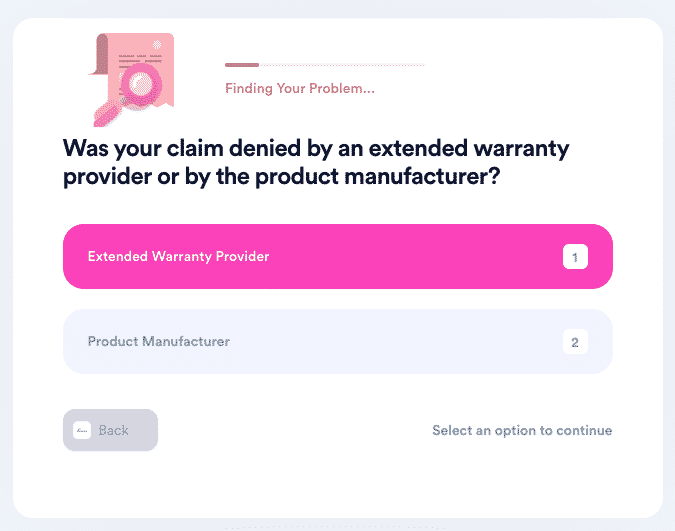 Let DoNotPay Take Care of Your Day-to-Day Chores
Our attractive features include many more perks! Make sure you check out our tricks for claiming USAA, Alpha, Geico, or CornerStone extended warranty in no time.
Do you want to learn how to interpret home warranty reviews and avoid unreliable car warranty companies like a pro? We will share our amazing knowledge base with you and answer all your questions!
Access our platform from your anytime and let us assist you with:
Contesting traffic tickets

Overturning speeding tickets