All You Need To Know About an RV Extended Warranty
Recreational vehicles, or shorter RVs, represent a true delight for everyone who craves life on wheels. Containing the entire living space within its bodywork, an RV is a common choice for setting off on long trips or tours. This requires all their mechanical aspects to be in place.
RVs usually come with a manufacturer's warranty that can last up to ten years. Statistics have shown that this type of vehicle is most susceptible to breakdowns and malfunctions, which is why most owners decide to purchase an extended warranty plan.
What Are RV Extended Warranties, and What Do They Cover?
RV extended warranty plans are additional programs that go beyond the regular warranty the vehicle factory proposes.
Unlike RV insurance plans, which are mandatory and whose purpose is to cover the costs of accidents or extreme weather consequences, extended warranty plans cover the expenses of regular repairs caused by other failures.
They aren't obligatory, but they are worth considering in cases of major malfunctions that require loads of money.
Companies that sell extended warranties usually offer several types of plans. You can check out the common ones in the following table:
Extended Warranty Plan Type
Features

Comprehensive

Also known as a bumper-to-bumper warranty, this policy covers almost all components of your vehicle. This includes the engine, heating, cooling, electrical and fuel systems, etc.

It contains only a few exclusions

Exclusionary

This plan lists only the components it doesn't cover, making it more extensive than the comprehensive one

Basic

Basic plan covers major repairs due to serious malfunctions, such as drive axle, transmission, and engine failures
The plan you choose determines the number of components included and the price of the policy. The best way to check these aspects is to study the propositions in the plan description or contact a dealer and discuss the policy with them.
What Isn't Covered by a Recreational Vehicle Extended Warranty?
General exclusions are common for all policies, and they contain the following:
Maintenance components

Paint and other aesthetic aspects

Damages caused by natural disasters

Failures covered by insurance policies

Furniture and upholstery inside the vehicle

Upgrades such as changing lamps, glass, engine, and more
How To File an RV Extended Warranty Claim on Your Own
Filing a claim depends on whether you purchased your policy from a service provider or a local dealership.
All you need to do if you want to file a claim with your extended warranty provider is to get in touch with them. Depending on the provider, you can do it via their official website, over the phone, by email, or using any other available option. This way, you will get additional instructions regarding scheduling a repair.
Depending on the case, you may also claim your RV warranty by visiting the nearest dealership and requesting a repair from them.
How To File an Extended Warranty Claim for Any RV via DoNotPay
You can claim your extended RV warranty in only a few clicks, thanks to DoNotPay. All we need are a few answers to our questions, and we can submit a claim in your stead. Here's how you should proceed:
Log in to DoNotPay using your

Go to

Claim Warranty

and select

Car Warranty

Provide the chatbot with the required details

Go to

Submit My Claim
Not only does this feature help with new vehicles, but it also works with extended warranties for used cars, as well as with a regular car or home warranty.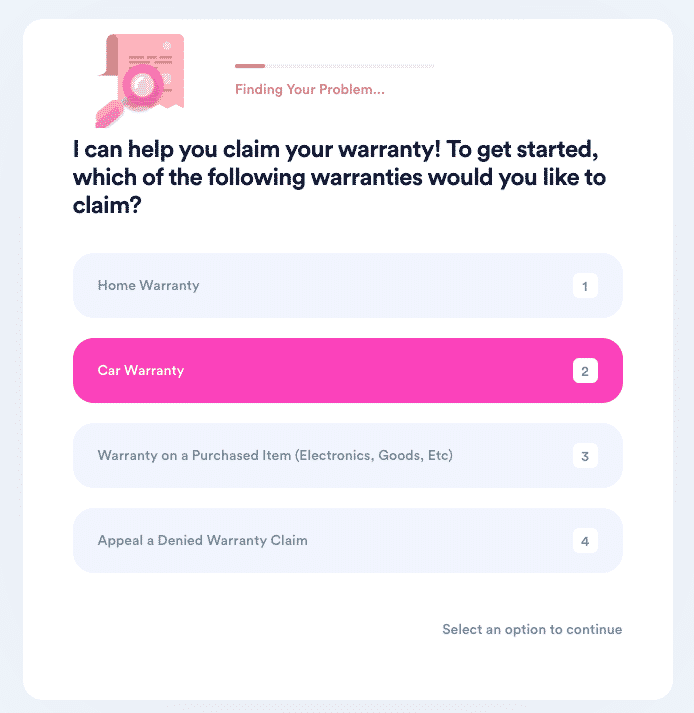 The Company Rejected Your Claim—Can DoNotPay Help?
If the company denies your claim, you should know that your case isn't the only one—most merchants refuse warranty claims the first time. That doesn't mean that you should give up! DoNotPay offers another handy tool that can appeal any denied warranty claim on your behalf.
Here's how you can use this feature:
Open DoNotPay and choose

Claim Warranty

Click on

Appeal a Denied Warranty Claim

Provide the necessary details about the company and submit the previously refused claim

Submit your appeal
As soon as you complete all the steps, DoNotPay will create an appeal letter in your stead and send it to the company, whose representatives should contact you shortly thereafter.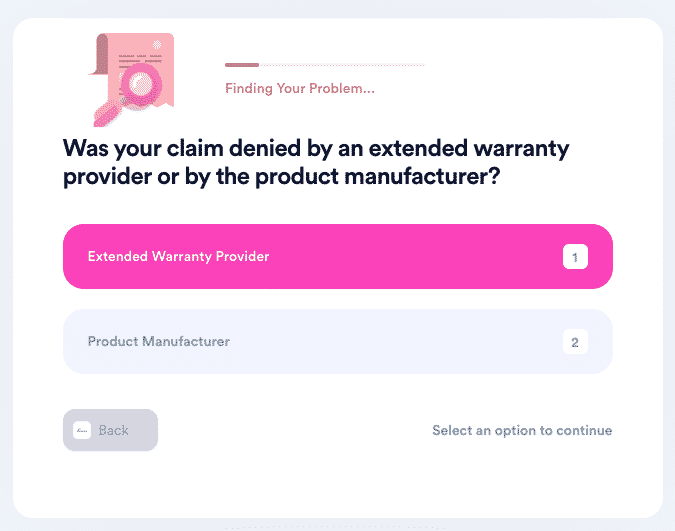 Avoid Bureaucracy Hassle and Other Boring Tasks With DoNotPay
Do you have another vehicle with an active warranty? Check out how to claim warranties for Kia, Audi, Honda, Lexus, Nissan, and other automotive companies. We can get you acquainted with the popular home warranties in America, the importance of home warranty reviews, and steps to take when a dealer doesn't want to cancel your extended warranty.
You can find all this in our online learning center, accessible from any . DoNotPay's numerous other features that will assist you with:
Filing speeding ticket appeals

Filing traffic ticket appeals