How To Claim USAA Extended Warranty—Top Tricks
The United States Automobile Association, or shorter USAA, is a Texas-based financial organization that provides various types of insurance and other services to military personnel and their families. It counts more than 13 million members and over $30 billion in revenue. 
Is There a USAA Extended Warranty?
USAA features two types of extended car warranty plans—Comprehensive Protection and Manufacturer Wrap Protection—through their partner, Assurant Solutions. In 2018, the company canceled this offer and stated that they have no plans to bring it back. 
Despite the sudden interruption in service, the USAA didn't cancel the existing plans for those who had already purchased these two policies. People who still have active plans can use them as long as the car is under the chosen warranty.
What Do USAA Car Warranty Plans Cover?
The Comprehensive Protection plan acts as a bumper-to-bumper warranty, covering almost every part of the vehicle, including the engine, drive axles, transmission, and more. It's an excellent choice for vehicles that don't exceed 115,000 miles and includes 24/7 roadside assistance. 
The Manufacturer Wrap Protection proved to be the best option for drivers who need an addition to their manufacturer's powertrain warranty. It includes almost all car components except the engine, transmission, and other parts covered by the powertrain plan. The only condition is to purchase it at least 30 days before the original manufacturer's warranty expires.
Both extended warranty policies the USAA offered include various types of reimbursement for traveling and transportation, as well as the 'hold' option for all members that get deployed.
What Are the Exclusions To USAA Extended Car Warranty?
Both the Comprehensive and Manufacturer Wrap Protection Plans have the same exclusions to their policies. The following table shows components and repair expenses these warranty plans don't cover:
Excluded Components
Excluded Repair Costs

Tires

Upholstery

Drive belts

Brake pads

Wiper blades

Fuel and oil filters

Safety restraint system

Sealed beams, LEDs, and other lighting devices

Corrosion and rust

Damage caused by misuse

Alterations and modifications

Breakdowns that are the owner's fault

Failure caused by wrong maintenance

Mechanical problems that existed before the plan purchase

Damage caused by extreme weather (hail, fires, floods, earthquake, etc.)
How To File a USAA Extended Auto Warranty Claim by Yourself
If you have an active plan you purchased before the USAA canceled the extended warranty service, you are still entitled to all the repairs your policy proposes. 
The claim-filing procedure consists of two main parts—obtaining approval from the service administrator and repairing the vehicle. Here's what these steps should look like:
Call the USAA at

1-877-387-8722

Explain to the representative that you wish to obtain authorization for a warranty repair and get the claim authorization number

Visit the repair facility, review the damage with the repair facility manager, and determine the approximate costs

Pay a deductible if your warranty doesn't cover certain components

Submit all the necessary info to the company, including your name, contact details, current mileage, cause of failure, and corrective action
Can DoNotPay Help Me File the USAA Extended Warranty Claim?
Did you know that you can claim your warranty from anywhere by using your only? Forget tedious procedures and multiple confusing steps. DoNotPay will help you file a claim in no time. You don't need to ring the company or fill in a bunch of forms because we will contact the provider on your behalf. 
This is how our feature works:
Go to DoNotPay and find the

Claim Warranty

option

Choose

Car Warranty

Pick

USAA

as your car warranty provider and choose your car model

Describe the vehicle malfunctions you encountered

Click on

Submit My Claim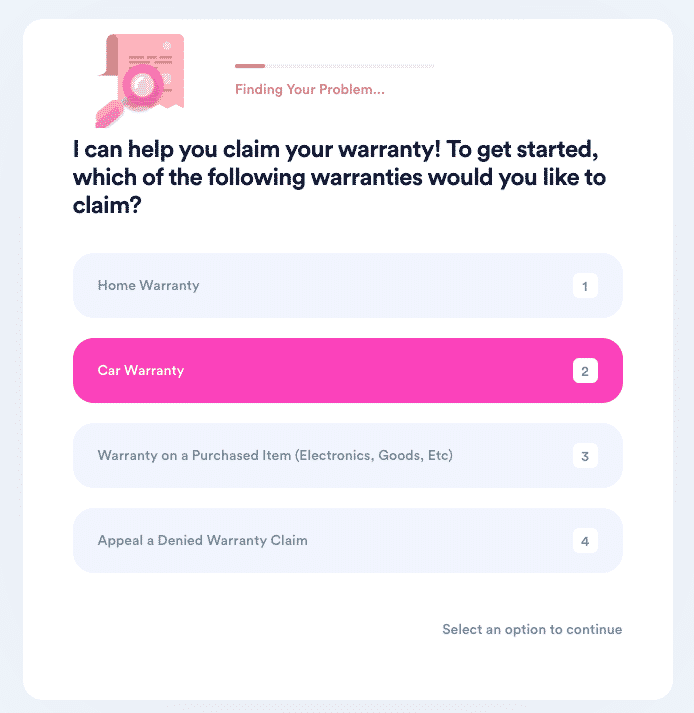 DoNotPay creates a claim letter right away and sends it to the USAA in your stead. This feature doesn't apply only to extended warranties for used or brand new cars, but also to the car and home warranties. We can claim warranties from any home warranty company in America and offer some tips on using home warranty reviews to find the best provider.
DoNotPay Has Your Back if Your Claim Gets Rejected
Our app also brings another handy service that helps you file an appeal for a rejected claim. Many extended warranty providers refuse to cancel their clients' plans and avoid facing their responsibilities as much as they can. 
By submitting an appeal letter on your behalf, we help you increase your chances of getting the service you are entitled to. Here's how our feature works:
Open DoNotPay and find the

Claim Warranty

option

Pick

Appeal a Denied Warranty Claim

Tell us more about the company and attach the original warranty claim
As soon as you provide us with the necessary details, we will generate an appeal and submit it to the provider.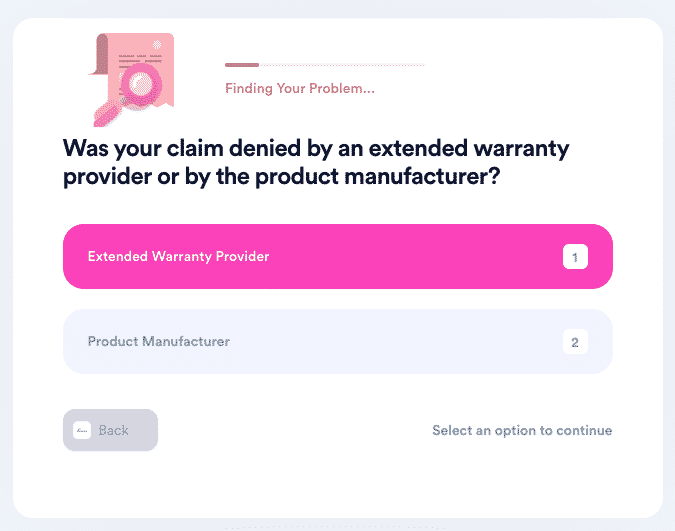 What Else Can DoNotPay Do?
If our tips for learning how to claim USAA auto warranty came in handy, you should explore the best methods for filing AAA, Zurich, Allstate, or Assurant Solutions extended warranty claims.
Access DoNotPay from any and get the best out of our amazing features. We can assist in:
Fighting traffic fines

Contesting speeding fines