How to Deal With Student Loan Robocalls
College graduates burdened by student debt have become a huge target of student loan robocalls recently. In May of 2019, over eleven million student loan robocalls were placed across the United States.
Because most borrowers are overwhelmed by their loan balances, the mere idea of debt forgiveness makes them susceptible to fraud, and scammers know this.
Navient Robocalls Are the Most Aggressive Ones


Navient is one of the nine companies under contract with the Department of Education. They are in charge of managing student loans, but as of late, the company has become a major talking point due to their harassing robocall strategy.
Some people have received upwards of two thousand Navient robocalls, despite revoking the consent that allows the company to legally autodial them.
In 2017, over four thousand lawsuits were filed due to the violation of the consumers' rights under the Telephone Consumer Protection Act (TCPA), most of which addressed Navient's and Nelnet's robocalls.
How to Spot a Student Loan Forgiveness Robocall Scam
There are many ways to detect student loan forgiveness scams. Some of the red flags you should keep an eye out for include:
The company offering to get rid of your loan debt
The company demanding an up-front payment
The company imposing charges for services that are always free
The caller advising you to stop making your loan payments
The caller requesting sensitive information such as your Social Security number (SSN) or Federal Student Aid (FSA) ID password
The company offering to settle the debt for you for a fixed amount
While there are many red flags that can help you decipher whether you are dealing with a scammer or not, here are the most common signs of student loan forgiveness robocall scams:
Extremely salesy approach
Lawsuit-based debt forgiveness
Mandatory up-front payments
Salesy Tactics Are Common
The U.S. Department of Education and other federal agencies never use aggressive sales tactics, nor do legal loan forgiveness companies. Spam emails, calls coming from unrecognizable numbers, threats, demands—all of these elements indicate that you are dealing with a scammer rather than a legal business!
Borrowers have options for student loan forgiveness through programs such as Total and Permanent Disability Discharge. Usually, the Federal Student Aid provides guidance on these programs, educates borrowers about the available aid programs, etc.
Legal Claims Are a Bad Sign
To make their scams more believable, some fraudsters offer lawsuit-based debt forgiveness. Victims typically receive formal calls and emails filled with legal jargon, claiming that the caller's law firm can pay off the victim's debt if the payments are made directly to them.
Though tempting, legal claims are a reliable sign that you are dealing with a scammer.
Mandatory Up-Front Payments
Whenever a scam caller offers you student loan forgiveness services but requests up-front payments for them, hang up immediately. All government programs that provide these types of reliefs are always free of charge.
More often than not, these student debt relief robocall scams come with recurring monthly charges to your account.
Robocalls Are Not Always Illegal
Politicians and charities are legally allowed to use robocalls for their campaigns. Telemarketers and other legal businesses can also autodial their customers if they meet certain requirements placed by the Federal Trading Commission (FTC) and the Federal Communications Commission (FCC).
For a robocall to be legal, the following requirements have to be met:
All calls have to be placed after 8 a.m. and before 9 p.m.
The caller has to provide identification
You must be offered an option to pull out of the company's robocalls
The caller has to have your written consent to be able to legally autodial you
No Identification—No Cooperation
For an automated call to be legally placed, the caller has to provide you with proper identification. At the very beginning of the call, the caller has to:
Reveal his or her identity
Reveal the identity of the company on whose behalf the call is being placed
Before the call is terminated, the caller has to leave you with:
The company's phone number
The company's address
You Decide Who Gets to Robocall You
Even if you permitted certain companies to contact you, you have to be able to change your mind whenever you feel like it.
If you are dealing with a pre-recorded message, it must provide you with an option to press a particular digit to put your number on the company's do not call list.
In case you have been left with a voicemail, it has to offer you a toll-free, call-back number that you can call to pull out of the company's marketing calls.
Without Your Written Consent, Their Hands Are Tied
If a company wants to legally autodial you, they have to have your written consent. Express written consents are defined by the E-SIGN Act and can come in various forms, such as electronic signatures or checking a box on an online form.
The next time you receive an unwanted call from a company you know does not have your written consent, know that you are free to file a claim against them.
Best Robocall Blocking Apps
Luckily for all of us, most phone carriers and third-party companies started to develop their own robocall blockers. Among the best apps are:
Robocall Blocker

Service Overview

Free 7-day trial period
$2.99 per month for Android devices
$3.99 per month for iOS devices
Answer Bots feature
Customizable Answer Bot messages
Includes text spam filtering

Free basic service
Includes transcription services
Reverse phone number lookup
$5.99 per month for YouMail Plus
$10.99 per month for YouMail Professional

Free 14-day trial period
$1.99 per month
Free for VoIP landlines
Free number lookup services
Large database of bad numbers

Free basic service
Extremely accurate caller ID
$26.99 per year for Truecaller Premium
$249 per year for Truecaller Premium Gold
Blocking Robocall Numbers on Your Smartphone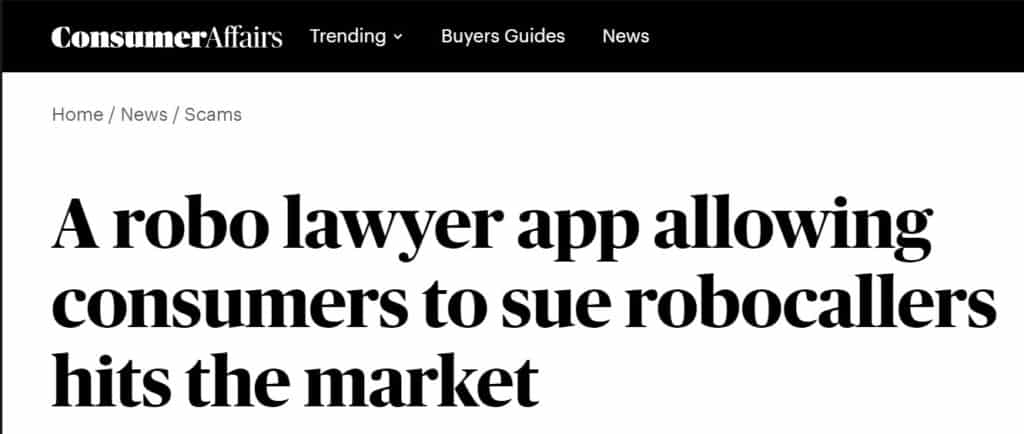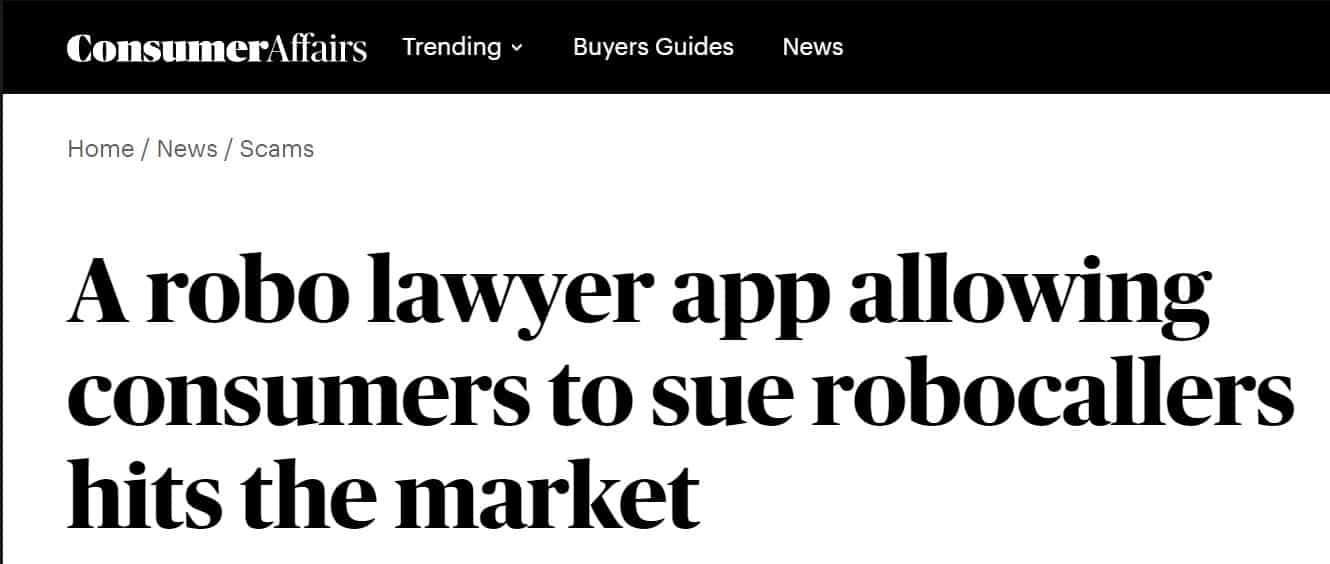 Smartphones are smarter than you think. You can use both Android and iOS devices to block specific numbers or even all unidentified calls.
While blocking robocall numbers can prove to be effective against telemarketers and other legal businesses trying to sell you their products and services, blocking scam callers' numbers will not be of much use to you.
Because scammers want their operations to last as long as possible, they frequently change their numbers, and that makes blocking them completely futile.
Blocking Numbers on Android Devices
If you are using an Android device, you have the option to block a specific number or all unidentified numbers. To perform the former, you need to:
Open the Phone app
Select Recent Calls
Tap the number and select Block or Report as Spam
Confirm the message asking you whether you want to block this number
To block all unidentified numbers on an Android device, you have to:
Open the Phone app
Select Settings
Enable the switch that says Block Unidentified Numbers
Blocking Numbers on iOS Devices
iOS users can block specific numbers, but they can also silence all unknown callers. To block a number on an iOS device, you should:
Open the Phone app
Tap on Recents
Tap on the info icon next to the number you want to block
Select Block this Caller
Tap on Block Contact
If you want to silence all unknown callers, and this means that their calls get forwarded to voicemail, you have to:
Go to Settings
Select Phone
Turn on the switch that says Silence Unknown Callers
Can You Block Robocalls on Landlines?
You most certainly can. Depending on whether you are using VoIP landlines or old copper wire ones, the process and the effectiveness differ greatly.
Probably the best solution for blocking robocalls on landlines is to use a third-party app called Nomorobo. Nomorobo works with many major carriers, including Xfinity, Verizon FiOS, AT&T, and many others.
Nomorobo relies on the so-called "simultaneous ring" technology to block robocalls on landlines. All your incoming calls get forwarded to Nomorobo, and if they pick up the call first and establish that you are dealing with a robocall, your phone will not ring the second time.
Best of all, Nomorobo is free for VoIP landlines!
What About Copper Wire Technology?
Apps like Nomorobo do not work with old copper wire technology. To be able to block calls on these old-school devices, you will need to attach additional hardware to your phone that screens a list of scam numbers.
The biggest downside of these devices is that they come preloaded with a limited amount of phone numbers.
DoNotPay's Way of Dealing With Robocalls


If you are wondering how to stop robocalls efficiently, you should consider giving DoNotPay a shot. Our app does not just help you block scam callers, but trace them down and file a robocall lawsuit against them!
Though our app packs a ton of useful features, the latest addition to our services called Robocall Revenge can help you sue robocallers and claim up to $3,000 in court settlements!
To start using Robo Revenge quickly, simply open DoNotPay through a .
Here is how DoNotPay deals with annoying robocalls:
You receive a scam robocall
The caller tries to extort money or personal information from you
You open DoNotPay and click on Robo Revenge
Our app generates a free virtual credit card for you
You share the virtual credit card details with the scammer
We track the robocaller down based on the transaction details
We help you write a dispute letter and file a claim against the fraudster
Why the Virtual Credit Card?
We generate a one-time virtual credit card for you to keep your personal information protected. Also, if the scammer tries to charge the card, we can use the transaction details to track them down if they are located in the United States.
Note that we can only assist you with domestic scam calls. To file a claim against a robocaller, we need to know their address. In cases where the call is coming from overseas, acquiring such information is virtually impossible.
A Few Tips on How to Keep Scam Robocalls at Bay
If you do not want to use a robocall blocker because you think that scammers should pay for their wrongdoings, DoNotPay's Robo Revenge is the way to go!
Before you start relying on technology for dealing with annoying robocalls, there are some precautionary measures that you can take to lessen the impact of robocalls on your life:
Place your number on FTC's Do Not Call list
Keep your personal information to yourself
Do not answer unknown calls
Do Not Call List Can Make a Difference
FTC allows you to report a robocall and place your number on the National Do Not Call list. If your number is on this list, it becomes illegal for companies to autodial you. Legal businesses and telemarketers will abide by this rule, but scam callers will probably not. If you are wondering how to check if a number is on the Do Not Call list, you can give FTC a call or visit their website.
To manually put your number on the National Do Not Call Registry, you need to:
Open FTC's Do Not Call website
Select Report Unwanted Calls
Provide information regarding the unwanted call you received
Submit your request
You can check the FCC guide to robocalls to learn more about how to deal with malicious scam callers.
We have also written in-depth guides if you need additional information on Do Not Call list exceptions and Do Not Call list expiration.
Your Personal Information Is Yours to Protect
More often than not, scam callers will be looking to extort your personal information rather than your money. Getting a hold of your banking information, for example, allows scammers to pull off large-scale frauds, such as identity theft.
That is why you should always refuse to provide an unknown caller with your personal information, no matter how persuasive they may be.
Stop Answering Unknown Calls
A safe way to fight back against robocalls is to stop answering unknown calls, especially if the number is too similar to yours. Robocall scammers use a method called "neighbor spoofing" that helps them mask their numbers to increase the likelihood of you answering.
Even if you do not provide the scam caller with your personal information, sometimes, they are just looking to record your voice and use the recording to authorize over the phone purchases.
Well-Known Robocall Scams to Keep an Eye Out For
While scary, Navient robocalls are not among the most common robocall scams that have been scourging America over the past few years. These are the scams you should be most cautious about:
Robocall Scam

How to Recognize It

IRS scam

Some robocall scams can be incredibly menacing, and the IRS robocall scam is the perfect case in point. You receive a call from an alleged IRS inspector claiming that you have an overdue tax bill that you need to pay immediately. They will even threaten to issue an arrest warrant if you refuse to cooperate.

To make the hoax more believable, the caller will even provide you with his or her badge number! The government would never address these issues in such a manner. If you had an overdue tax bill, you would be sent a notice via U.S. Mail.

Government Grants scam

Government Grants are also something fraudsters use for their robocall scams. Victims receive a call from a government official claiming that they have become eligible for free government money. For the money to get transferred to your account, you would need to pay a one-time processing fee.

This fee is the telltale sign that something is not right. Government Grants are always completely free—you would not be required to pay anything!

Google SEO scam

If you are a small business owner, you should be particularly cautious about this scam. threaten to wipe out all your Google listings if you refuse to pay additional SEO fees. Note that Google does not use automated calls to reach its users.
Make Things Go Your Way With DoNotPay
Need help paying bills? Want to learn how to lower your bills? DoNotPay has answers to all of these questions and many others. To start using our services, visit DoNotPay through a . Our platform boasts many useful features that can help you:
Dispute traffic tickets
Fight speeding tickets