The Easy Way of Getting a Notre Dame Application Fee Waiver
The University of Notre Dame du Lac (ND) was founded in 1842. It is an Indiana-based Christian university with around 12,000 students.
The acceptance rate is only 17,7%, which means it might be a good idea to apply to other universities. Each application comes with a fee, but DoNotPay knows the way of getting those expenses waived.
What Is the Purpose of Application Fee Waivers?
Future students usually apply to more than five universities to keep their options open and always have a safety net. This reasonable action comes with downsides—college application fees. Each school will ask you to pay a certain amount to even consider your application.
These amounts are not negligible since the cost of one can be up to $100. Multiply this with five schools, and you get a hefty expense of hundreds of dollars only to be considered as a choice. More college fees come along with the tuition when the school starts, so it's best to start cutting costs early on.
Many students can't afford to spare that much, and that's when application fee waivers step in. If you come from a family that is struggling financially or you have any other economic difficulties, you might be able to request a fee waiver.
If you already got an SAT or ACT fee waiver, you should be automatically eligible for one when applying to a university.
If that is not the case, read our article to find out other ways of waiving fees.
University of Notre Dame Application Fee Cost
The application fee at the University of Notre Dame is $75, and you cannot get a refund for it. Applicants can pay with an e-check or a credit card. The alternative option is requesting a fee waiver.
Here are some of the popular schools you might consider applying to and their application fee costs along with the acceptance rate:
DoNotPay can help you waive the application fees for all those universities!
Who Can Request an Application Fee Waiver at Notre Dame?
Application fee waivers at Notre Dame are available for students who come from families with low incomes. To request a fee be waived from your application, you need to:
Be a state's ward

Reside in a federally subsidized public housing

Come from a family that gets public assistance

Live in a foster home

Be a part of the Federal Free or Reduced Price Lunch program

Not have a home

Not have living parents

Be enrolled in any of the programs made to assist students with low-incomes

Be a part of a family with an annual income that meets the

USDA Food and Nutrition Service

Income Eligibility Guidelines
The annual family income is usually less than $70,000 for up to six members.
How To Ask for an Application Fee Waiver from ND on Your Own?
You may request an application fee waiver when applying to Notre Dame. There are only two ways of sending your applications to this school:
You should bear in mind that neither of the apps has such a large database of universities as DoNotPay. We can help you skip this expense with Notre Dame and numerous other schools on your wish list and save a significant amount of money!
How To Ask for an Application Fee Waiver via the Coalition App
If you decide to send your application to Notre Dame via the Coalition App, you can include your fee waiver request. This is what you need to do:
Create a new account or log in if you have one already

Select the

Profile

link

Select all the reasons that can help you get a fee waiver

Select

University of Notre Dame

as the school you want to attend
In some cases, you may need confirmation of your financial status from a school counselor. Due to the COVID-19 situation, some schools may let you skip this step, so make sure to check.
How To Ask for an Application Fee Waiver via the Common App
If your choice for sending an application to Notre Dame is the Common App, you will need to do the following to get a waiver:
Create or log in to your account if you have one

Click on the

Profile

link

Locate and select the

Common App Fee Waiver

option

List the reasons that make you eligible for the application fee waiver

Choose all the economic factors that have to do with your financial situation

Answer additional questions

Finish the procedure with your signature
Request the Notre Dame Application Fee Waiver With DoNotPay
If you want to finish your fee waiver request the fastest way, you should choose DoNotPay! We will help you remove this extra Notre Dame fee. The best part is that our app is connected with all the universities in the U.S., and we can help request fee waivers for new students, transfer students, and enrollment deposits.
Proceed as follows:
Access DoNotPay from any

Locate and choose the

College Application Fee Waiver

option

Choose the application fee waiver you want to request

Enter

University of Notre Dame

as the school you're applying to

Tell us more about your financial status and problems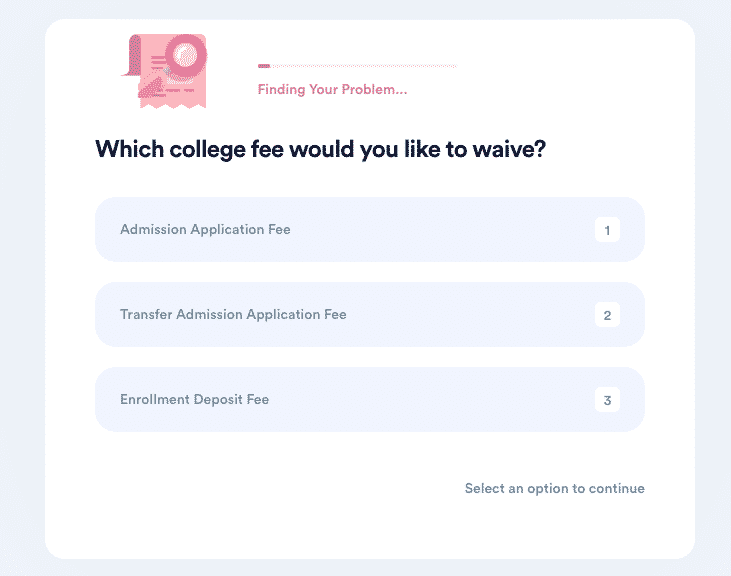 You won't have to worry about completing the form and mailing it to the right address—DoNotPay will handle all that. If you need a signature from your counselor to confirm your financial status, we can send the form to them. In case you decide to skip this step, we will mail the form straight to the university.
DoNotPay Is the Easy Way Out of Administrative Trouble
After you're done with the application process, your inbox will become cluttered with various emails from schools. We offer you assistance in stopping college emails fast and easy.
DoNotPay is also aware that student life comes with numerous expenses, and we offer a plethora of ways to ease that financial burden. Your virtual assistant knows the best way of dealing with student loan bills. If you are having trouble with student loan robocalls, our app can show you how to deal with this issue as well.
We also understand that students need time to relax and take breaks from studying. For this reason, DoNotPay offers you a chance to start free trials with music apps such as Spotify, Apple Music, or YouTube Premium without the risk of getting charged.
If you would rather unwind while streaming TV shows or playing video games, apply for free trials with GameFly, Xbox Live, DC Universe, or Amazon Prime Student.

Access DoNotPay from your and let us help you manage tasks such as:
Contesting traffic tickets

Challenging speeding tickets