Get Your Hands on the DC Universe Free Trial
DC Universe—the streaming service—was founded in 2018. Since then, this video-on-demand website has managed to obtain the Webby Award for video streaming. You can watch different movies and TV shows, read 23k+ comic books, buy merch, and read the news from the DC fandom via their website.
If you are a fan of the superheroes (and villains) of the DC Universe, then you must snag the free DC Universe trial and see what all the fuss is about.
Can I Get the Free Trial of the DC Universe Streaming Service?

DC Universe offers a free trial of their ultimate DC membership, but there's a catch. You can get the DC Universe free trial only if you are a new user, according to their terms of use.
There are two things they require for a membership—your email address and your payment information. So even if you're technically not a new user, you can qualify for the free trial with an alternative email and bank info.
If you are worried your info may be misused, don't give up! We at DoNotPay can generate a fake credit card number and an email address so that you can enjoy this or any other free trial stress-free. Why not give it a go?
What Does the DC Universe Free Trial Offer?
As a user, you get to give the DC Universe streaming service a try with a free trial of the ultimate DC membership. Here's what you gain access to with the free trial:
DC comics

Daily news

An exclusive shop

Original DC series, TV shows, animated films, movies

An opportunity to win entrance to exclusive events

DC community of avid fans

DC Universe via all your devices
You can get a kick out of DC Universe on:
Their website

Your iOS device

Your Android device

Apple TV

Roku

Amazon

Xbox One

Kindle
Take a look at the trailer for this ultimate DC membership you can test out. As Harley Quinn says "It's got comedy, action, and incredibly gratuitous violence," exactly what DC fans expect.
How Long Is the DC Universe Free Trial?
The free test drive of DC's ultimate membership lasts for seven days. During this time, you have unlimited access to their services. 
Once the trial period is up, you can either keep enjoying the content or you can cancel the subscription. Be sure to cancel in time, or they'll charge you immediately, no questions asked.
Any questions you might have concerning the cancellation of this membership, you'll find the answers in our guide on how to cancel DC Universe.
How Do I Get the DC Free Trial?

Now that you are familiar with the nitty-gritty details of the DC free trial, let's sign you up! Follow our quick step-by-step guide:
Fill in your

email address

and create a

password

Untick

Yes! I want to receive email

if you don't want that

Click on

Sign up

Tap on

Join now

Choose

a plan

you'd prefer

Complete your

payment information

Add

a promo or gift card

Select

Start free trial now
As you can see, you can apply a gift card or a promo code. Be on the lookout for the codes by visiting some of these websites:
Does the DC Universe Free Trial Turn Into a Paid Subscription?

Yes, it does. Once the trial subscription ends, it automatically renews into a paid one, and the company starts charging you. That's why you need to make sure to cancel prior to the expiration date. 
According to their terms of service, you will be charged based on the plan you choose when you register. DC will keep charging you until you cancel. It's also good to know that refunds are not possible. Even if you forget to cancel, are late a day, or have stopped using it earlier—they will take your money.
Don't despair, DoNotPay can work around this automatic-renewal issue! Find out how below.
Forget About Automatic Renewals With the Help of DoNotPay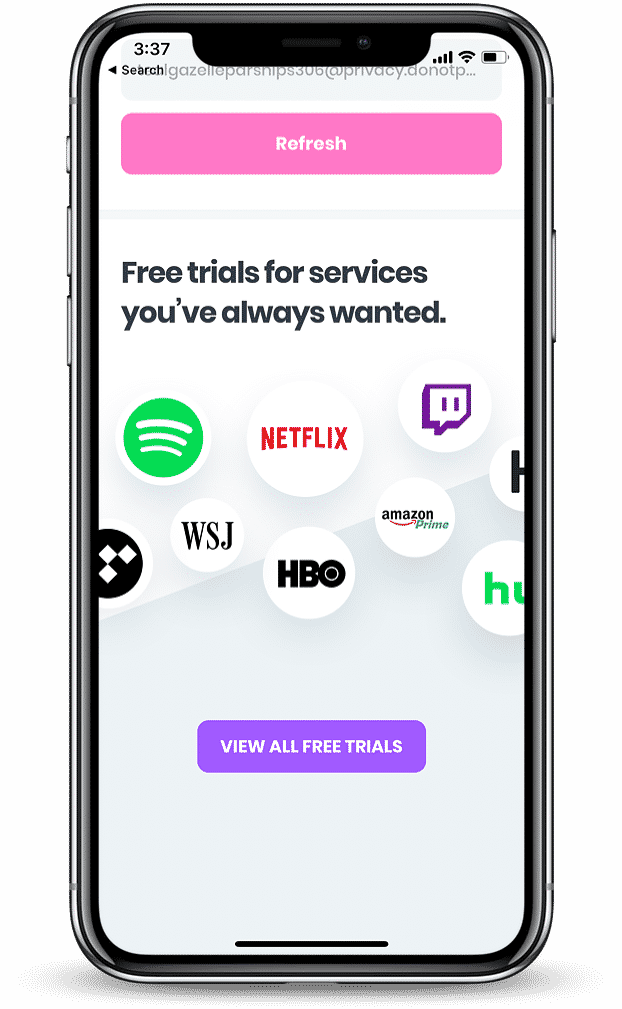 You signed up for a free trial. You dove into the service offered. And before you know it, you get a bank statement with a mysterious charge—you forgot to cancel the subscription!
Not to worry, DoNotPay can make sure that something like that never happens to you again. How? With our virtual credit card.
Here's what our free trial card can do:
It creates

a random card number

It approves free trials for you

It cancels subscriptions

It shuts down automatic renewals
All you need to do is open DoNotPay in a web browser, create your virtual credit card, and relax.
How Much Is the DC Universe Subscription After the Free Trial?
As soon as the free trial is over, DC Universe will charge you without notice, so it's nice to know how much this could set you back. Take a look at your options:
| | |
| --- | --- |
| Plan | Price |
| Monthly plan | $7.99 |
| Yearly plan* | $74.99 |
You should be aware that the yearly plan is not always available.
Compared to some other streaming services like Disney+, Hulu, or AppleTV+, you could say DC Universe is pricey.
Get Rid of Spam Email for Good

Dealing with work emails is difficult enough, but to receive daily or weekly spam emails? There's nothing worse! Upon registration, DC Universe asks you if you wish to receive emails from them and you can decline. Many people click yes by accident, though. You also have to register using your email address anyway, so a spam email here in there might find its way into your inbox.
Even if the spam doesn't come from DC Universe, it could come from elsewhere—some other company may bother you for marketing purposes.
DoNotPay can put a stop to email spam forever.
Whether you're using Gmail or Yahoo, follow these steps:
Visit DoNotPay in

any web browser

Click on

Spam Collector

Fill in your email address to connect with DoNotPay

Forward your next spam email to

spam@donotpay.com

Never receive spam again
There's More DoNotPay Can Do for You

Are you trying to keep afloat with many bureaucratic procedures in your daily life? We can make them all go away. You can open DoNotPay in a web browser and find easy solutions to complicated problems.
Some of those issues could be with other streaming services, such as getting a free trial of Showtime, getting a Twitch refund, or canceling Starz, Netflix, HBO NOW, or YouTube TV.
Check out what else we can assist you with:
 

Disputing traffic tickets

Contesting speeding tickets