A Three-Step Guide to Booking a Notary in West Hollywood
Are notaries difficult to book in West Hollywood? DoNotPay comes to the rescue! You don't have to dial a million numbers to get an appointment! We'll provide you with all the info on different notary services and show you how to schedule a meeting with a notary online. and learn how to get your documents notarized like a pro!
What Does a
Notary in West Hollywood
Do?
A notary in West Hollywood, California, is appointed by the government to perform the following tasks:
Witness the signing of documents

Verify the signer's identity

Check whether the signer is signing the documents of their own free will

Confirm that you're of sound mind or not under the influence of any substances during the signing

Sign and stamp the documents as the final step in the notarization procedure
How To Book an Appointment With a
Notary in West Hollywood
If you choose to schedule an in-person appointment with a notary public in California, you will have to take the following steps:
Steps
What To Do

Finding a notary

Use any of the following websites to

find a notary

:

You can also visit various public places offering notary services:

UPS

locations

AAA

stores

Learning about

notary costs

Get in touch with a notary and find out how much they charge for the service

Scheduling a meeting

Book an appointment by calling a notary office or visiting them in person

Proving your identity

Make sure to bring proof of identity with you, such as your ID, driver's license, or passport

Finishing the process

Sign the documents and let the notary finalize the procedure by providing his or her

signature
In case you find these steps too time-consuming, you can choose other options, such as mobile, electronic, or online notarization.
Notaries in West Hollywood
—Types
Apart from the standard in-person notary service, you can also pick:
Mobile Notary Service
Mobile notaries can meet you at any location you choose. Make an appointment and have them meet you at a local cafe, your house, office, or any other place that works for you.
They charge an additional travel and mileage fee, so keep in mind that a mobile notary service isn't the most affordable option.
Electronic Notary Service
Electronic notaries work in a similar way to the regular notaries, which means that you meet them in person at their office to sign the documents. The difference is that the documents will usually be in a PDF format and signed digitally.
Online Notary Service
Online notaries offer the most simplified and undemanding procedure. The entire process takes place in your home via video call. You don't have to bother traveling to specific locations or waste a ton of money on mobile notary fees.
What Documents Can a
Notary in West Hollywood
Notarize?
A notary in West Hollywood, CA, can notarize a variety of documents—from legal paperwork to financial contracts. Check out the table below to see some of the common ones:
Legal Documents
Financial Documents

Executorships

Court documents

Trusts

Advanced directives

Custody agreements

Mortgage closing documents

Loan documents

Property deeds
Note that certain documents, such as birth certificates or photographs, cannot be notarized.
How Much Can a
Notary in West Hollywood
Charge for Their Service?
Some states have specific laws on how much a notary is allowed to charge for their service.
In California, a notary can charge a maximum notary fee of $15 per signature for the standard service.
Mobile notaries in California charge up to $150 for traveling to the location of your choice and notarizing the documents. Among other notary fees in CA, there's also a fee for:
Airport emergency notarization

—$75 travel fee and $15 per document

Excessive waiting times

—$50 per hour (starts after the first 20 minutes)
Get Your Documents Notarized Online With DoNotPay Without a Hitch!
DoNotPay's online notary service helps you save time and avoid the torture of locating a notary by yourself! We will find a remote notary and connect you with them in a few minutes! Here is what you'll need to do:
Tap the

Notarize Any Document

feature

Attach your documents and give us your email address
We'll send a link with the remote notary appointment slots. The notary will witness the signing via video call and provide their digital signature.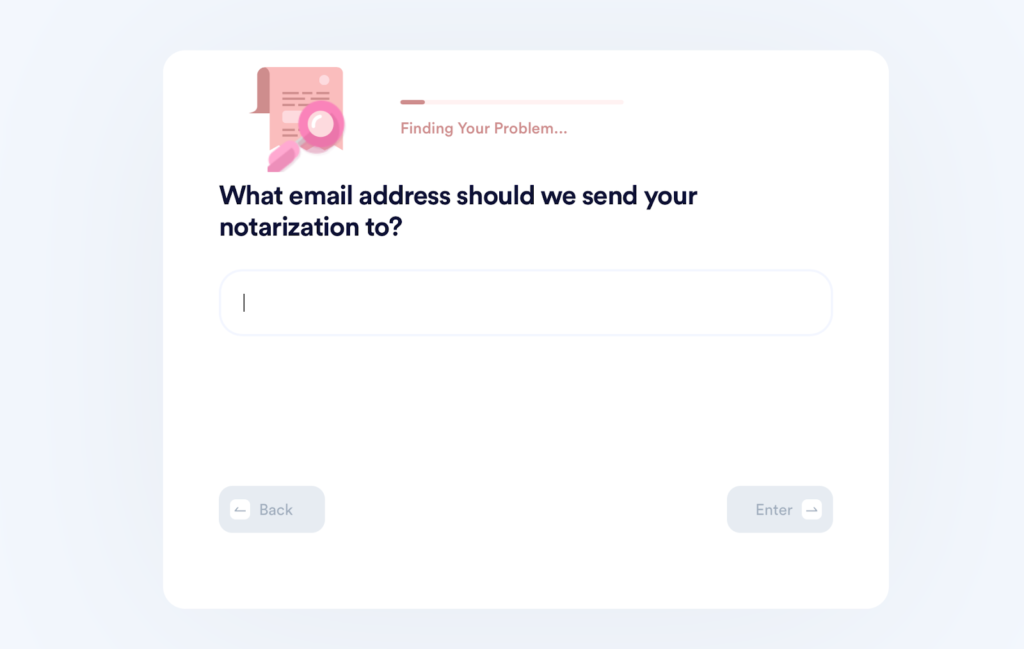 Remote online notarization (RON) is allowed in most parts of the U.S. due to the COVID-19 pandemic. Even if it's not permitted in your state, DoNotPay can work its magic!
We can help you schedule a meeting with an out-of-state notary, and you can complete the notarization process with them.
There's More DoNotPay Can Do for You
In case you're struggling to cover your bills, our hacks may help you earn or save some extra money. Use our app to sign up for paid clinical trials in your area and try your luck with free raffle tickets. You may not even know that you have funds lying around—rely on DoNotPay to uncover your unclaimed money.
If you have any documents or letters you need to send, we can save you the trouble of using a fax machine or waiting in line at a post office, thanks to our nifty products—Online Fax and Mailing Service.
Fast-Track Your Tasks With DoNotPay
If you've been putting off your errands because they take too long or they are too complicated, we know what to do! From filing insurance claims, getting documents notarized, demanding late delivery refunds, and getting a child travel consent—there isn't much we can't streamline for you.
You can count on our assistance even for more serious and complex tasks, such as: