A Guide to Having Your Documents Notarized by a Notary in Salt Lake City
Many documents—including wills, deeds, affidavits, and car titles—require a notary's signature. If you live in Salt Lake City, you may be wondering where to find a notary and how to finish the whole process as effortlessly as possible.
Fear not—DoNotPay will reveal the best way to get your documents notarized by a notary in Salt Lake City!
In-Person Notary Service in Salt Lake City Explained
The traditional notarization method can be a bit tedious and time-consuming. Take a look at the steps you are required to take to get your document notarized the old-fashioned way:
Find a local notary public

by:

Schedule an appointment

Gather the document(s) you wish to get notarized and bring a government-issued ID

Head down to the local notary's office at the agreed time

Pay a fee

Present your ID to confirm your identity

Answer a few questions to prove you are of sound mind and aware of what you are signing

Sign the document in the notary's presence

Get the document notarized with a signature, stamp, and seal
Another way of having your documents notarized in person is by hiring a mobile notary. They perform notarial acts by traveling to their clients on request. However practical, the mobile notary service is also expensive—you are required to cover the mobile notary's travel expenses, which can be hefty.
How Much Does a Notary Public in Salt Lake City Charge?
The State of Utah sets the maximum fees for standard notarial acts. A notary in Salt Lake City charges the following prices:
Jurat

—$10 per signature

Certified copy

—$10 per certification

An acknowledgment

—$10 per signature

An oath or affirmation without a signature

—$10

Each signature witnessing

—$10
A mobile notary in Utah can charge a traveling fee without exceeding the approved federal mileage rate if they:
Explain to the client that the travel fee is charged separately from standard

notarial services

Specify that they, and not the law, determine the travel fee

Make sure the client agrees to the charges in advance
Can Notaries in Salt Lake City Notarize Documents Online?
Yes, they can. Utah is one of the many U.S. states that has enabled permanent remote online notarization. To be able to perform remote online notary services, a notary in Salt Lake City has to:
Be currently registered as a notary public in Utah

Apply to the Lieutenant City Governor for a remote notary certification
To lawfully perform remote notarization, a Utah notary public must meet the following statutory requirements:
Be physically located in Utah

Be able to see the client through the use of audio and video communication technology

Establish the identity of the notarization-seeking individual with an approved identity-proofing technique

Complete the notarial certificate

State in the notarial certificate that the notarial act was performed via communication technology

Make a note in the electronic journal that they have notarized the document online

Keep an audiovisual recording of the remote notarization
The Advantages of Online Notarization
Since the COVID-19 outbreak, online notarization has become more popular than ever.
Safety is not the only perk you get by having your documents notarized online! Discover other benefits of online notarization in the table below:
Advantage

Explanation

Flexibility

Online notaries are typically available

24/7

. You can schedule an appointment at any time you find convenient

Expediency

You won't have to wait days or weeks for the meeting as you would with traditional or mobile notaries

Practicality

You can meet with an online notary on a video call and finish the whole process from your home via any digital device

Security

An online notary will notarize your document with an encrypted electronic signature, stamp, and seal. This method reduces the chances of document alteration and misuse
DoNotPay Can Help You Get Your Documents Notarized Online
If you want to get your document notarized online, DoNotPay is the way to go. There is no need to look for an online notary—we will take care of that for you.
Once you , you will get your documents notarized in a jiffy. Here's how it works:
Find our

Notarize Any Document

product

Upload the document you wish to get notarized

Provide your email address
We will send you a link via email shortly after. By clicking on it, you will be redirected to a webpage where you can schedule an appointment with one of our online notaries. After that, you will get to:
Meet the notary online

E-sign the uploaded document while the notary witnesses

Download and print the notarized document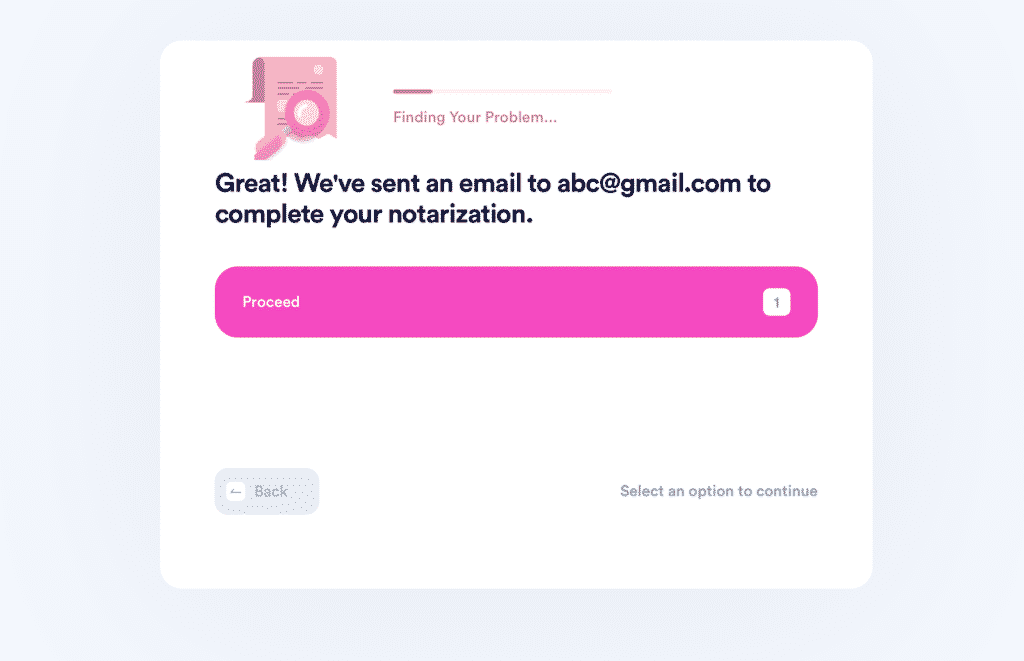 Other Perks of Signing Up for DoNotPay
Notarization is not the only service you get by ! You can access all our other products and complete more administrative tasks from the same platform.
With our Standardized Legal Documents tool and Online Fax product, you can both create and fax the desired document in an instant.
Let DoNoPay Help You With Your Paperwork
Why waste time on bureaucracy if you can rely on DoNotPay to handle pesky tasks for you? Cancel all your subscriptions at once, find unclaimed funds in a matter of minutes, appeal parking tickets hassle-free, and discover the best way to get your documents notarized remotely.
In case you need help paying bills or you want to earn some money by participating in paid clinical trials, DoNotPay is here to help you out!
Fighting workplace discrimination is of utmost importance, but the entire procedure seems rather complicated. The same goes for the crime victims compensation application in most states. DoNotPay is here to change that. We will help you file a report, request compensation, and create numerous other documents.
Keep Your Online Safety in Check!
While internet safety should be one of your top priorities, staying anonymous while surfing the web is almost impossible. If you want to avoid giving out your number when registering for services, you should try out our Burner Phone product.
DoNotPay can also protect your credit card info, name, and email address, all through our handy virtual credit card. Sign up for free trials without worrying about unexpected charges.
With our app, you will learn how to deal with stalkers and harassers and how to access public records the easy way.
DoNotPay offers many other useful products that can help you prepare for government tests, have your college fees waived, and manage any annoying issue in minutes.