Finding a Notary Public in Springfield, IL, Is a Piece of Cake With DoNotPay
Do you want to get your documents notarized, but you don't want to break the bank or spend hours trying to find a notary public in Springfield, IL? Whether you need a notarized affidavit or a translation, DoNotPay is here to help you get any document notarized from the comfort of your home!
What Does a Notary Public in Springfield, IL, Do?
A notary public adds legal weight to documents by placing their signature and stamp on them. In some cases, a document is only accepted as legitimate if it's notarized, but notarization doesn't make a document valid. To notarize a document, a notary must:
Ask the signers a couple of authorization questions and inspect their IDs to verify their identities

Ensure that all parties know what they're signing and that they're doing it of their own free will

Check if the signers are not under any influence and if they're of sound mind

Witness the signing of the document

Add an official

signature

and seal, thus finishing the notarization process
What Notarial Acts Can a Notary Public in Springfield, IL, Perform?
Notaries in Springfield, IL, can perform the following notarial acts:
Witness the signing of

contracts

Administer oaths and affirmations

Take verifications upon oaths and affirmations

Take

acknowledgments
How To Find a Notary Public in Springfield, IL
If you want to find a notary on your own, you can expect that the search is going to be tedious and drawn out.
We will provide you with some websites and public places where you can find a notary by yourself:
Public Places
Websites

Banks

such as:

Law offices

Public libraries

Travel agencies

Tax service offices
In case you want to save yourself the headache of finding a notary manually, you can and schedule an online appointment with a notary in a matter of minutes.
What's the Cost of Notarial Services in Springfield, IL?
The State of Illinois allows notaries to charge $1 for every notarial act. This might seem cheap, but keep in mind that mobile notaries can charge you extra for travel fees.
The notary is obligated to tell you the exact sum that you'll be charged for the notarial acts you need performed.
The Problem With the Traditional Notarization Method
The main issue with the traditional notarization process in Springfield, IL, and the States in general, is that the system is outdated. On top of that, you'll have to spend countless hours following the steps needed to complete the notarization.
If you still opt for the old-fashioned way of getting your documents notarized, here are the steps you'll need to take:
Find an available and a reliable notary public

Schedule a meeting

Ask ahead about the cost of the

notary service

Get your documents ready in advance because, if you forget anything, you'll have to reschedule the meeting

Have your ID or other valid proof of identity ready, such as a passport or a driver's license
Alternative Ways You Can Get Your Documents Notarized in Springfield, IL
Visiting a notary public in Springfield, IL, isn't the only way you can get your documents notarized. Other options include:
Mobile notary

—they are more convenient than traditional notaries as they travel from place to place to perform notarial acts, but they're also more expensive. Choosing to get your documents notarized at your preferred location comes at a price. You will have to pay additional fees for their time and travel expenses

Remote online notary

—due to the outbreak of the

COVID-19

pandemic, the State of Illinois has temporarily allowed

remote online notarization

. Remote notaries can perform notarial acts without having to be in the physical presence of the signers
Remote Online Notarization With DoNotPay Is a Superior Option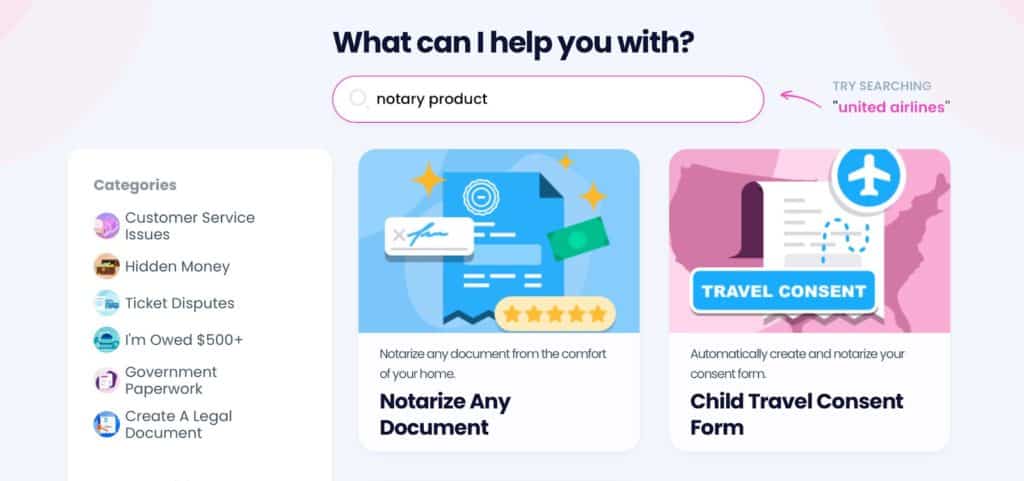 If you don't want to waste time on outdated notarization methods, use DoNotPay's Notarize Any Document product and be done with the process in a flash. You won't have to meet anyone in person, you won't expose yourself to the dangers of COVID-19, and you will be done with the whole ordeal in just a few minutes.
Getting your documents notarized with DoNotPay is simple yet effective. Scheduling an appointment with an online notary using our app will require you to follow a few steps:
Find our

Notarize Any Document

product

Upload the document you need to get notarized

Enter your email address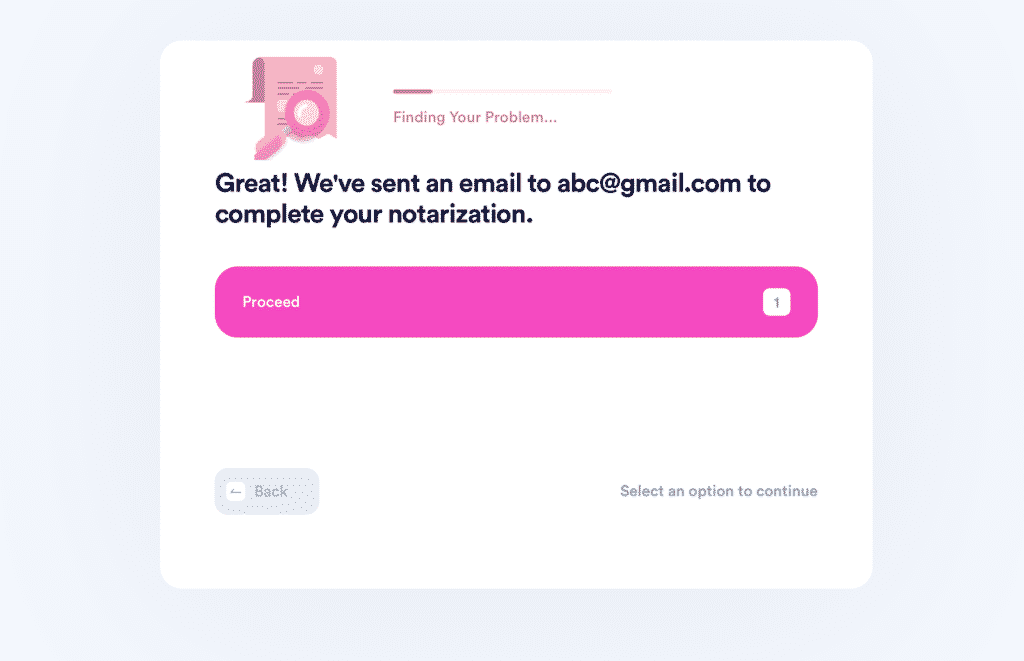 You will then have to follow the link we send you via email and choose the time that suits you for an online appointment with a notary.
DoNotPay Can Draft Legal Documents for You
In case you need any legal documents drafted, you can always turn to DoNotPay to avoid bureaucracy and save yourself even more time.
Here are some documents that DoNotPay can generate for you:
Non-Disclosure Agreements

LLC Operating Rules Documents

General Business Contracts

Non-Compete Agreements

Intents To Purchase Real Estate

Independent Contractor Agreements

Estoppel Certificates

Quitclaim Deeds

General Affidavits

Promissory Notes

Prenuptial Agreements

Child Custody Agreement

Residential Lease Agreement

Bill of Sale
Explore DoNotPay's Products and Save Both Time and Money
Are you sick and tired of spending ages on the phone with customer support trying to get more info about how to return a faulty product and get a refund? Maybe you'd like to cancel memberships you don't use but can't find that unsubscribe button anywhere? DoNotPay can help you sort out all of these issues in a jiffy!
Contest parking tickets, claim your car warranty and insurance, schedule a meeting with the DMV, and handle your other problems through the same app on your tablet or smartphone.
Getting access to public records or drawing up various legal documents with DoNotPay is child's play.
That's Not All!
The first thing you'll notice when you open DoNotPay is that you can use our app for almost anything.
Do you wish to enter raffles or sweepstakes? Are you interested in applying for paid clinical trials and earning some cash? Would you like to send mail without going to the post office? You're in the right place!
We will help you feel safe while browsing the Internet by assisting you in blocking and reporting spam emails, suspicious text messages, and pesky robocalls.