Book a Notary Public in Lubbock Within Minutes
Citizens of Lubbock, Texas, can have documents notarized in a few ways. All of them are legit but not equally convenient.
If you want to know more about the available notary services in Lubbock, look no further! DoNotPay will guide you through finding a notary public in Lubbock and help you get your documents notarized as efficiently as possible!
When To Look For a Notary Public in Lubbock?
You need a notary public in Lubbock to perform the following acts:
Take

acknowledgments

Protest negotiable instruments, bills, and notes

Administer oaths

Take depositions

Certify copies of documents not recordable in public records
Notaries public in Texas are commissioned by the Secretary of State to deter fraud by verifying that the signatures on legal documents are authentic. While a notary's signature is not what makes a document legally valid, many types of documents are not acceptable in court without it. According to Texas law, a notary in Lubbock has to notarize:
Different Types of Notaries in Lubbock
You can pick between the following types of notaries in Lubbock:
Types of Notaries

In-person

Traditional notary

—

They work strictly from their offices. You have to visit them to have your documents notarized

Mobile notary

—

You can arrange for a mobile notary to travel your house, office, etc., and notarize your documents on the spot

Notary signing agent

—

They are authorized to notarize loan documents. You can typically arrange for them to come to you

Online

Online notaries notarize documents via state-approved online platforms. This method doesn't require the signer and the notary to be in the same room—they can see each other using audio-video communication technology
Which Notarization Method in Lubbock Is the Most Efficient?
Online notarization is popular in Texas for more than enabling social distancing during the COVID-19 pandemic. Remote online notarization also simplifies and improves:
Finding a notary

Scheduling a meeting

Meeting with a notary

Proving your identity

Completing the process
Finding a Notary
The in-person notarization requires you to look for a notary:
Via online notary search databases, including

Yelp

,

123notary.com

,

Texas Secretary of State

website, or

American Association of Notaries
If you choose online notarization, you won't have to search for an online notary— will connect you with one.
Scheduling a Meeting
You can schedule a meeting with the traditional notary by adjusting to their limited working hours. Traveling notaries are flexible but a lot more expensive.
Online notaries are available 24/7, so booking an appointment with them is a breeze.
Meeting With the Notary
Instead of meeting the notary in person, you can connect with the online notary via any digital device—including your phone—and finish the whole process from your home.
Proving Your Identity and Meeting Other Requirements
All notaries have to check your identity and determine if you are signing the document of your own free will. In case of legal disputes, this step is crucial in confirming the legitimacy of the notarization process.
The in-person notarization process requires you to show a government-issued ID to prove your identity. Online notaries will perform a more in-depth, two-sided identity check—by asking identity-proofing questions and performing an analysis of your photo ID.
While in-person notaries keep a notary journal, online notaries in Texas have to make an audio and video recording of each notarization. This procedure makes proving coercion or suspicious actions during the signing much easier.
Having a Document Notarized
Traditional and mobile notaries will sign the document the old-fashioned way and provide a stamp and seal.
Online notaries will use an encrypted digital signing certificate. This method reduces the possibility of document alteration and misuse.
Have Your Documents Notarized Online With DoNotPay
DoNotPay is your ticket to having documents notarized efficiently. Why search for local notaries and coordinate with their schedules when you can make an appointment with a few simple clicks!
If you subscribe to our app, we will connect you to an online notary so you can finish the whole procedure without leaving your house.
Here's what you need to do:
in a web browser

Find our

Notarize Any Document

feature

Upload the document you need to have notarized

Type in your email address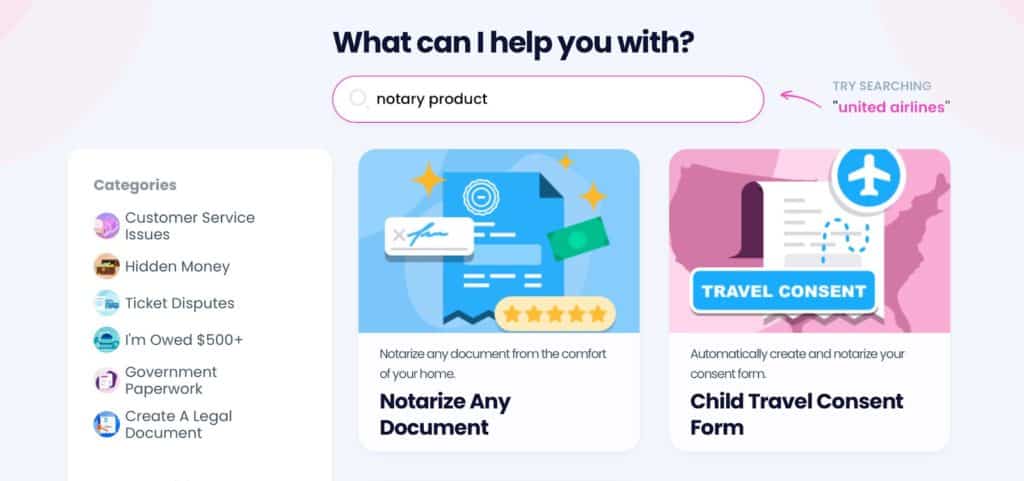 We will send you a link via email. Follow it to schedule an appointment at any time you find convenient. After that, all that's left to do is meet with the notary online and complete the notarization.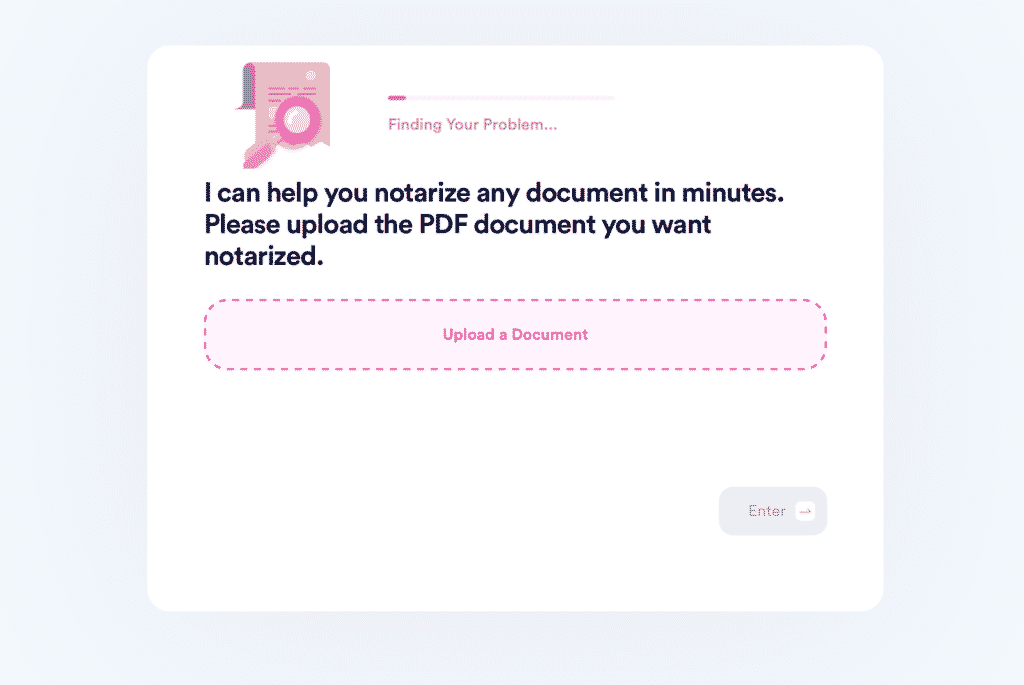 By subscribing to our app, you will gain access to our other products, such as:
Standardized Legal Documents

tool

—

enables you to

create

various business, real estate, and other documents with a few clicks

Online Fax

product

—

allows you to

fax

the document to the recipient without resorting to a fax machine
Let DoNoPay Help You With Your Paperwork
Why waste time on bureaucracy if you can rely on DoNotPay to handle pesky tasks for you? Cancel all your subscriptions at once, find unclaimed funds in a matter of minutes, appeal parking tickets hassle-free, and discover the best way to get your documents notarized remotely.
In case you need help paying bills or you want to earn some money by participating in paid clinical trials, DoNotPay is here to help you out!
Fighting workplace discrimination is of utmost importance, but the entire procedure seems rather complicated. The same goes for the crime victims compensation application in most states. DoNotPay is here to change that. We will help you file a report, request compensation, and create numerous other documents, including demand letters for neighbor complaints.
Keep Your Online Safety in Check!
While internet safety should be one of your top priorities, staying anonymous while surfing the web is almost impossible. If you want to avoid giving out your number when registering for services, you should try out our Burner Phone product.
DoNotPay can also protect your credit card info, name, and email address, all through our handy virtual credit card. Sign up for free trials without worrying about unexpected charges.
With our app, you will learn how to deal with stalkers and harassers and how to access public records the easy way.
DoNotPay offers many other useful products that can help you prepare for government tests, have your college fees waived, and manage any annoying issue in minutes.