Book a Meeting With a Notary Public in Fort Wayne Easily
Are you looking for a quick way to get a document notarized in Indiana? You came to the right place!
We'll help you schedule an appointment with a notary public in Fort Wayne without breaking a sweat.
to use our neat online notary service that makes document notarization a no-brainer!
Notary in Fort Wayne
—Different Notary Types
There is more than one way to get your documents notarized in Fort Wayne. You can choose:
Each of the notarization methods explained above is valid, but the most straightforward and time-efficient is the online notary service.
How To Find a
Notary Public in Fort Wayne
We will help you locate a notary quickly by listing all the available websites and public places where you can find notary services.
Notary Public in Fort Wayne
—How Much Do They Charge?
Notary fees differ depending on the state. Some states, such as Illinois, propose a low notary fee ($1), while others set no limit at all.
A notary in Indiana can charge you a maximum of $10 per notarization. The cost doesn't include extra fees, such as travel expenses for mobile notaries or fees for additional signatures.
What Documents Can a
Notary in Fort Wayne
Notarize?
There is no shortage of documents a notary in Indiana can notarize, but certain documents cannot be notarized.
Check out the table below for details:
Can Get Notarized
Cannot Get Notarized

Real estate deeds

Employment contracts

Business contracts

Consent forms

Loan documents

Trusts

Birth certificates

Death certificates

Photographs

Documents with blank spaces

Faxed or copied signatures
Notaries in Indiana verify your identity, confirm that you're signing the document willingly, and make sure you're of sound mind during the signing process. It is only then that they sign and stamp the document.
The Downsides of the Current Notarization Process
Handling a simple task, like obtaining a notary signature and stamp, should be fast and simple. That is not the case with the standard notarization process.
You will need to complete numerous steps, such as:
Locating a notary

Calling to set up the meeting

Inquiring about fees

Waiting for your appointment

Paying a visit in person

Proving your identity

Paying the fees and signing the documents

Waiting for the notary to finalize the process by providing their signature
The entire procedure is super inconvenient and time-consuming. What's worse, you would have to reschedule your meeting if you make even a minor mistake, such as forgetting to bring your ID.
That's why our online notary service is the best choice. You can avoid potential bumps on the road and finish the process from the comfort of your couch!
DoNotPay Provides the Fastest Online Notary Service!
Going to a notary public's office can be unsafe during the COVID-19 pandemic. DoNotPay offers you a way to get your documents notarized online without encountering such risks!
You don't have to worry whether online notarization is allowed in your state because our service works everywhere! We can connect you to an out-of-state notary, and he or she will witness the signing.
Here's how to use our Notarize Any Document feature:
from any web browser

Find and access the

Notarize Any Document

service

Attach your documents and give us your email address
We'll send you a link to the email address you provided, and you should follow it to schedule a video meeting with a remote notary in seconds! The notary will witness the document signing online and add their digital signature.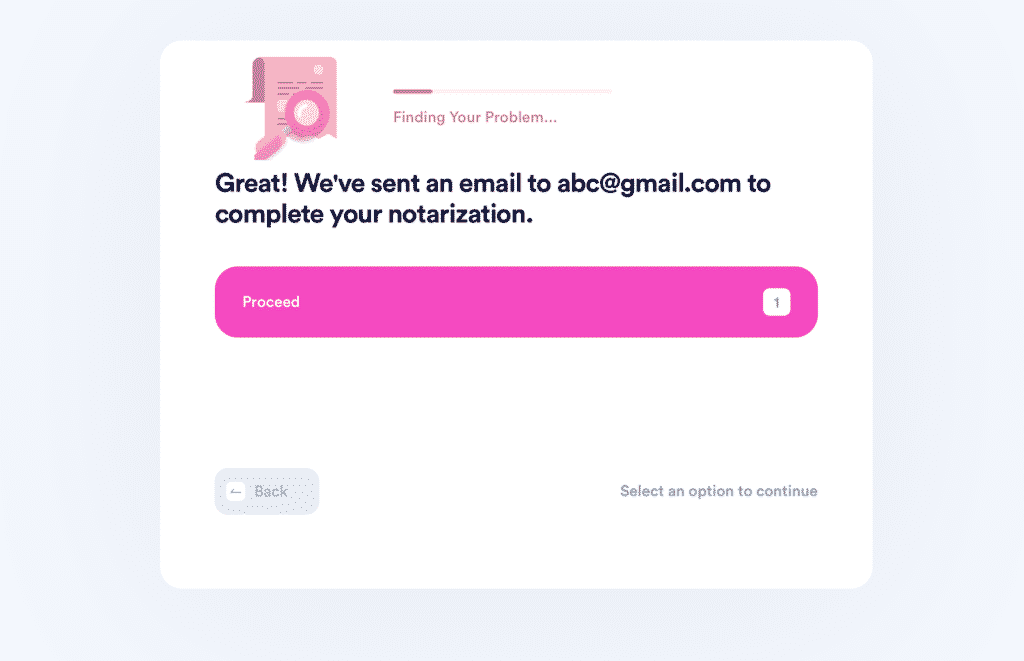 Helping you get documents notarized isn't all DoNotPay can do for you! If you need a quick way to draw up a contract, our app will generate it in a jiffy! You can create and notarize documents with the same app. We can draft the following contracts in your stead:
Independent Contractor Agreement

Estoppel Certificate

Residential Lease Agreement

Intent To Purchase Real Estate

Non-Disclosure Agreement

Non-Compete Agreement

General Business Contract

Parenting Plan (Child Custody)

General Affidavit

Quitclaim Deed

Prenuptial Agreement

LLC Operating Rules Document

Bill of Sale

Promissory Note
Get Back at Greedy Corporations With DoNotPay
How many times have you tried reaching out to an airline regarding your canceled flight? Did you ever spend hours trying to contact customer service reps only to be refused your refund request?
Big companies tend to make certain processes complicated for their customer in hopes they would give up on pursuing their goals.
This is why your warranty claims often get denied the first time or why canceling a gym membership can be an administrative hell.
Our AI-powered app is here to help you sort these problems out.
Whether you're trying to file an insurance claim, schedule your driving test, start a free trial without disclosing your payment info or a phone number, or get access to public records, we've got you covered.
DoNotPay Is the Virtual Assistant You Need
DoNotPay is the first robot lawyer in the world created to simplify complex tasks. We can help you with anything from appealing your parking citations to filing lawsuits in small claims court.
In case you need to save up some money, our app will show you how to get an extension on your bill payments, sign up for paid clinical trials, or avoid paying your college application fees.
DoNotPay can also report robocallers, text spammers, and email phishing attempts, and real-life stalkers with a few clicks.