Find a Notary Public in Brownsville, TX, With Zero Effort
Getting documents notarized in Brownsville—be it wills, affidavits, or car titles— can be a hellish experience. Locating a notary public, setting up an appointment, and heading out to the notary's office can take too much time. Fortunately, there is an easier way. You can have your documents notarized online!
Forget about office appointments and waiting rooms— to find an online notary and set up a meeting with zero hassle!
What Does a Notary Public in Brownsville, TX, Do?
A Texas notary public is an official that witnesses the signing of a document and verifies the identity of the person before them. Notaries in Brownsville—and across Texas—have statewide jurisdiction. They are authorized to perform the following notarial acts:
Taking

acknowledgments

Protesting instruments—permitted by the law to be protested

Administering oaths

Taking depositions

Certifying

copies

—not recordable in the public record
Regardless of the notarization type you opt for, during the notarization process, a notary public in Brownsville has to:
Verify your identity

Make sure that you are aware of the document's content

Check if you are:

Of sound mind

Under no influence of drugs or alcohol

Ensure there is no coercion

Make a notarial statement, including:

Date and place of the notarial act

The expiration date of the notary's commission

Notary's signature

and registration number

Photographically reproducible notary's stamp
How Much Do Brownsville Notaries Charge for Their Services?
The Texas Government Code sets the limit for notarial fees in the state. You can find the state's maximum notarial fees in the table below:
Notarial Act
Maximum Fee

Protesting non-acceptance and non-payment bills or notes

$4

Making notice of protest

$1

Protesting in all other cases

$4

Certificate and seal to a protest

$4

Taking:

Acknowledgment

Proof of a deed

Other instruments in writing—for registration purposes

$6

Administering an oath or affirmation—with a seal and certificate

$6

Issuing a certificate under seal

$6

Making a copy of a record or document in the office of a notary public

50 cents for each page

Taking the deposition of a witness

50 cents for each 100 words

Swearing a witness for a deposition

$6

A notarial act not provided for

$6
The state allows the notaries to charge less or no fee, but excessive fees are a cause for disciplinary action.
Where To Find a Notary Public in Brownsville, Texas
Finding a notary public may not be as easy as it seems. Too many choices represent an obstacle in this case and prolong the search.
Some public places in Brownsville, Texas, where you can find a notary public, include:
Banks

, such as

Wells Fargo

and

Bank of America

Public libraries

City and county clerk offices

Police departments

Law offices

Real estate agencies

Insurance agencies
You can also search from the comfort of your home by browsing Google or searching on one of these websites:
Types of Notary Services in Texas
Besides having the paperwork notarized the standard way, you can explore the following notary services in the Lone Star State:
Mobile Notary
Every notary public in Texas can perform mobile notarization. This type of service includes a notary going to the previously appointed location when the signer is not able to visit the notary's office. Because of travel expenses, mobile notaries are entitled to charge more.
Electronic Notary
Any Texas notary can notarize documents that are in electronic form. Electronic notarization is similar to the standard one—the signer has to personally appear in front of the notary. The main difference is that both the signer and notary sign the document with their electronic signatures.
Remote Online Notary
Many states don't allow remote online notarization (RON), but Texas does—it was one of the first states to allow it. RON enables notaries public to connect with the signers online via audio-video calls, allowing the clients to stay at home. Remote notarization came in especially handy after the outbreak of COVID-19.
DoNotPay Is the Best Online Notary Platform, and Here Is Why!
The number of platforms offering online notary services is growing rapidly, but not all of them have what it takes. Online notarization is the most convenient way of getting documents notarized, but the charges can make you wonder if it's worth it. With DoNotPay, you don't have to wonder—we guarantee that it is!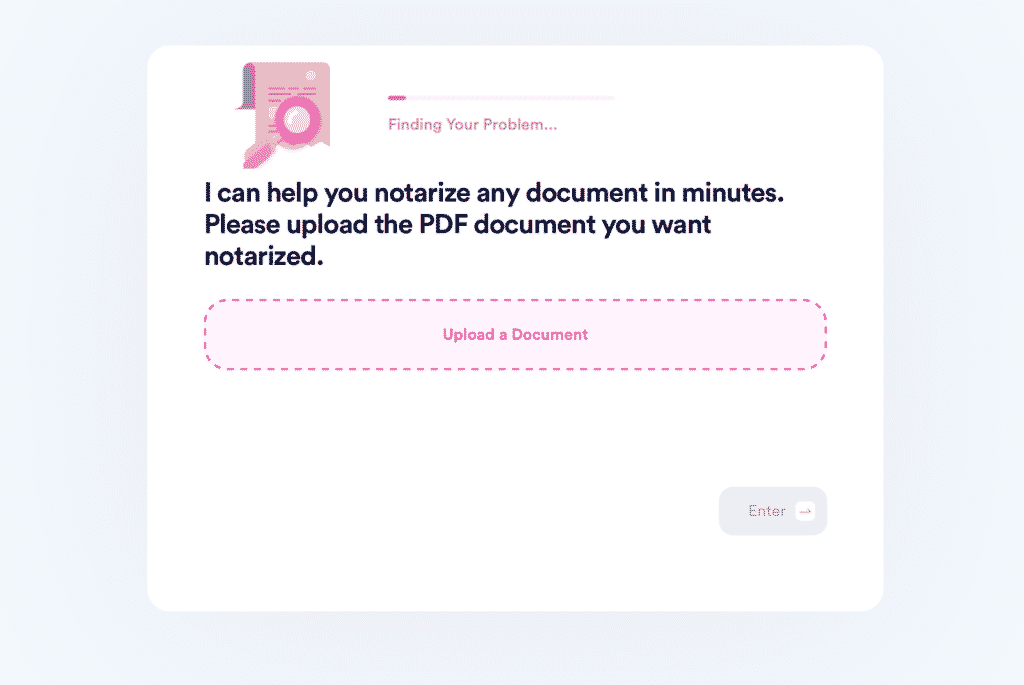 Our Notarize Any Document product can find and schedule an appointment with a notary in a blink of an eye, and here's how:
Choose the

Notarize Any Document

product

Upload the document you need a notary for

Enter your email address

Wait for the email
Once you receive our email, you should follow the link to confirm your appointment with the notary.
Your Online Safety Is Our Priority
The benefits of the internet are numerous, but so are the opportunities for scams of all kinds. DoNotPay can help you fight scammers left and right with easy-to-use features, highly customizable to match your needs.
Our app can provide invaluable resources for fighting:
If you're an avid online shopper, we have your back. In case something goes wrong, we will help you contact customer service without holding, request a refund, or even sue the company in small claims court.
Diversity Is Our Middle Name
DoNotPay doesn't stop at online safety. Do you need to set up an appointment at the local DMV, but keep procrastinating because you know how awful the lines are? Are you a prospective college student trying to save on application fees? Have you lost track of all unnecessary subscriptions and memberships that keep draining your bank account?
If the answer is yes, DoNotPay is the right platform for you. Whether you're preparing for government-issued tests or looking for ways to lower your bills, our app will be of assistance.