The Best Way To Get Your Documents Notarized by a Notary Public in the Bronx
Confirming that a signed document is legitimate—be it will, affidavit, power of attorney, or any other—requires its notarization. Many people from NYC boroughs find getting documents notarized complicated and annoying. This comes from spending ages on finding a notary service, making appointments on their own, and going over to the notary's office in person.
to enjoy the perks of the best online notary service and find a notary public in the Bronx as quickly as a fastball!
What Services Does a Notary Public in the Bronx Offer?
Witnessing the signing of a document and verifying the authenticity of its copies is the main job of every notary. Aside from that, the Bronx public notaries perform the following notarial acts:
Taking affidavits and dispositions

Administering oaths and affirmations

Receiving and certifying

acknowledgments

Taking proof of written instruments, such as deeds, mortgages, and powers of attorney

Demanding acceptance or payment of foreign and inland bills of exchange, promissory notes, and obligations in writing

Protesting bills of exchange, promissory notes, and obligations for non-payment
Here is what a notary is required to do before putting their stamp and signature on the document:
Verify your identity

Confirm that you are aware of the document's content

Check whether you are signing the document of your own free will

Ensure you are not under the influence or mentally unstable

Witness the signing
Where To Look For a Notary Public in the Bronx
There are countless notary services in New York, which can sometimes be counterproductive, especially if you're indecisive or don't know where to look. If you want to search for a notary in the Bronx on your own, you can get some inspiration on where to start looking from the following table:
Search Online

Visit Public Places That Offer Notary Service

Public libraries

Accountant offices

Insurance agencies

Tax service offices

Police offices
How To Get Documents Notarized in the Bronx
If you are not already familiar with the notarization process, here's what you need to do to get documents notarized the standard way:
Choose a notary public in the Bronx

Make an appointment

Bring the documents for notarization and an ID (passport or driver's license will work too)

Pay the

notary fees

—costs for notarial acts in NY can vary from 75 cents to $2, depending on the document, number of copies, and number of signatures

Sign the document in front of the notary

Wait for the notary to seal and sign
Besides the traditional notary service, you can make an appointment with a:
Mobile Notary
Mobile notaries provide services by going to appointed locations. This notary service is convenient to anyone unable to come to the notary's office. While highly practical, mobile notary service is the most expensive because of the additional notary fees that cover travel expenses.
Online Notary
Online notary services—remote online notarization (RON)—allow the notarization of documents without meeting with the notary in person. This is done by using audio-video communication platforms. RON is still not approved in some states, but it's rapidly gaining popularity due to the COVID-19 outbreak.
Electronic Notary
Having to notarize documents that are in electronic form is not a problem anymore. By using e-signatures, both parties—the signer and notary—sign the document, after which the notary puts an electronic stamp on it. Besides that, the process is the same as with traditional notarization—the signer has to go to the notary's office to get e-documents notarized.
Find a Notary in the Bronx the Easy Way—With DoNotPay!
Finding online notary platforms is not a problem—with the increased popularity of remote online notarization, they are becoming more and more common. The problem is finding the one that gets the job done and doesn't empty out your wallet. When you choose DoNotPay, that is what you get—an online notary app that is practical, budget-friendly, and easy to use.
Our convenient Notarize Any Document feature can find a notary in your area and help you set up an appointment in a breeze!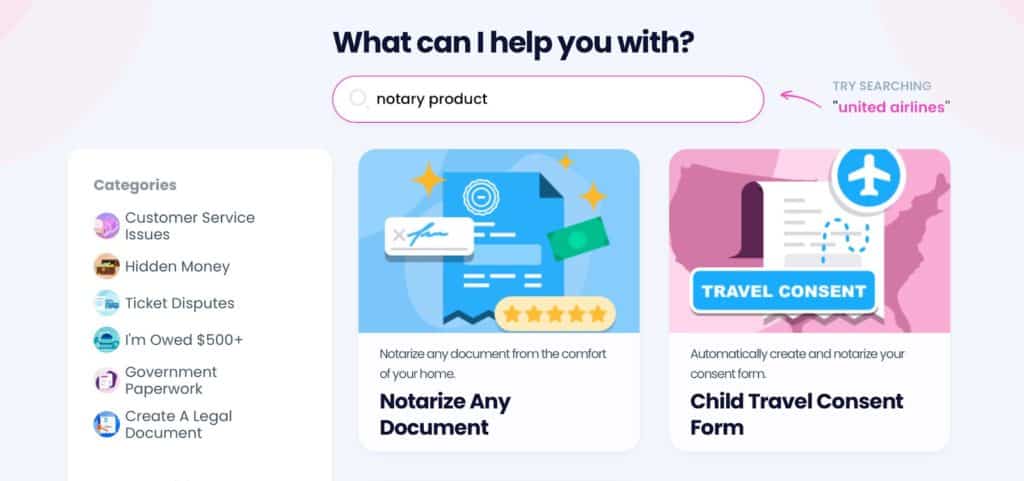 The process couldn't be any more straightforward—here's what you should do:
Locate the

Notarize Any Document

product

Upload the document you need to get notarized

Enter your email address
Once you complete the steps, we will send a link to the email address you provided. By clicking on the link, you will be able to set an appointment.
Skip the Bureaucratic Hurdles—Use DoNotPay To Draft and Fax Your Legal Documents
DoNotPay helps you with administration by enabling you to finish several tasks in one app! Aside from finding you a notary, we can help you send them to your business partners or other parties with our Online Fax service.
Before you send documents or get them notarized, the Standardized Legal Documents feature can draw them up for you. The following table contains the overview of documents that we can make for you at the moment:
Business Documents
Real Estate Documents
Other Documents

General Business Contract

Non-Compete Agreement

Bill of Sale

Non-Disclosure Agreement

LLC Operating Agreement

Independent Contractor Agreement

Quitclaim Deed

Intent To Purchase Real Estate

Lease Agreement

Estoppel Certificate

General Affidavit

Child Custody Agreement

Promissory Note

Prenuptial Agreement
Your Online Safety Is Our Priority
The benefits of the internet are numerous, but so are the opportunities for scams of all kinds. DoNotPay can help you fight scammers left and right with easy-to-use features, highly customizable to match your needs.
Our app can provide invaluable resources for fighting:
If you're an avid online shopper, we have your back. In case something goes wrong, we will help you contact customer service without holding, request a refund, or even sue the company in small claims court.
Diversity Is Our Middle Name
DoNotPay doesn't stop at online safety. Do you need to set up an appointment at the local DMV, but keep procrastinating because you know how awful the lines are? Are you a prospective college student trying to save on application fees? Have you lost track of all unnecessary subscriptions and memberships that keep draining your bank account?
If the answer is yes, DoNotPay is the right platform for you. Whether you're preparing for government-issued tests or looking for ways to lower your bills, our app will be of assistance.