How To Book a Meeting With a Notary in Katy, TX, Within Minutes
Getting a notary's signature increases the legal weight of your documents. If finding a notary in Katy, TX, and arranging a meeting with them by yourself seems too daunting, we'll give you a helping hand. , read our guide, and get some super practical tips for notarizing your contract, will, or affidavit in record time with DoNotPay's service!
What Notary Services Can You Find in Katy?
Depending on your document, mobility, and financial situation, you can opt for one of the following notary services:
How Much Can a Notary Public in Katy Charge?
Most states propose the maximum fees a notary can charge. The following table lists the prices proposed by the state of Texas:
Notarial Act

Price

Acknowledgments

$6.00 for the first signature

$1.00 for each additional signature

Proof

$6.00 for the first signature

$1.00 for each additional signature

Oath or affirmation

Depositions

$6 for each seal, oath, certificate, etc.

$0.50 per 100 words

Protesting for nonpayment or nonacceptance

$4 per register and seal

$4 per certificate and seal to a protest

$1 per notice of protest

$4 for all other cases

A physical copy of a record from the Notary's office

All other notarial acts
How To Find a Notary Public in Katy, Texas, by Yourself
If your first choice is to look for a convenient notary public by yourself, you can use one of the following methods:
Checking out all these options may take a lot of time. If you want to skip the entire procedure, let DoNotPay help you find a notary and schedule a meeting with them in a few clicks!
How To Schedule a Meeting With a Notary Using DoNotPay
Kiss all those outdated standard processes goodbye—DoNotPay brings you a simpler and more efficient solution! We help you notarize your documents without visiting a notary. Our system lets you schedule a virtual appointment with a remote notary and obtain a digital notary's signature.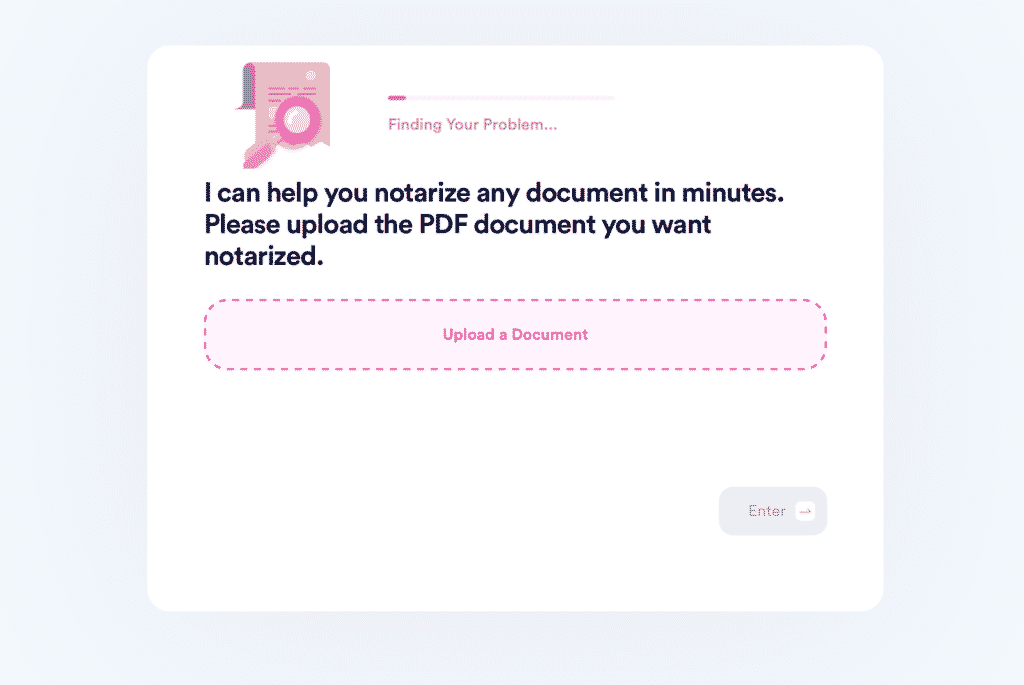 To use this feature, follow these simple steps:
in your preferred web browser

Navigate to the

Notarize Any Document

product

Upload the electronic copy of the document you want to have notarized

Provide us with your email address
You will receive a link to a timetable where you can choose a convenient date and time for your video appointment with a notary.
Our Virtual Lawyer Draws Up Your Legal Documents in a Snap
Not only do we notarize your documents hassle-free, but we also help you create them like a pro in the same app! Our award-winning service features an amazing collection of customizable document templates. Choose the document that suits your needs, and we will generate a comprehensive personalized contract for you.
Here's how to use this service:
Open DoNotPay in any web browser

Pick the desired template

Tell us which details you want to include in your document

Download the finished contract
The documents DoNotPay can create for you are:
Non-disclosure agreement

Independent contractor agreement

Bill of sale

General business contract

Non-compete agreement

LLC operating rules document

Residential lease agreement

Intent to purchase real estate

Estoppel certificate

Quitclaim deed

General affidavit

Promissory note

Prenuptial agreement

Child care authorization form

Parenting plan (child custody)
The best part is that you can also fax the ready-made document to any number using your preferred device! Say goodbye to faxing machines—our Online Fax feature makes this procedure easier than ever!
DoNotPay Offers a Variety of Services
DoNotPay is the ultimate virtual assistant that takes over all those annoying tasks you don't want to deal with!
Need to schedule your DMV appointment? Want to get your college fees waived? Have to draft a legal doc quickly?
We can do all that and much more!
Our app waits on the phone line with customer service of any company for you, reports robocalls, and helps you file lawsuits in small claims court.
We can also help you deal with your parking tickets, get rid of spam emails and texts, or find and sign up for reputable clinical trials!
Keep Your Money in Check With DoNotPay
How often do you sign up for a free trial and then forget to cancel it before it expires? Unexpected charges are the worst, but you can prevent them if you use our free trial card. DoNotPay's virtual credit card is not connected to your bank account, which means that no money can be taken from it.
We can also help you get refunds for unsatisfactory purchases or compensation from airlines for delayed or canceled flights.
In case you are struggling with warranty claims, bill payments, insurance, or tax reduction, DoNotPay can solve these issues as well.
Our app also has the largest database of unclaimed assets in the United States, so you can find and claim your lost funds quickly.