Find a Notary in Harrisburg, PA, and Get Your Documents Notarized in a Flash
Getting documents notarized can be a pain. People often don't know what the notarization process entails or where to find a notary in their city. That can make the notarizing process far more complicated than it should be.
In this article, we will show you how to find a notary in Harrisburg, PA, and help you get any document notarized without hassle!
What Can a
Notary Public in Harrisburg, PA,
Do for You?
Notaries verify signatures on legal documents. Their job is to determine the identity, willingness, mental state, and awareness of the document signers.
The notarization process helps deter fraud, identity theft, and other offenses that come with signing important legal documents. Even if the state law doesn't require it, you should get your legal documents notarized for extra security.
Notaries in Pennsylvania are authorized to:
Note protests

Take

acknowledgments

Certify

copies

of depositions

Witness or attest signatures

Administer oaths and affirmations (typically required for

affidavits

)

Take verifications on oaths and affirmations
Are the Notary Fees in Harrisburg High?
The PA Department of State has established fees for notary services. A notary public may charge additional administrative fees for services provided during the notarial act, such as travel, postage, photocopying, and telephone calls.
Check out the prices of various notarial acts in Harrisburg:
Taking an acknowledgment—$5

Taking an acknowledgment for each additional name—$2

Administering an oath or affirmation (per individual)—$5

Witnessing or attesting a signature (per signature)—$5

Taking a verification on an oath or affirmation (regardless of the number of signatures)—$5

Noting a protest of a negotiable instrument (per page)—$3

Certifying or attesting a deposition or copy (per certified copy)—$5
Types of Notaries in Harrisburg, PA
You can find several notary types in Harrisburg, Pennsylvania. Take a look at the table below for a more detailed description of each:
| | |
| --- | --- |
| Notary Type | Description |
| Regular notary | You have to schedule an appointment and visit the notary in his or her office to get your document notarized |
| Mobile notary | A mobile notary visits you at the agreed time and place and notarizes your document on the spot |
| Electronic notary | Electronic notaries notarize documents in person with a digital signature and seal |
| Notary signing agent | Notary signing agents are authorized to notarize loan documents only |
| Online notary | Online notaries notarize documents remotely during a video call. The signer e-signs the document, and the notary provides an electronic signature, stamp, and seal |
Where Can I Find a Notary in Harrisburg?
Notaries in Harrisburg are not difficult to locate. There are numerous websites dedicated to helping you find a notary service in your area. You can search via:
Many businesses offer notarial services to their clients, including AAA, banks, UPS stores, law offices, and photocopy shops. You must call them first to check if they have a notary on site and which documents they can notarize.
Why Is Online Notarization the Best Choice?
The traditional method can be lengthy—you have to wait several days or weeks for an opening in the notary public's schedule. Mobile notaries are more flexible but will charge you extra for travel expenses.
Pennsylvania has recently joined other U.S. states that allow permanent online notarization. This method has many benefits, including:
Finishing the whole process in a shorter period

Getting the document notarized without leaving your home

Choosing an appointment according to your schedule

Getting an encrypted

signature

, which reduces the possibility of document alteration
If you choose to go with online notarization, DoNotPay can provide an affordable and efficient service!
DoNotPay Is the Best Online Notary Service
DoNotPay has developed a nifty feature that helps you get your documents notarized online. We do all the heavy lifting for you by connecting you to an online notary. Here is what you have to do:
Find our

Notarize Any Document

feature

Upload your contract

Type in your email address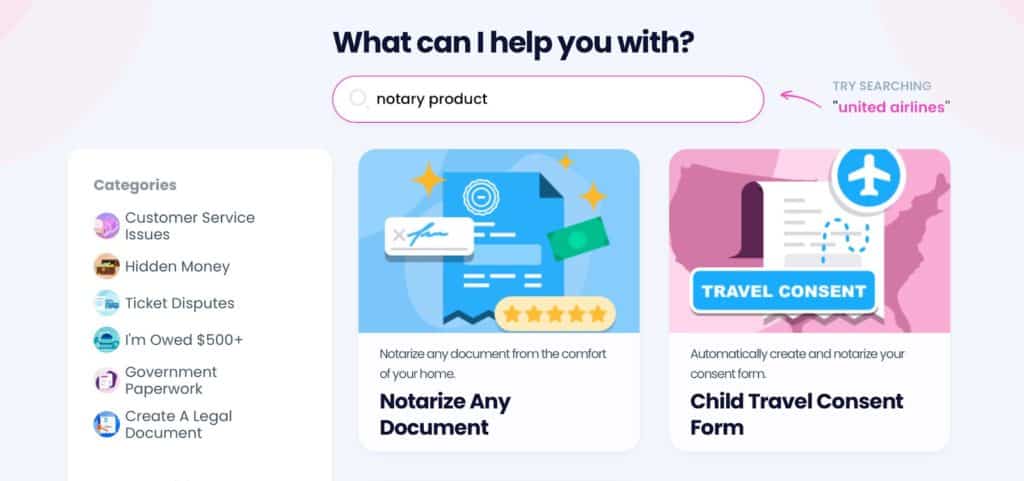 We will send you a link via email. By clicking on it, you will be taken to a webpage where you can schedule your appointment. The notary will witness you e-signing the document on a video call and verify the signature quickly.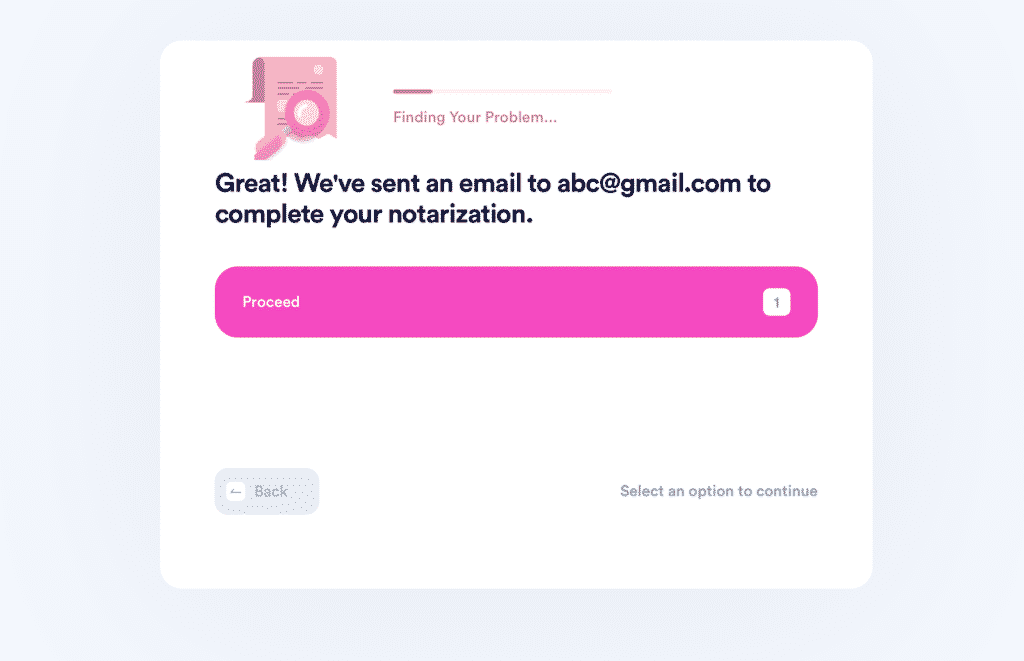 Create Various Legal Documents With DoNotPay
By subscribing to our app, you can use many other features simultaneously. One of them helps you create various legal documents! If you provide essential information, we will generate a contract tailored to your needs and specific law requirements.
You only need to:
Type in the name of the agreement

Answer our questions
Check out some of the contracts we can create for you:
Estoppel certificate

Prenuptial agreement

Child care authorization form

General business contract

Non-compete agreement

LLC operating rules document

Quitclaim deed

Parenting plan (child custody)

General affidavit

Promissory note

Non-disclosure agreement

Independent contractor agreement

Bill of sale

Residential lease agreement

Intent to purchase real estate
DoNotPay Keeps Your Privacy Intact
DoNotPay can help you surf the web safely and securely. No need to provide your personal information to every company whose service you'd like to take for a test drive. Our Virtual Credit Card and Burner Phone products shield your data from prying eyes and dishonest merchants.
Feel like subscribing for a free trial? Make it truly free and avoid automatic membership renewals with our card. It can also help identify spammers and potential scammers who send bothersome robocalls and robo texts your way. As soon as they act on the virtual card number, DoNotPay will unmask them and demand compensation!
DoNotPay Can Help You Bring Any Business to Justice
Should a company refuse to grant you a refund or compensation, our app will help you take them to small claims court!
We'll help you cancel the service in question to avoid any future charges, and we'll call their customer service so you can get info on your denied request. We'll draft the relevant court documents for your jurisdiction and give you instructions on filing them.
More Nifty Features That'll Make Your Day
You may not have breach of privacy issues or reasons to bring someone to court, but you surely have ample motivation to save or earn a few dollars here and there—especially if we catch you unawares!
DoNotPay can show you how to reclaim funds that you didn't know were under your name or make a denied warranty appeal to any company. We streamlined the processes of requesting refunds, college fee waivers, airline flight compensation, parking infraction dismissals, as well as applying to clinical trials that pay!