Book a Notary in Doylestown, PA, Without a Hitch
Do you need a notary service in Doylestown? The State of Pennsylvania offers many options to have your documents notarized—you only need to explore them and choose one.
This article will explain what you can expect from a notary in Doylestown, PA, regarding service, location, and notarization method. What's more—we will provide the most efficient way to get any document notarized!
When Should You Look for a Notary in Doylestown?
A notary public in Doylestown is authorized by the state to notarize all legal documents. Notarization confirms the authenticity of the signatures, which adds legal weight to the document. While any document would benefit from getting a notary's signature, some are required to have it. You must find a notary in Doylestown to notarize your:
Deed

Mortgage

Real estate document

Trust that holds real property
A notary in Doylestown also has the authority to perform the following acts:
Take

acknowledgments

Administer oaths and affirmations

Certify

copies

of depositions

Note protests of negotiable instruments

Take verifications on oaths or affirmations
What Does the Notarization Process in Doylestown Entail?
Notarization in Doylestown has to be performed according to the state law requirements. Regardless of the method you choose, you can expect the notary public to:
Check your ID to confirm your identity

Determine that:

You are sober and not under the influence of illegal substances

Nobody is forcing you to sign the document

You are aware of the document's content and the consequences of signing it

Revise the document for blank spaces or missing pages

Witness you signing the document

Write the notary statement and add their signature, stamp, and seal

Make an entry in the notary journal
Different Notarization Methods in Doylestown, Pennsylvania
You can get your documents notarized in Doylestown in person or via an online notary service. Check out the table below to discover what each method entails:
Notarization Method
Details

In person

To get a document notarized in person, you should:

Find a notary

by:

Make the call to:

Schedule a visit to the local notary's office or arrange for a

mobile notary

to visit you

Ask about the

price

(the fee may include clerical services or

—

in case of mobile notaries

—

travel expenses)

Meet the notary at the agreed time

Complete the notarization process

Online

Online notarization allows you to finish the whole procedure from the comfort of your home. All you need to do is:

Meet the online notary on a video call

—

to connect you to one

E-sign the document and get it notarized with an electronic signature, stamp, and seal
How To Choose a Notary in Doylestown
While all notarization methods are perfectly valid, some bring more benefits than others.
Most people find the traditional notarization method outdated and tiresome. Traditional notaries are typically overbooked and have limited working hours, which makes scheduling an appointment difficult. If you make any mistake, such as signing the document beforehand, you will likely have to repeat the process.
Mobile notaries are more accomodating since you can arrange for them to visit you any day of the week. The downside of their service is the price—Pennsylvania doesn't put a cap on mobile notaries' travel fees, so you could end up paying a hefty sum.
Online notarization is not only the safest method during the COVID-19 pandemic but also the most practical. Online notaries are available 24/7, which makes scheduling an appointment a breeze. All you need is a digital device and a stable internet connection to get a document notarized in minutes!
DoNotPay Gets You an Online Notary in a Flash
With our app, you don't have to wonder where to find an online notary. We will connect you to one, provided you complete a few easy steps first:
in a web browser

Find the

Notarize Any Document

product

Upload the document you want to have notarized

Type in your email address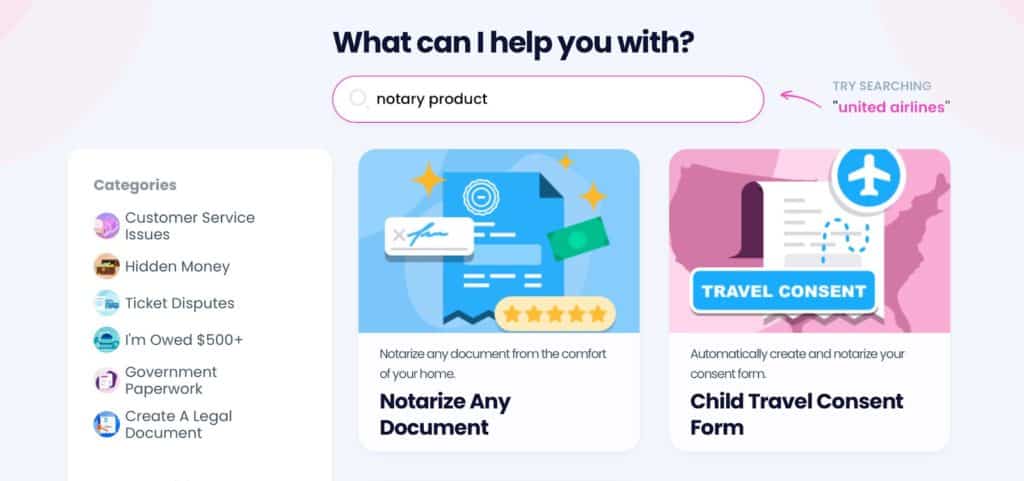 Click on the link we send you and follow the instructions to schedule a meeting with an online notary. All that you need to do next is show up for your online appointment and complete the procedure.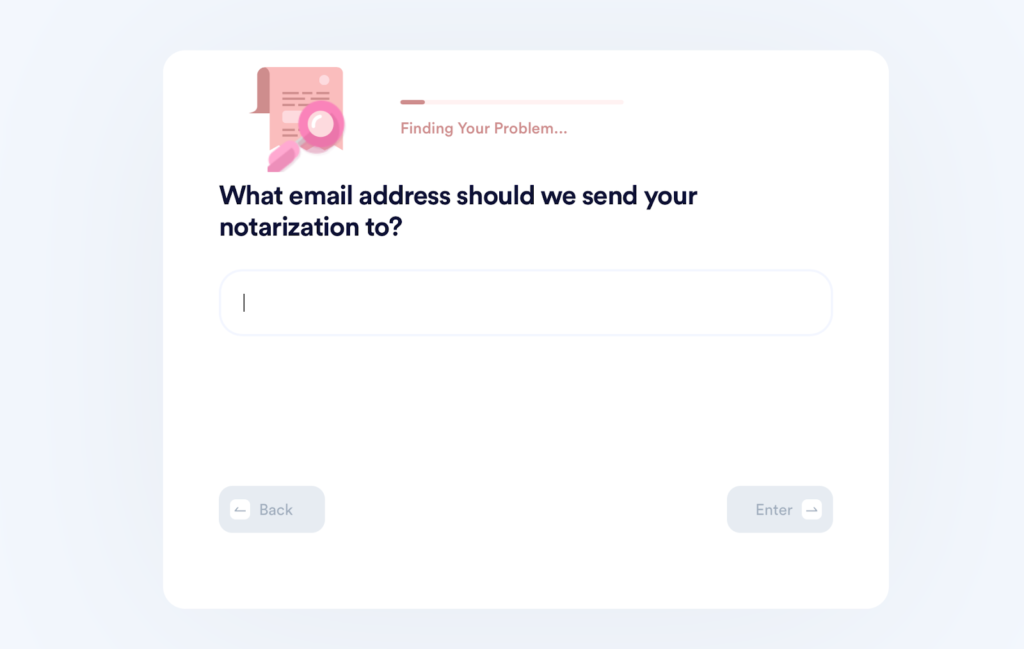 Create Legal Documents With DoNotPay
That's not all our app can do for you! We allow our subscribers to access other DoNotPay's products, such as the Standardized Legal Documents one. This tool uses the essential information you provide to generate a personalized legal document that meets all state requirements.
That is not all—after creating and having the document notarized, you can use our Online Fax product to send it to the recipient!
Learn About DoNotPay's Awesome Products!
DoNotPay is a multifunctional app that can solve numerous everyday challenges swiftly.
You can use our app to protect your work from copyright violations, schedule your driving exam or any other appointment with the DMV, reduce your property taxes in a few steps, and similar.
We have created many useful products to help our users take care of their issues through the same app. With us, you can:
DoNotPay Connects You With Your Loved Ones
Sending letters to inmates can be difficult since you have to follow certain rules to a T to avoid having your letter rejected. The situation is even more complicated if you don't know where your incarcerated loved one serves time. DoNotPay's app can help you locate prisoners and correspond with them without worrying whether you're breaking any rules.
Do you want to send a letter, but you don't feel like heading over to a post office? By using our mailing service, you can mail as many letters as you want from the comfort of your home. With DoNotPay, you can also send online faxes in under five minutes!
Email and text spam is something that everyone experiences at least once in their lives. DoNotPay has a solution for that too. Access your DoNotPay account and count on us to help you block spam and get compensation by reporting pesky robocalls.