Booking a Notary in Butler, PA Has Never Been Easier
Finding a notary doesn't have to be a hassle. When you need to have your documents notarized, you can count on our assistance. This article will walk you through everything you need to know about notarization and a notary in Butler, PA.
We'll also show you how to streamline scheduling a notary appointment and getting a notary's signature.
What Can
a Notary
in
Butler, PA,
Do?
PA notaries can perform various notarial acts, including:
Witnessing signatures

Certifying

copies

of depositions

Administering oaths and affirmations (e.g., for

affidavits

)

Taking

acknowledgments

Taking verifications on oaths or affirmations

Noting protests of negotiable instruments
The notary's main purpose is to serve as an impartial witness. This way, they prevent fraud and coercion.
Usually, notarization consists of the following steps:
Checking the signer's ID and asking questions to confirm their identity

Ensuring nobody is forcing the signer to enter into an agreement

Determining the signer is sober and mentally stable

Witnessing the signing

Signing and placing a stamp on the notarial certificate
Can PA Notaries Perform Online Notarization?
Yes, they can. Since October 2020, notaries across Pennsylvania have been able to become online notaries and provide remote online notarization acts.
As the notary and the client are not together in the same place, certain criteria must be met for the online notarization to be legitimate. The notary has to:
Be in Pennsylvania, while the signer can be anywhere in the world

Inform the Department of State about performing a remote notary service

Use the state-approved online platforms (e.g., Skype, Zoom, and FaceTime are not permitted)

See and hear the signer well and vice versa

Identify the signer by a personal connection, a witness, or using identity-proofing technology

Record the entire notarial act and keep the audio-video recording for a minimum of ten years

Note in the notarial certificate that they notarized a document online
Other Types of Notaries
Online notaries make notarization fast and convenient since you don't have to leave the house, and if you , you don't even have to look for them on your own—we help you set everything up.
Aside from online notaries that we can help you find, you can look for other types in Butler, PA, such as:
| | |
| --- | --- |
| Notaries | Brief Explanation |
| | Electronic notaries notarize digital-form documents in person. They use an electronic seal and signature |
| | Mobile notaries can come to the signer's location—home or work, for example—and notarize a paper document. They are more expensive than regular notaries because they charge for travel expenses in addition to the notary fees |
| | Notary signing agents notarize loan documents. They can also visit their clients to perform the notarization |
How Much Are Notary Fees in PA?
The Pennsylvania Department of State regulates the notary fees in all of PA. The fees for the notary service cannot exceed the maximum limit set by the state.
You can expect prices no higher than the following:
Noting a protest of a negotiable instrument (charged per page)—$3

Taking acknowledgments—$5

Taking acknowledgments for each additional name—$2

Administering oaths or affirmations—$5

Taking verification on oath or affirmation—$5

Witnessing a signature (charged per signature)—$5

Certifying a copy or deposition (charged per certified copy)—$5
Online notarization is on the pricier side, typically costing about $25.
Notaries in PA may charge extra for additional services, such as traveling, making phone calls, and copying or mailing documents. As these are administrative fees, the Pennsylvania Department of State cannot limit them, but notaries are still encouraged to be reasonable.
The notary has to inform the customers of their fees, and they need to agree to them before the notarization.
Where Can I Find a Notary in Butler, PA, by Myself?
If you want to search for available notaries in Butler, you can use various websites by entering your location and your search preferences. The most popular websites include:
Another option is to visit a local business or office that offers notary services and have your document notarized there. Here's a list of places that usually hire notaries:
AAA

stores

Credit unions

Police departments

Courthouses

Money transfer stores

Law offices

Tax preparation firms

Accountant offices

Office supply stores

Real estate agencies

Insurance companies
Book an Online Notary Using DoNotPay
Our app can fast-track the notarization process for you! By and clicking several times, you'll get any document notarized online in no time! All you have to do is follow these steps:
Locate the

Notarize Any Document

product

Upload your document

Type in your email address
You can expect an email from us containing a link you should follow to schedule and confirm your appointment with an online notary.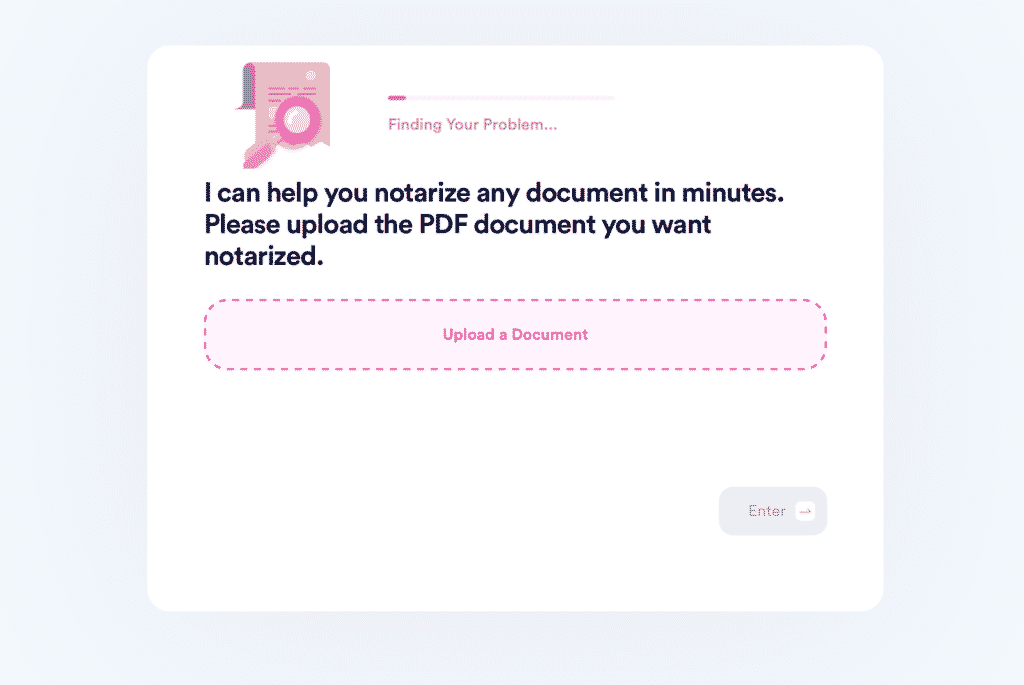 Save Some Coins With DoNotPay
Are various subscriptions and memberships burning a hole in your pocket? DoNotPay can help you cancel all of your memberships in a matter of minutes without having to contact customer service reps.
Next time you want to register for a free trial, prevent unexpected costs with our virtual credit card. Once the trial is over, you'll be unsubscribed right away because our virtual credit card doesn't contain any money. We will also generate a random email address you can use if you want to protect your privacy and avoid spam marketing emails.
Do you need help claiming warranties and insurance policies? DoNotPay can help with that too.
Should you need assistance requesting refunds for purchased products, canceled flights, or late deliveries, we've got your back!
Avoid wasting money on lawyers—DoNotPay is here to help you sue anyone in small claims court and create numerous legal documents in the blink of an eye!
DoNotPay Can Help You Earn Money Too
DoNotPay users can save hundreds of dollars thanks to our app, but did you know that we can help you earn a few bucks as well? Our app enables you to claim missing money under your name or file your application for paid clinical trials in less than five minutes.
You can even get compensation for reporting robocalls or apply for a crime victims compensation program in your state by signing up for our app and following a few simple steps.