Find a Notary in Allentown, PA, With Zero Hassle
Having documents notarized is a demanding but often necessary process. Not knowing where to find a notary is a part of the problem, so we're here to put your mind to ease!
to learn how to schedule an appointment and get documents notarized without going to a notary in Allentown, PA.
What Does a Notary in Allentown, PA, Do?
Under the Revised Uniform Law on Notarial Acts (RULONA), a notary in PA is authorized to:
Witness or attest signatures

Take

acknowledgments

Administer oaths and affirmations

Certify or attest

copies

or depositions

Note a protest of a negotiable instrument

Take a verification on oath or affirmation, including

affidavits
Where To Find a Notary in Allentown, PA
Check the following table to see where to search for a notary in Allentown, PA:
| | |
| --- | --- |
| Online Search | Public Spaces in Allentown |
| | |
Types of Notaries in Allentown, PA
Traditional notarization is still a widely-used method of notarizing documents, but it's often not the most convenient one. Luckily, you have more options nowadays. You can choose between several notary service options to have your paperwork notarized in Allentown, Pennsylvania:
How Much Do Notaries in Allentown, Pennsylvania, Charge?
The Department of State is in charge of setting the fees for notarial acts across Pennsylvania. Notaries public have the right to charge administrative fees for notary-related services, such as travel, postage, copying documents, or telephone calls. The Department does not regulate these fees.
In the following table, you can find fees for various notarial acts:
| | |
| --- | --- |
| Notarial Act | Fee |
| Taking acknowledgment | $5 |
| Taking acknowledgment—each additional name | $2 |
| Administering oath and affirmation—per individual taking oath or affirmation | $5 |
| Taking verification on oath and affirmation—regardless of the number of signatures | $5 |
| Witnessing or attesting a signature—per signature | $5 |
| Certifying or attesting a copy or deposition—per certified copy | $5 |
| Noting a protest of a negotiable instrument—per page | $3 |
What Does the Notarization Process Look Like?
The traditional notarization process can be time-consuming and is similar in most states. If you choose a regular notary, here is what you'll have to do:
Find a notary

Schedule an appointment

Collect the documents

Bring the official identification—notaries usually request an ID, but they will accept a passport or driver's license

Make a statement that you're aware of the content in the document and that there is no coercion

Prove that you are not under the influence of alcohol or other substances and that you are mentally stable

Pay the notary fees

Sign the document before the notary

Wait for the notary to add a seal and

signature

to your document
Have Your Documents Notarized Fast Using DoNotPay
Opting for an online notary service still does not guarantee you a less complicated process. Some online notary platforms are difficult to use and can take up quite some time. That is not the case with DoNotPay! Our Notarize Any Document service is practical and easy to use. We can connect you with a notary and help you schedule an appointment within minutes!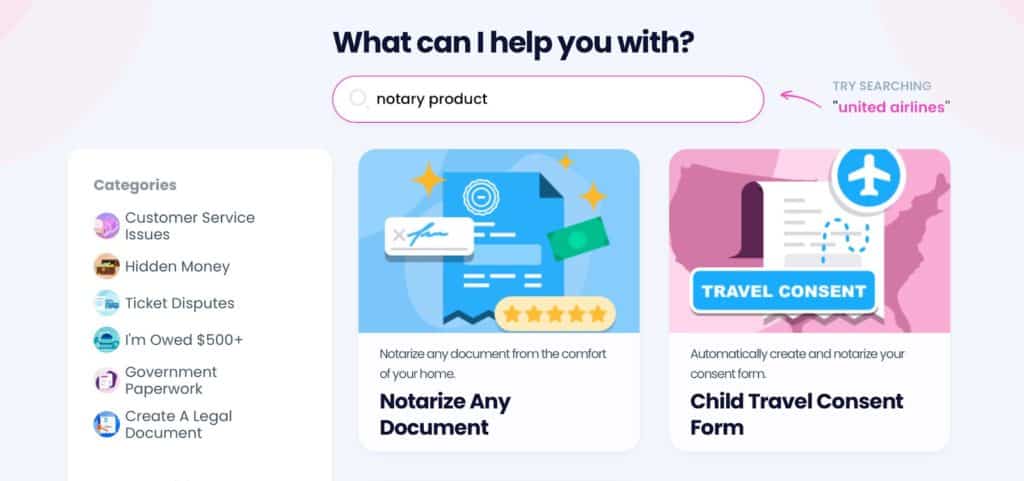 and follow these steps to find a notary in Allentown, PA, in no time:
Find the

Notarize Any Document

feature

Upload the document you have to get notarized

Add your email address

Click on the link we send you to make an appointment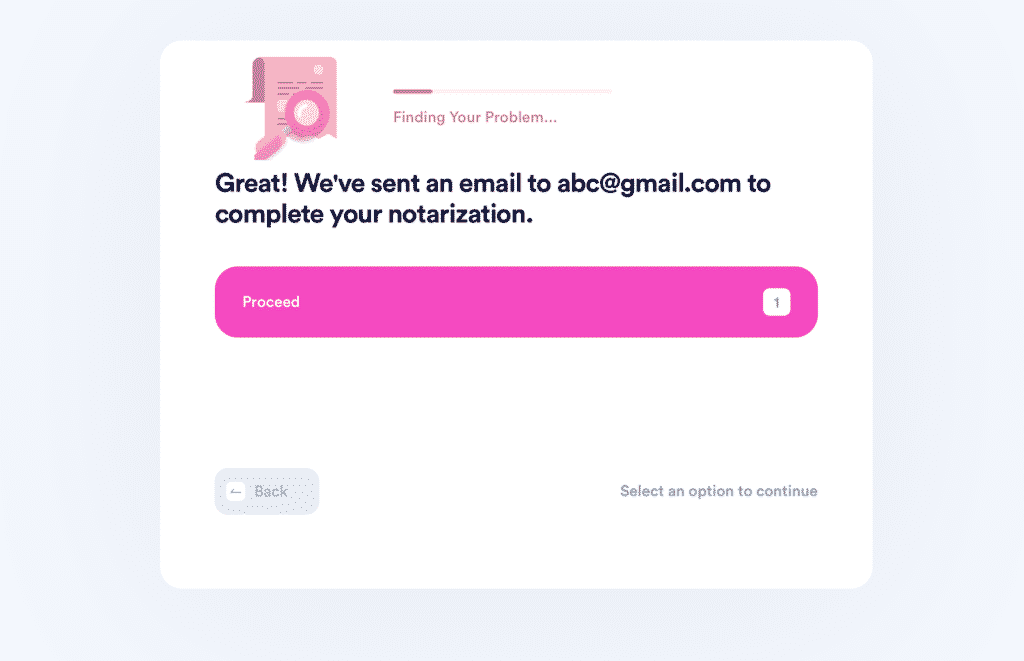 That is not all! DoNotPay brings convenience to a whole new level—we integrated the Notarize Any Document product with two of our other features to help you deal with administration faster. You can use our Standardized Legal Documents product to create numerous contracts and legal documents, which you can later fax to other parties with the Online Fax service.
Take a look at legal documents we can draw up for you:
Parenting Plan (Child Custody Agreement)

Quitclaim Deed

Estoppel Certificate

LLC Operating Agreement

General Business Contract

Bill of Sale

Non-Compete Agreement

Non-Disclosure Agreement

Child Care Authorization Form

Prenuptial Agreement

General Affidavit

Promissory Note

Independent Contractor Agreement

Lease Agreement

Intent To Purchase Real Estate
Keep Your Money Safe With DoNotPay
Don't let greedy companies threaten your consumer rights by holding back refunds, refusing to cancel your subscriptions, or charging you after your free trial ends.
DoNotPay helps you try out different services without providing your credit card info or phone number—you will never again have to deal with unexpected post free trial charges!
Our app also helps you avoid paying unnecessary parking tickets, delay challenging bills, or waive your college application fees.
If any company refuses to issue you a refund or an airline won't compensate for canceled flights, we can help you sue them in small claims court.
DoNotPay Is a Time-Saving App
How many customer service reps do you have to deal with only to file an insurance claim or book your DMV appointment?
DoNotPay helps you sort out these tasks and much more in only a few clicks.
Get your revenge on robocallers, report text scammers, find validated clinical trials, claim your warranties, get in touch with your loved ones in prison, and protect your creative content—all in less than five minutes.
No more hours-long phone calls, emails, or in-person visits.
We cover everything from freeing your inbox from spam to providing excellent prep tests for government exams! Save time with your all-in-one app!