How To Find a Lost Fitbit—Top Three Methods
Nobody likes to lose any item they own—especially when they paid top dollar for it. Fitbit is a Google-owned company with a range of fitness products and smartwatches that regulate your movement data, quality of sleep, and other fitness-related metrics. They are a stylish solution for all running enthusiasts.
In this article, we'll show you how to find a lost Fitbit and explain what methods there are to retrieve the device. We'll also introduce an alternative that allows you to automate the process and let Fitbit find you instead of the other way around.
How To Find a Lost Fitbit—What Options Are There?
Fitbit uses Bluetooth to connect and sync with a phone or tablet, so having this connection is vital. If you want to locate a lost Fitbit, it must be turned on. The following three apps can help you do that:
Tile
Find My Fitbit
DoNotPay
Check out the following table to see what you can use these apps for:
App Name
Works For
Tile
Find My Fitbit
DoNotPay

All Fitbit models (even if turned off)
Bluetooth devices
Tile
For Tile to work, you need to have it installed on both your phone and Inspire 2. When you open the Tile app on your phone, tap the Find option. Your phone will display the location, and your Fitbit will start vibrating if nearby. If it's not in the range, Tile will show the device's location history, together with the date and time your Fitbit last synced.
Tile can also work in the opposite direction. If you can't find your phone, you can open the Tile app on your Fitbit Inspire 2. Choose the Find My Phone option. This will make your cell phone vibrate and ring, even if it's in silent mode. Your Inspire 2 and phone have to be connected for this option to work.
Find My Fitbit
This app works even if you install it after the Fitbit goes missing. It works on a hot-cold principle. It won't show you the exact GPS location but will determine how close you are to your Fitbit based on the strength of the Bluetooth signal—if you're within five feet, it will indicate "hot."
The app works only if Fitbit is turned on and is within 100 feet. To use the app, you need to:
Open Find My Fitbit
Follow setup instructions
Choose your Fitbit from the list
Walk around until the indicator goes from Cold to Warmer
Continue walking in the same direction until it becomes Hot
DoNotPay
If you choose to complete the process on your own, you will need to retrace your steps and figure out where the device might be. Try to remember the last time you had your Fitbit on you and make a list of all locations you've been to after that moment.
The idea is to check all those places by yourself and see if the Fitbit is still there. You can visit them and ask around for your device, or you can call customer support or a lost and found office and try to file a claim.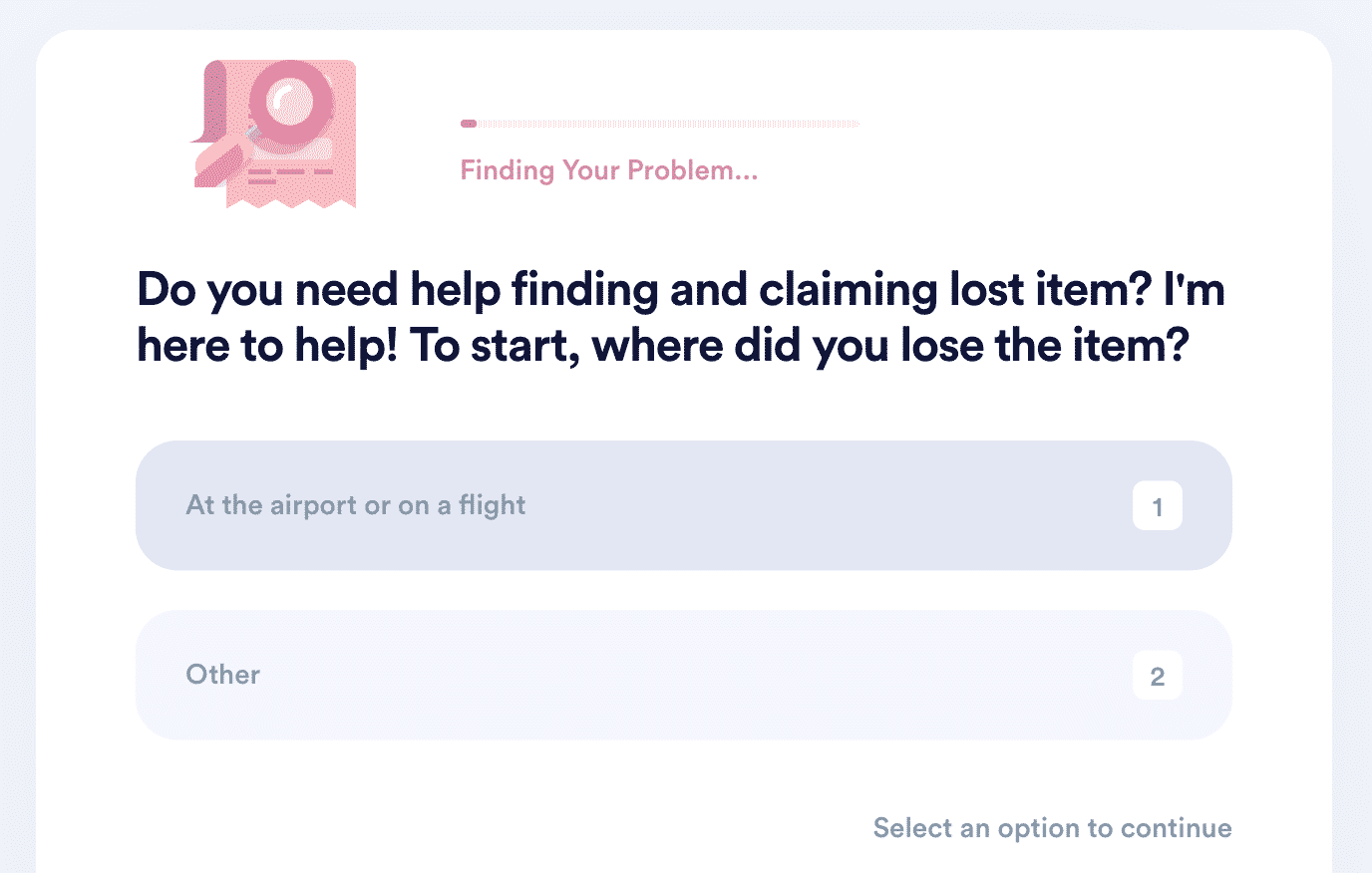 This process is a time-consuming one—you'll have to spend days on the phone or on the move, looking for your lost Fitbit. This is where DoNotPay excels. When you , we will get in touch with all locations you provide and file claims on your behalf.
All you need to do is provide some information about:
Locations where you might have lost your Fitbit
Date of loss
Description of the device—model, color, any unique characteristics, etc.
How To Find a Lost Fitbit Using DoNotPay's Help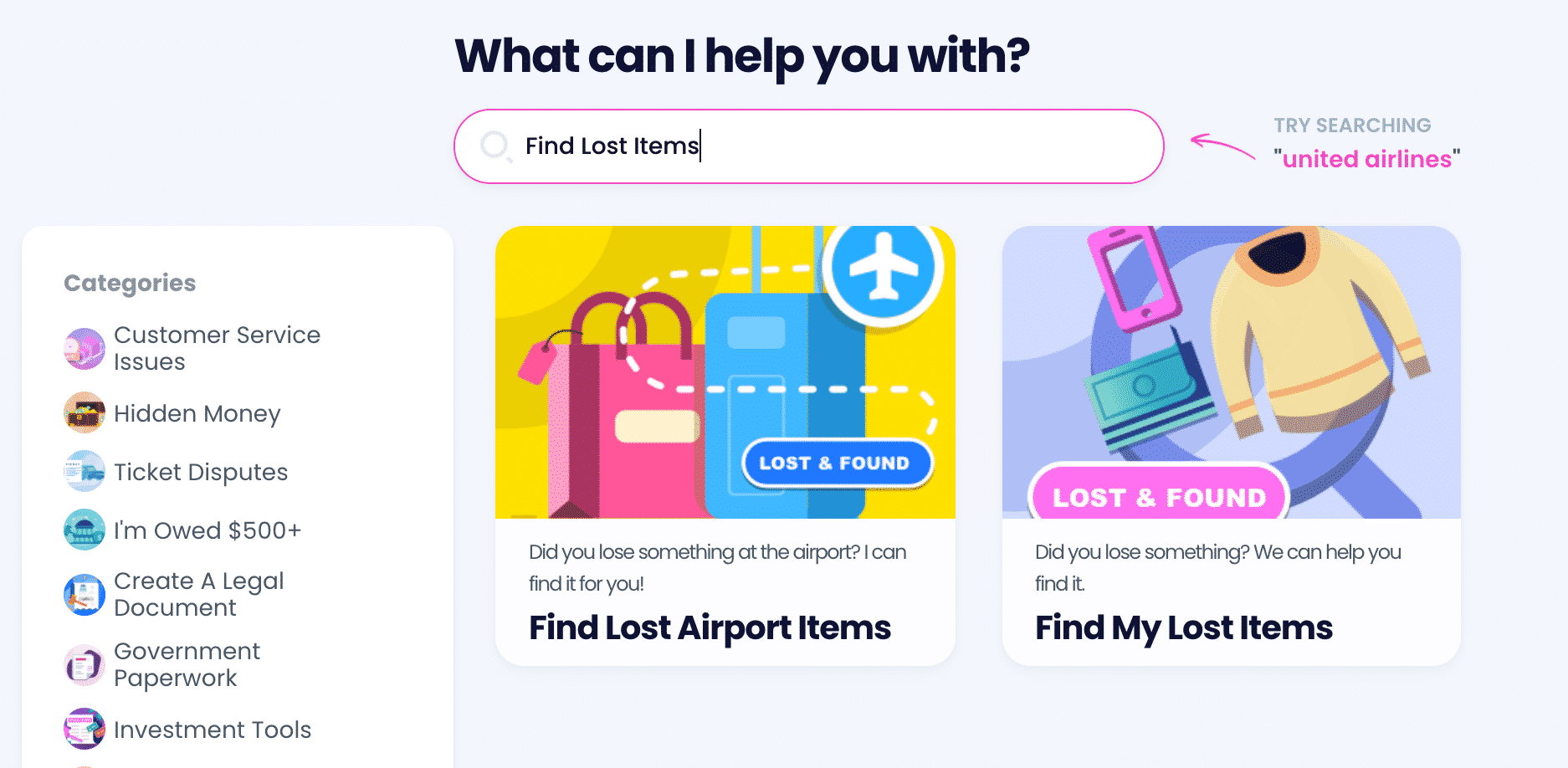 All tracking apps for Fitbit have limited potential due to the requirements you must meet for them to work. The Fitbit needs to be in your vicinity, turned on, and connected to your phone. In reality, this helps only if you've just lost your Fitbit and should find it easily.
DoNotPay can help you find your Fitbit regardless of the circumstances and with no effort on your part. All you need to do is answer some questions, and we will do the rest. Our app will contact all locations you provide and use the information you give to find your Fitbit in no time.
Here's what you need to do:
via any browser
Click on the Find My Lost Items feature
Answer a few questions from our chatbot
DoNotPay can help you in situations that don't revolve around Fitbit. For instance, if you lose your phone on an Uber or Lyft drive, we will sort that out. We can also contact the lost and found offices of MTA, Metro Transit, NYC Yellow Cab, NJ Transit, and many others, and you will get your item back as quickly as possible. Once we get an answer from them, we will notify you of the results.
Protect Yourself With DoNotPay's Help!
In case you're looking for protection from harassers and stalkers, you can count on our help. Even if you're dealing with discrimination at work or noisy neighbors, our app can solve your issues. When spam is what's bothering you, our AI-powered app will put a stop to it. Email spammers, texters, and robocallers won't be able to reach you.
What if you need to take the issue to court? The world's first robot lawyer will be by your side. With our help, you can file a complaint or sue anyone in small claims court.
If you're wondering whether there might be a sex offender in your area, we can help you find out. Use our app to perform a sex offender search and get updates.
A Pocket-Sized Assistant Is All You Need
Is your to-do list getting longer and your paperwork piling up? DoNotPay swoops in! We'll cut through numerous bureaucratic tasks so that you can sit back and relax.
Here's what we can assist you in: