Tips on How To Claim Your Kia Extended Warranty
Kia Motors or Kia is a multinational vehicle manufacturer from South Korea. It has offices all over the world, including the U.S.
Kia provides some of the best and longest car warranties in the industry. It offers new car limited warranties and certified pre-owned warranties. Once the manufacturer warranty expires, many drivers turn to extended warranties to keep their cars protected in the long run.
DoNotPay will answer your questions about different Kia extended warranty options and suggest the quickest way to claim your warranty.
What
Kia Extended Warranties
Does Kia Offer?
If you tried searching for Kia extended warranties on its website, you might have run into a dead end. Kia refers to them as vehicle protection plans and offers five different versions:
Powertrain

Silver

Gold

Gold Plus

Platinum
Kia Extended Warranty Coverage
Most major car repairs occur after your factory warranty expires. If you plan on keeping your Kia vehicle for years to come, it may be wise to get an extended warranty. Each plan becomes valid on the date of purchase and lasts up to 120,000 miles.
As Kia offers five different options, you should compare their coverage and see which one suits you best:
Kia Protection Plan
What It Covers

Powertrain

Engine

Drive axle

Transmission/Transaxle/Transfer case

Additional hybrid/Plug-in electric compressed natural gas components

Silver

All Powertrain features

Steering

Brakes

Air conditioning

Electrical parts

Front suspension

Gold

All Powertrain and Silver features

Additional engine, transmission, and drive axle coverage

Extra brakes, air conditioning, and steering coverage

Gold Plus

All Powertrain, Silver, and Gold features

Fuel

Cooling

Rear suspension

Additional steering, front suspension, and air conditioning coverage

Platinum

All Powertrain, Silver, Gold, and Gold Plus features

Vehicle assemblies except the ones listed in the

Platinum exclusions

, such as:

Brake linings, drums, and rotors

Airbags

Door handles

Lock cylinders

Exhaust system

Radar detectors

Catalytic converter

Heater and radiator hoses
How Much Does
Kia Extended Warranty Cost
?
Kia doesn't have a unified price for each extended warranty plan. It's best to contact the dealer and get an estimate. The price of Kia extended warranties vary based on different factors:
Car model

Vehicle age

Vehicle mileage

Your deductible
How To File a
Kia Extended Warranty
Claim on Your Own
If you have an issue with your car and want to file a warranty claim and repair it, you have two options:
Calling Kia customer service

Scheduling an appointment on the website
File a Kia Extended Warranty Claim Over the Phone
To submit a warranty claim, you can call Kia at 1-800-333-4542. Describe your problem and schedule an appointment.
File a Kia Extended Warranty Claim on the Website
If you want to submit your warranty claim on Kia's website, follow these steps:
Register or sign in to

your account

Go to the

Warranty

section

Follow the prompts and schedule a warranty service
Use DoNotPay To Submit a Kia Extended Warranty Claim
Kia's website can be difficult to navigate. The info about warranty costs and the claiming process is unclear or elusive. Luckily, you don't have to waste your precious time dealing with your warranty by yourself.
If you use DoNotPay to submit a warranty claim, you'll only have to click a few times and follow clear-cut steps.
Access DoNotPay from a and do the following:
Choose the

Claim Warranty

feature

Select

Car Warranty

Answer a few questions about your Kia extended warranty and car problems

Tap on

Submit My Claim
We'll contact Kia and submit a warranty claim on your behalf. DoNotPay can also schedule a service with the nearest car dealership.
Even if you have a used car, you can count on us to streamline the claiming process.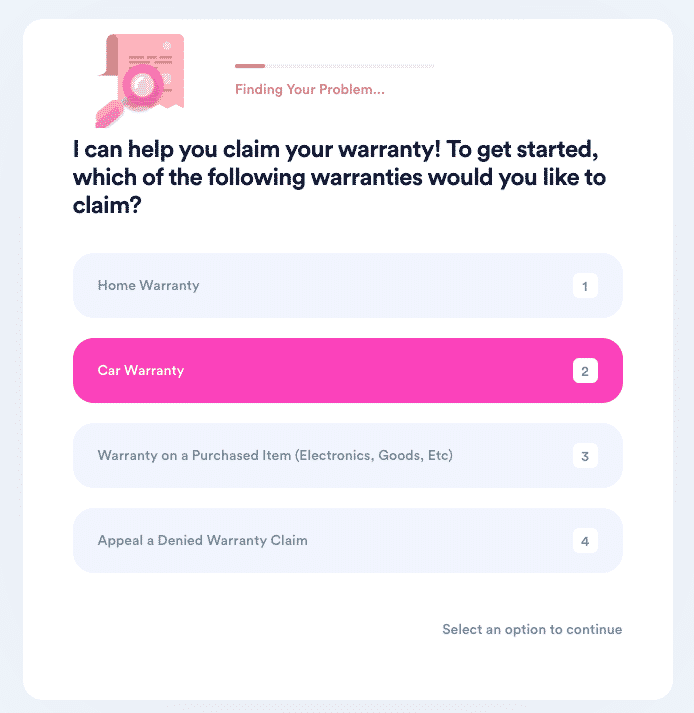 Appeal Your Denied Warranty Claim With DoNotPay
If a company rejects your warranty claim, you have two problems—you didn't repair your car, and you have to pay for the eventual repairs. Don't despair—a denied warranty claim is not the final decision. Team up with DoNotPay and appeal your warranty claim!
You don't have to be well-versed in legal and car warranty lingo. That's why we're here. All you need to do is:
Open DoNotPay in your

Select

Claim Warranty

Click on

Appeal a Denied Warranty Claim

Provide a few details about your warranty claim

Tap on

Submit
We'll hit Kia with the best appeal letter, and its representatives will contact you afterward.
DoNotPay can also offer assistance if a dealer refuses to cancel your extended warranty.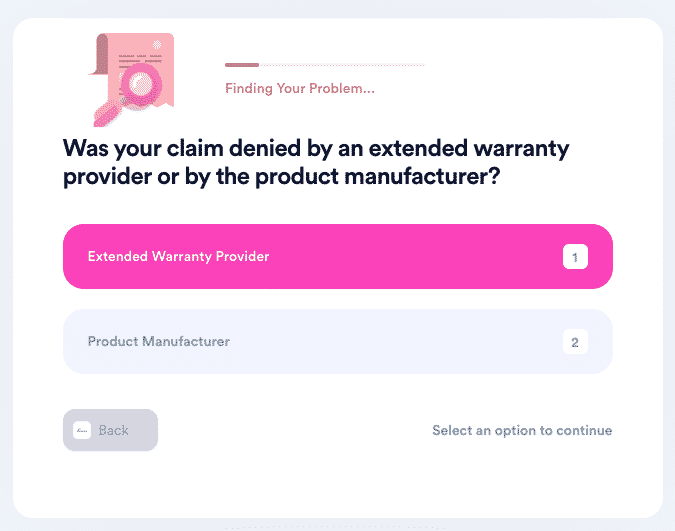 DoNotPay Helps Out in More Ways Than One
If you have another car, check out our guides on warranties by other car brands—Tesla, Toyota, Nissan, and more.
Aside from car warranties, we can lend a hand in your home warranty troubles. Our home warranty reviews will provide insight into the most popular home warranties in America.
Open DoNotPay in a and discover other features you can benefit from, such as:
Contesting traffic tickets

Appealing speeding tickets