How To File an Apple Watch Warranty Claim in No Time
Apple Watch is a smartwatch that belongs to the iOS family. It came out in 2015, and a new generation is available every year. This gadget is not cheap, to say the least, so it's normal to have some sort of protection to keep it safe. Find out how to claim an Apple Watch warranty the easy way!
How Long Is Apple Watch Warranty and What Does It Cover?
An Apple Watch limited warranty includes a year-worth hardware repair as well as 90 days of complimentary support. There are two types of complimentary support:
Complimentary Hardware Support For
Complimentary Software Support For

Basic setup

Assembly

Installation

Connectivity

Launch

Installation

Reinstallation
You can also extend your Apple Watch warranty by using AppleCare+. If you choose to prolong your warranty this way, you'll get coverage for two accidental device damages per year.
Apple will also provide you with instant access to its 24/7 customer support.
File a Warranty Claim for Apple Watch Easily With DoNotPay
If you're looking for a simple and effective way of claiming a warranty, you should choose DoNotPay to help you with the process. You'll only need to follow these steps:
Open DoNotPay in your

Find and click on the

Claim Warranty

feature

Choose

Warranty on a Purchased Item

Select

Apple

as the company you want to claim a warranty from

Enter the details of the purchase

Include the issues you're experiencing with the product

Select

Submit My Claim
DoNotPay will submit the claim letter in your stead. If you include the information about your warranty, we will use it to support your case. In case you don't know the details, DoNotPay will create a solid argument in accordance with appropriate laws.
We can also help you claim a car or home warranty in America.
If you want to learn more about extended warranties for used cars and read through home warranty reviews, we have it all nicely explained.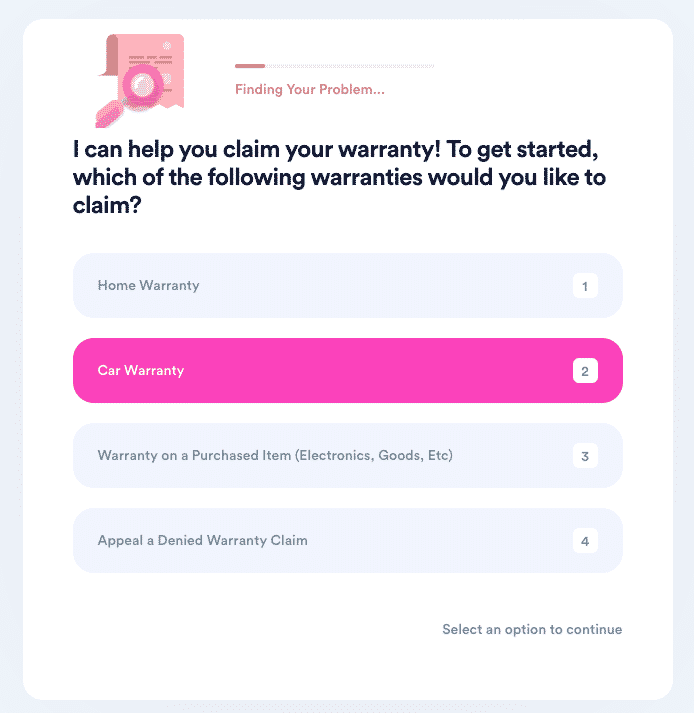 When you select the type of warranty you want to claim, we will ask you to provide us with a bit more information on the issue you've experienced with the product.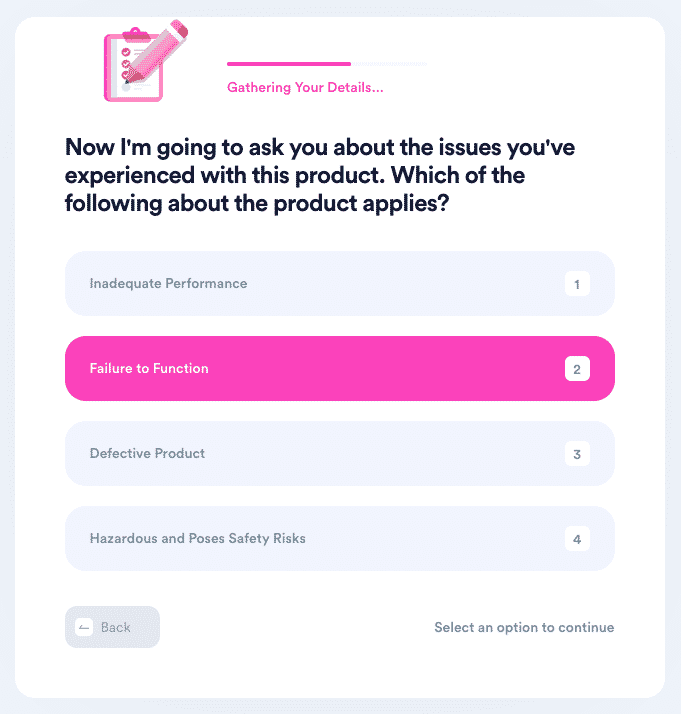 How Can You Claim an Apple Watch Warranty on Your Own?
Claiming a warranty from Apple directly won't be as easy or pleasant compared to the DoNotPay option. You will have to communicate with people either by phone or in person. Look at the table below to see your options:
| | |
| --- | --- |
| Can You Claim Your Warranty With | Yes/No |
| DoNotPay | Yes |
| Email | No |
| Phone | Yes |
| Letter | No |
| In Person | Yes |
| Company Website | No |
How To Claim an Apple Watch Warranty Over the Phone
Apple requires you to call its customer support and inform them of your wish to claim a warranty this way. Follow these directions:
Call Apple Care at

(800) 694-7466

Tell the customer support agent that you want to claim a warranty

Provide them with the details about the product

Give them all the other info they ask for, such as your Apple ID

Wait for further instructions
How To Claim an Apple Watch Warranty in Person
You can go to an Apple Store and explain the situation to a staff member in person. Follow these steps:
Visit an Apple Store

Explain the issue with your device

Provide the person in charge with all the info they ask for

Follow any further instructions they give you
Your Apple Watch Warranty Claim Got Denied? DoNotPay Can Help You File an Appeal
It's not rare for warranty claims to get denied by companies. In case Apple rejects your Apple Watch warranty claim, DoNotPay is here to help you appeal it. Follow these simple steps:
Find and select the

Claim Warranty

feature

Pick the

Appeal a Denied Warranty Claim

option

Tell us if you are appealing against a product manufacturer or a

dealer of extended warranties

Give us all the info you have about the company and the warranty claim
DoNotPay will send the appeal letter to Apple for you. The company should then contact you directly about the case.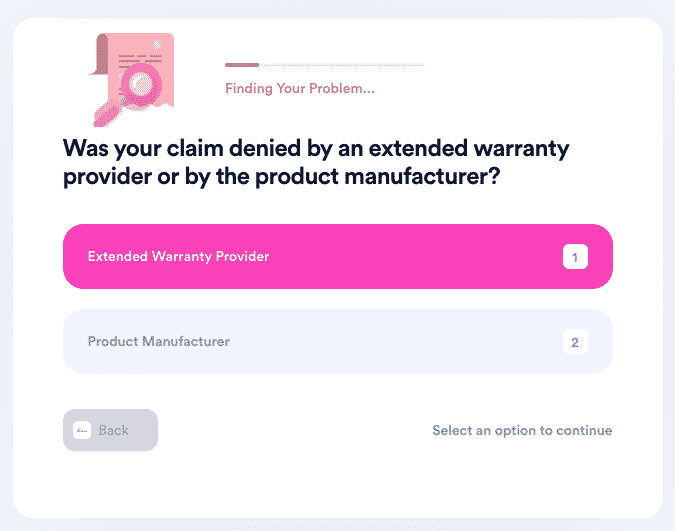 DoNotPay Covers Numerous Other Bureaucratic Areas
DoNotPay has a detailed guide on Apple's refund policy and can also help you cancel AppleCare with a few clicks.
We can also tell you what the best ways to report fake Apple robocalls are and how to stop spam mail from the company.
DoNotPay is the best way of fighting bureaucracy. Access our app from any , and let us show you what we can do to help you deal with:
Fighting speeding tickets

Disputing traffic tickets