Claim an Apple Case Warranty the Easy Way
Apple is a renowned manufacturer of mobile devices, including accessories such as iPhone cases. A high-quality iPhone case is worth the investment, as it can protect your device against water, dust, and shock.
All Apple products are on the expensive side, and that's why they come with a warranty. If you want to skip the complications and file a warranty claim for an iPhone case, DoNotPay provides the fastest way.
The iPhone Apple Case Warranty Procedure
Apple provides a one-year warranty for all Apple and Beats devices and accessories, including AirPods and cases. The warranty protects products against any malfunction caused by workmanship or material defects. If you notice such a flaw on your case during the warranty period and contact Apple, they will handle the issue in one of the two ways:
Replace it

Give you a full refund
You won't be able to file a warranty claim on your iPhone case for accidental damage.
How Do I File an Apple Phone Case Warranty Claim on My Own?
Apple provides a few ways to contact them regarding warranty claims. The method depends on the issue you are experiencing with the product and the product itself.
Check out the overview of methods you can use to file an Apple case warranty claim:
| | |
| --- | --- |
| Can You Claim Your Warranty Via | Yes/No |
| DoNotPay | Yes |
| Email | No |
| Phone | Yes |
| Letter | No |
| In Person | Yes |
| Company Website | No |
Filing a Warranty Claim Over the Phone
When it comes to phone cases, the best option is to:
Access

Apple Support

via the official

website

Find option

Contact Apple Support

in the drop-down menu

Scroll down to

Support by Phone

Choose the country

Contact the

Customer Support Service

by calling or sending a message

Provide support agents with details of the purchase
Make sure to leave your contact number to the support service. Someone from the Apple store should contact you to finish the warranty claim process and arrange a mail-in replacement. Your replacement case is supposed to arrive within a few days.
Claiming an Apple Case Warranty in Person
You can also go directly to the nearest Apple store and file the claim in person. You will have to provide the necessary proof of purchase and return the defective case.
Claim Your Apple iPhone Case Warranty With DoNotPay
Some reviews state that contacting Apple Customer Support agents can be difficult. They tend not to answer the phone or give feedback on a warranty claim. If you don't feel like taking your chances with Apple Customer Support Service, we can promise you an easier, more reliable way to go.
Our app allows you to file a warranty claim with a few clicks. The process is straightforward:
Open DoNotPay in your

Access the

Claim Warranty

feature

Select the

Warranty on a Purchased Item

option

Enter

Apple

as the company and describe issues you're experiencing with the case

Click on the

Submit My Claim

button
The purchase details you provide will enable us to generate a claim on your behalf. If you don't have them, don't worry—we will use general warranty laws to build a strong case. Not long after our app submits the claim, Apple is bound to get in touch with you.
Use our expertise to file a car or home warranty claim if needed!
Apple Has Denied Your Warranty Claim? Use DoNotPay to File an Appeal!
If Apple denies your warranty claim or a dealer refuses to cancel an extended warranty, we provide an easy solution. You shouldn't give up on getting what was promised to you. Let us help you appeal against Apple's decision! To submit an appeal, you need to do the following:
Access DoNotPay from any

Click on

Claim Warranty

Select

Appeal a Denied Warranty Claim

Chose the

Product Manufacturer

option

Present the original warranty details and hit

Submit
DoNotPay will form an appeal letter and submit it automatically. Apple will get in touch with you not long after they receive your appeal.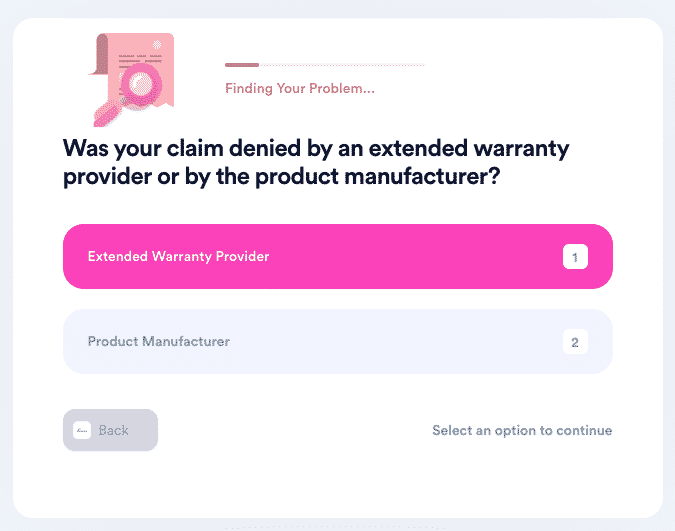 DoNotPay Can Help You Solve All Kinds of Issues
Once you access DoNotPay's website, you will be able to check out how to get an extended warranty for used cars or what the best home warranty in America is. You can find more info on home warranty reviews from other customers.
We can also show you how to get your iPhone replaced under warranty.
Open DoNotPay in your and get assistance with:
Contesting traffic tickets

Disputing speeding citations