How To Claim Hyundai Manufacturer Warranty in a Jiffy
Hyundai Motor Company (Hyundai Motors) is a famous Korean car manufacturer. The company is based in Seoul, but you can buy Hyundai's vehicles in almost 200 countries across the world.
If you decide to purchase a car from this company, you should be familiar with the warranty that comes with it. We can tell you everything you need to know about the Hyundai manufacturer's warranty and the simplest way of claiming it. A little hint—it's DoNotPay.
What You Should Know About the Hyundai New Car Warranty
If you purchase a new car from Hyundai, you can count on a so-called bumper-to-bumper warranty that lasts for five years or 60,000 mi (whatever occurs first). This warranty is among the best options in the car-manufacturer world and bears the name America's Best Warranty.
What Does the Hyundai New Vehicle Limited Warranty Cover?
It is important to know what protection comes with your vehicle in case something bad happens to it. Take a look at this table to see the Hyundai warranty coverage:
Hyundai New Vehicle Limited Warranty
Covers
Doesn't Cover

Belts

Brake pads and linings

Clutch linings

Filters

Wiper blades

Bulbs and fuses

Paint

Audio and radio systems

Battery

Perforation

Air Conditioner Refrigerant

Oil changes

Cleaning

Polishing

Wiper blades

Brake pads

Normal wear and tear

Accidental damage

Damage caused by misuse
With a new car warranty from Hyundai, you also get 24/7 roadside assistance for five years. This new vehicle warranty is transferable, and if you decide to sell your car, the new owner will get those benefits.
File a Claim for Hyundai Manufacturer Warranty With DoNotPay
DoNotPay has made filing warranty claims easy. Open DoNotPay in your web browser, and heed these instructions:
Find and click on the

Claim Warranty

feature

Pick the

Car Warranty

option

Choose the car warranty provider or enter your car's Make and Model

Tell us what seems to be the problem with your car

Select

Submit My Claim
DoNotPay can send the claim for you if you have an extended car warranty. If you have an original manufacturer warranty, your virtual assistant will set up a maintenance appointment for you in the local dealership.
We have the scoop on used car warranties and know the way out of a situation when a dealer refuses to cancel your extended warranty.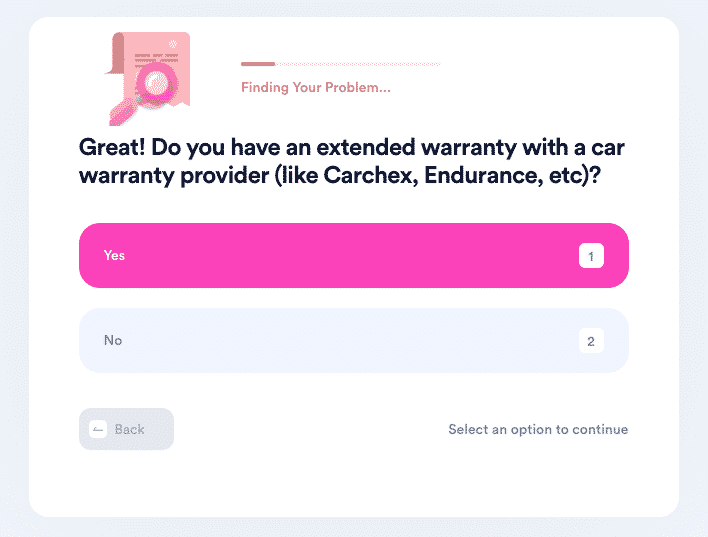 How To File a Claim for a Hyundai Manufacturer Warranty on Your Own
You can choose to file a warranty claim from Hyundai by yourself, but brace yourself for numerous possible complications. These are your options:
Over the phone

By email

Via the online form
How To Claim Hyundai Warranty Over the Phone
You will need to contact Hyundai and let them know about your car problems over the phone. Heed these instructions:
Call

(844) 462-5557

Tell the representative you wish to claim your warranty

Explain the issue with your car

Give them the info about your purchase

Follow any further instructions
How To Claim Hyundai Warranty via Email
You can compose an email and send it to Hyundai. Proceed as follows:
Write a formal email

Include all the info about your purchase and warranty

Explain that you wish to claim a warranty

Send the email to

HyundaiNationalCustomerCare@hmausa.com

Wait for the company's response
How To Claim Hyundai Warranty via the Online Form
You may file a warranty claim on Hyundai's website. Follow these instructions:
Open the

Online Form

Enter your personal info in the provided fields

Answer numerous other questions about your vehicle and warranty

Submit your claim

Wait for Hyundai's response
Hyundai Rejected Your Warranty Claim? File an Appeal With DoNotPay!
Hyundai could deny your warranty claim. Should you give up and pay for the repair yourself? Not until you try filing an appeal with DoNotPay first! The process is as simple as filing a warranty claim and will take you less than five minutes to complete.
This is what you need to do:
Find and choose the

Claim Warranty

feature

Select the

Appeal a Denied Warranty Claim

category

Choose between filing an appeal against an extended warranty dealer or a product manufacturer

Tell us everything we should know about your warranty claim
Once you're done with these simple steps, all you have to do is wait for Hyundai to contact you. We will speed up the process by sending them an appeal letter immediately.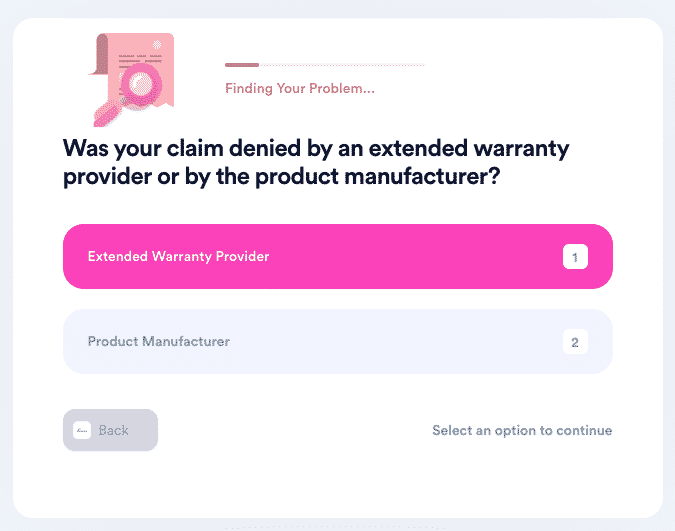 DoNotPay can also help you claim and appeal home warranties. To learn more about the best options in America, you should check out our reviews.
DoNotPay Knows How To Handle Administrative Tasks Easily
If you need assistance with filing warranty claims for other car companies like KIA, Ford, Tesla, Nissan, Honda, Toyota, or Volkswagen, you can also count on DoNotPay.
We can help you with a lot more than dealing with warranties. If you want to turn dull administrative tasks into simple and easy procedures, access DoNotPay from your web browser, and let us aid you in dealing with any of these issues:
Fighting traffic tickets

Disputing speeding tickets