Focus on What's Important and Claim a Ford Focus Transmission Warranty
If you are an owner of a 2012–2016 Ford Focus or 2011–2016 Ford Fiesta equipped with a PowerShift Transmission, you are entitled to Ford's extended transmission warranty. Learn more about the entire settlement and the easiest way of claiming this warranty.
What You Should Know About the Ford Transmission Warranty
Ford's dual-clutch automatic transmission—also called PowerShift transmission—was installed on certain Ford Focus and Fiesta models. This has caused numerous problems to car owners who complained about stalling and shuddering in most of 2012–2016 Focus vehicles. Ford dealt with this issue by extending warranties for these cars.
Who Is Entitled to the Ford Focus Extended Transmission Warranty?
All people, entities, or organizations with residence in the U.S. or any of its territories and have bought or leased a 2012–2016 Ford Focus or 2011–2016 Ford Fiesta (Class Vehicles) with a PowerShift Transmission have the right to claim the warranty. Even if you purchased one of these models from a private owner or a third-party dealership, you are entitled to the warranty if you meet other requirements.
To qualify for this warranty, you need to have taken the vehicle to three or more services at authorized Ford dealers. If mechanics change a certain transmission part within seven years or 100,000 mi from the car's delivery to the first retail customer, you are eligible for the warranty.
Is There a Deadline To Claim the Ford Extended Transmission Warranty?
There are two deadlines:
If you'd had three or more service visits by April 7, 2020, you should have submitted your claim by October 5, 2020

If you had a third service visit for software flashes or hardware repairs following the April date, you would have six months to submit your claim after the last repair
How To Claim the Ford Focus Extended Warranty on Your Own
You can claim your Ford transmission warranty in one way if you decide to go through the process on your own. See your options:
| | |
| --- | --- |
| Can You Claim Your Warranty With | Yes/No |
| DoNotPay | Yes |
| Email | No |
| Phone | No |
| Letter | No |
| In Person | No |
| Company Website | Yes |
How To Claim Your Ford Transmission Warranty on the Company's Website
You can submit a claim on the company's website through an online form to get your transmission warranty. This is what you'll need to do:
Visit the company's website

Choose a

claim form type

Fill out all the fields with the requested information

Agree

and

Submit

your claim
If you want to pursue a claim for replacement or repurchase of a vehicle or breach of warranty through arbitration, you'll need to inform Ford beforehand by calling 1-888-260-4563. The company will deal with your claim within ten days, and you may submit it to the Arbitration Administrator after that period.
DoNotPay Is the Easiest Way To Claim the Ford Transmission Warranty
DoNotPay deals with warranty claims without tedious and time-consuming steps. Claim your Ford transmission warranty in under five minutes by following these instructions:
Open DoNotPay in your

Find the

Claim Warranty

section

Click on the

Car Warranty

option

Let us know if it's an extended car warranty

Type in your car's Make and Model or select the car warranty provider

Give a thorough explanation of the issues you have with your vehicle

Click on

Submit My Claim
If it's a case of an extended warranty, DoNotPay will send a claim to Ford for you as soon as possible.
DoNotPay has the answers to all your questions about extended warranties for used cars as well.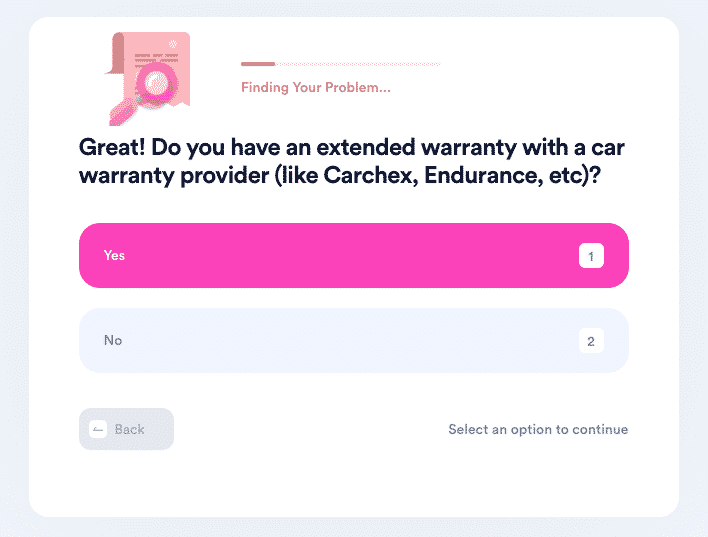 Rejected Warranty Claim? DoNotPay Can Help You Out
File an appeal for rejected warranty claims with DoNotPay fast and easily. We won't take much of your time, and we'll certainly save you some money. Follow these directions:
Open our app

Navigate to the

Claim Warranty

feature

Select the

Appeal a Denied Warranty Claim

option

Pick between filing an appeal against a product manufacturer or an

extended warranty dealer

Provide us with the important details regarding the company and the warranty claim
DoNotPay will send the appeal letter to the company on your behalf. You can expect an answer from Ford soon after.
You can also file an appeal for home warranties with our app. In case you're interested in finding out more about their offers and reviews in America, you should take a look at our guides.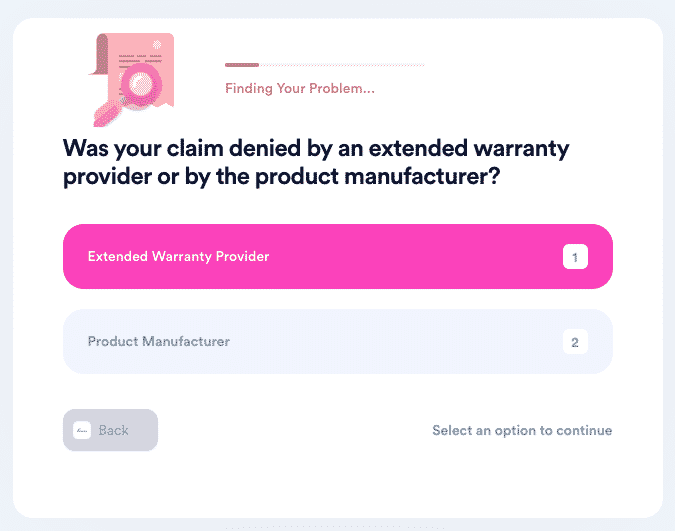 With DoNotPay Behind the Wheel, You'll Get Out of Bureaucratic Troubles Easily
If you feel like you're giving too much money to car insurance companies and not getting much in return, DoNotPay can help you end your subscriptions. Cancel Metromile, State Farm, or Alliance United, and never worry about seeing those charges on your bills again.
DoNotPay understands that a multitude of other administrative issues trouble our users, and, for this reason, we decided to come up with a solution for a large number of them. Open our app from your , and let us assist you with:
Disputing traffic tickets

Contesting speeding tickets