Get Your Documents Notarized by a Greencastle Notary ASAP!
Need to get a document notarized in Greencastle, Pennsylvania? Luckily for you, document notarization does not have to be as complicated as it used to be. You can avoid the hassle surrounding the standard notarization and opt for one of the alternative notary services.
Don't waste time and energy— to find an online Greencastle notary in a breeze!
What Notarial Acts Does a Greencastle Notary Perform?
The Revised Uniform Law on Notarial Acts—Pennsylvania's notary public law—gives the power to notaries across Pennsylvania, including Greencastle, to:
Administer:

Take:

Verifications on oath

Verifications on affirmations

Certify:

Witness or attest signatures

Note protests of negotiable instruments
What To Expect From the Notarization Process
If you want to get a document notarized the standard way, you should prepare yourself for the process. No matter if the document in question is a will, affidavit, or power of attorney, you will have to:
Find a notary

Set up an appointment

Visit a notary's office

Prove your identity with an ID or other acceptable identification document

Pay the notary fees

Sign the document in front of the notary
Before the notary adds their seal and signature, they will have to check for signs of coercion or potential fraud and determine you are mentally stable.
Finding a Greencastle Notary on Your Own
You can find a notary in Greencastle on your own by checking some of the following websites:
These are not your only options—visiting certain public places in Greencastle might pay off. You can look for a notary service in:
Credit unions

Courthouses

Insurance agencies

Law offices

Police departments

Real estate agencies
How Much Does a Greencastle Notary Charge for Notarial Services?
Greencastle notaries—like other notaries in Pennsylvania—may charge clerical or administrative fees for services they provide, such as:
Travel

Postage

Telephone calls

Copying documents
Notarial acts have their separate fees, set by the Department of State. Take a look at the maximum fees for notarial acts:
| | |
| --- | --- |
| Notarial Act | Maximum Fee |
| Taking acknowledgment | $5 |
| Witnessing or attesting a signature—per signature | $5 |
| Administering oath and affirmation—per individual taking oath or affirmation | $5 |
| Taking verification on oath and affirmation—regardless of the number of signatures | $5 |
| Certifying or attesting a copy or disposition—per certified copy | $5 |
| Noting a protest of a negotiable instrument—per page | $3 |
| Taking acknowledgments for each additional name | $2 |
Alternative Greencastle Notary Services
Traditional in-person notarization of documents in paper form is not always the most convenient option for many reasons:
Finding a notary in your area and scheduling an appointment may take a lot of time

You are required to visit the notary's office in person

Notaries that practice

standard notarization

may not be allowed to notarize documents that are in electronic form
If you need more convenient solutions, you should look into some other notary services, such as:
Mobile notary

—Mobile notaries perform notarial acts by coming to your home or other appointed locations. This practical service comes with a price, though—aside from notary fees, mobile notaries charge additional fees for travel costs

Electronic notary

—Electronic notarization or eNotarization involves the notarization of documents that are in electronic form. The process includes:

Using an electronic signature

Mailing the electronic document to the notary

Waiting for the notary to put an electronic stamp and signature
Other parts of eNotarization are similar to the traditional notarization, including the fact that the signer has to come to the notary's office
Remote notary

—

Remote online notarization (RON)

became a temporarily allowed notarization option after the outbreak of COVID-19. In October 2020, the State of Pennsylvania made remote online notarization official and permanent. How does RON work? The audio-video online platforms enable you to be present in person and the notary to confirm your identity without being in the same place
Save Your Time and Money—Get a Document Notarized Using DoNotPay
While online notarization is already more convenient than the standard method, having someone find a notary for you makes the whole process significantly easier.
DoNotPay does all that—we can find a notary and help you make an appointment within minutes! Here's how to make that happen:
Open the

Notarize Any Document

tool

Upload the document you have to get notarized

Provide your email address
Once you receive the email from DoNotPay, follow the link to set up and confirm a virtual appointment with a notary.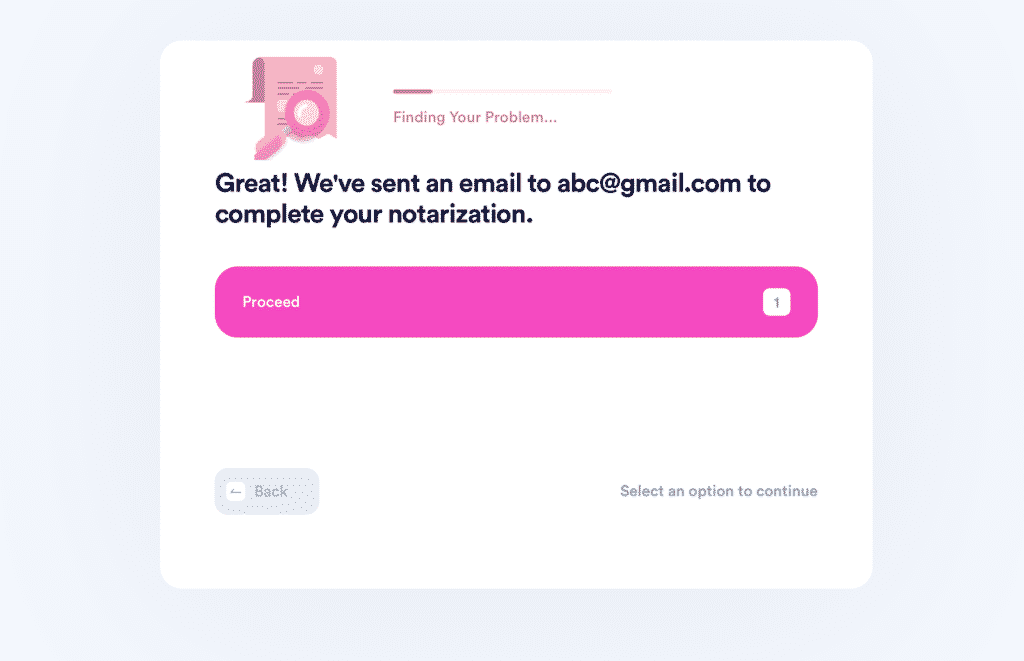 The benefits of having a DoNotPay account keep on multiplying—we integrated our features so that you can create and send your legal documents before having them notarized. We can help you avoid hiring attorneys and losing time and money. Wondering how? Easily!
Use our Standardized Legal Documents product to draw up numerous contracts and other legal documents hassle-free, which you can later send to other parties with our Online Fax service.
DoNotPay Is an Ultimate Money-Saving Assistant
Our app can help you manage bills that are too high to pay, but there are plenty of other money-saving possibilities out there we can help you with.
Want to challenge a parking ticket? DoNotPay can dispute parking citations in any city! Is someone getting revenue from your creative work? Cut the thieves off with DoNotPay!
We can also help you get your college application fees waived, file any insurance or warranty claims, locate unclaimed funds in your name, or earn some extra cash from paid clinical trials in your area.
No More Risky Free Trials With DoNotPay
Do you love free trials but tend to forget to cancel your subscription before the trial ends? If this is the case, check out DoNotPay's virtual credit card for a risk-free experience.
With our virtual credit card, you can sign up for any service without worrying about unwanted charges. DoNotPay will even provide you with a random email address, which will help keep your inbox clean from spammy emails from the company.
Our app can also get in touch with the company's customer service, request a refund from them, or even escalate your issue to small claims court if the company is challenging to communicate with.