Find the Best Fax Services in NYC
Some people believe that fax machines are becoming obsolete. While that might be true, faxing is still a widely used document-transferring option. Many government sectors and private corporations consider faxing the safest and most reliable method of sending confidential documents.
If you live in the Big Apple, this article will serve as a guide to finding the best fax services NYC has to offer.
Why Do People Still Fax?
There is a multitude of reasons why people still fax. You can find a brief overview in the table below:
Reasons Why People Use Fax
Explanation

The network effect

Because of its massive user base in the corporate world, business and government sectors still think of faxing as the best way of transferring documents.

Integration with the internet

Faxing improved over the years, and now it's possible to fax over the internet. With online faxing services, you can

get a fax number

to send and receive faxes through email or your

smartphone

Isolation from the internet

Companies and governments use fax for sharing top-secret contracts and documents. Their main goal is to keep the encrypted fax transmission secure and intact, and online faxing enables that

Sense of security

Faxes keep data private with end-to-end encryption and don't contain spam and viruses

Signature sending

Signing legal documents is easy when you have a fax machine or service—once you receive a document, you can download it, print it, sign it, and fax it back
Top-Notch
Fax Services in NYC
Many public places in New York let customers send faxes. Some of those places include:
How To Send Faxes on Your Own
You don't have to roam around New York City in search of fax services. There are some alternatives for sending faxes from home, like:
DoNotPay
How To Send Faxes With Fax Apps
There is a variety of fax apps available for both Android- and Apple-powered devices. All of them work on the same principle. Subscriptions vary from one app to another, and some offer free trials, but you'll ultimately have to pay a somewhat large amount of money for the service.
How To Send Faxes With Windows Fax and Scan
Microsoft went a step further and designed a faxing program that comes with every Windows version—from Vista to Windows 10.
Here's what you need to do to send documents with Fax and Scan:
Open

Fax and Scan

Click on

New Fax

Adjust the settings to send a fax

Create your fax

Hit

Send
The main downside of Windows Fax and Scan is that it needs a phone line and a dial-up modem to work.
Choose the Best Faxing Service—DoNotPay
Fax apps are a convenient method of sending faxes, but they are on the pricier side compared to what they offer. Paying a fee every time you need to send documents is also not the best and cost-effective option.
can show you how to fax in New York City without a fax machine and phone line!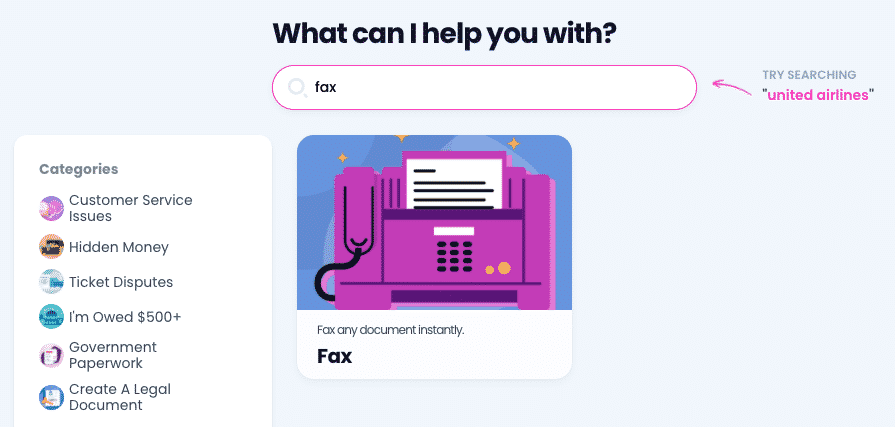 With our Online Fax feature, you get to:
Send up to 100 pages per month

Upload or snap photos to fax them quickly

Fax using a laptop or phone
Another perk of our service is that we merged it with our Standardized Legal Documents feature, which means that you can create a personalized legal document, e-sign it, and fax it to other parties all from one place!
Send Faxes From NYC With DoNotPay's Assistance
All of our services are easy to use. With DoNotPay's Online Fax feature, sending documents is a piece of cake!
Follow the next steps to start sending faxes:
Access DoNotPay from any

Locate the

Online Fax

feature

Upload a document or photo you want to send

Enter the recipient's phone number
We will send the document in your stead and inform you when the process is completed.
Aside from sending faxes, you can take advantage of our learning center and find out more about the pros and cons of sending faxes with:
Your Online Safety Is Our Priority
The benefits of the internet are numerous, but so are the opportunities for scams of all kinds. DoNotPay can help you fight scammers left and right with easy-to-use features, highly customizable to match your needs.
Our app can provide invaluable resources for fighting:
If you're an avid online shopper, we have your back. In case something goes wrong, we will help you contact customer service without holding, request a refund, or even sue the company in small claims court.
Diversity Is Our Middle Name
DoNotPay doesn't stop at online safety. Do you need to set up an appointment at the local DMV, but keep procrastinating because you know how awful the lines are? Are you a prospective college student trying to save on application fees? Have you lost track of all unnecessary subscriptions and memberships that keep draining your bank account?
If the answer is yes, DoNotPay is the right platform for you. Whether you're preparing for government-issued tests or looking for ways to lower your bills, our app will be of assistance.