Need a
Fake California Phone Number
for SMS Verification? Try DoNotPay!
California is home to around 40 million people who are in dire need of more privacy, which makes it the most populous state in the U.S. Attracted by the great weather and employment opportunities in the entertainment or new technologies industry, many flock to the West Coast searching for a better life. 
The Golden State residents are avid internet users. In 2017, around 90% of households in California had a working internet connection, with 74% subscribing to high-speed options. When you live in the epicenter of new apps, online services, and other technological innovations, it is a matter of time when you might need a burner phone or fake phone number app to protect your privacy. 
Why Would I Need a
Fake Phone Number
in
California
?
Los Angeles is notorious for its bad traffic. Yes, you can always count on Uber, but there's a trick. If you're not willing to share your phone number with yet another app that might disclose your sensitive info to predatory advertising agencies, you won't be able to use this service. 
A fake phone number is a solution to this problem. You will be able to sign up for any service that requires text message verification without revealing your private details. Uber is not the only service whose identity verification system you can bypass with this easy fix. 
You can benefit from a fake phone number if you want to: 
Sign up for online dating apps or other websites where you want to conceal your identity

Try various free trials that you don't plan to use after the expiration

Prevent scammers,

robocalls

, and spam text messages 

Avoid dangerous data leaks that happen all the time 

Limit one-time contacts—when you're selling something on

Craigslist

, for example 
Around 80% of Americans are concerned about sharing too much of their private information online. This statistic doesn't come as a surprise since we live in the age of data leak scandals—like the famous Cambridge Analytica case that proves that you cannot trust big companies like Facebook.
Why Do Companies Ask for My Phone Number?
Most companies that request your phone number during the signup justify this requirement by claiming that it's for your enhanced protection. 
Many apps and websites offer a two-step verification system that protects your information if you lose or forget your password or if someone else tries to log in to your account. If a website notices any suspicious activities on your account, they can send you a text message with a secret verification code. 
While this method might sound good in theory, we have learned by now that sharing your private phone number with companies is not an excellent idea, no matter how reliable it seems. 
Alternative Ways To Avoid Phone Verification
Fake or temporary phone numbers are a great method for dealing with unwanted text message verification, but they may not be the best solution for every single situation. You can find more options to protect your phone number in the table below:
Method
Pros
Cons

Work Phone

Your employer pays the bill 

Work phones are usually recent models with updated features, while cheap burner phones rely on the basics

Keeping the phone isn't possible if you quit or lose your job

Giving your work phone number to potential dates on

Tinder

may lead to embarrassing situations

Getting a burner phone is still more expensive than an app

Getting it requires you to charge the phone, pay for prepaid minutes, etc.

No need for a second device

Cost-free within the U.S.

Sharing your cell phone number with Google is mandatory to sign up for Google Voice

Accepting Google Voice numbers isn't obligatory for all websites, so it may not work
DoNotPay Is the Best App for
Fake California Cell Phone Numbers

In the sea of available burner phone apps, you don't want to end up paying for the features you don't need. Some apps won't be able to provide valid phone numbers, which makes them fail their primary purpose. 
DoNotPay's Burner Phone feature does what it promises. If you need a temporary phone number to sign up for a service and never use the number again, you can rely on our platform. 
With DoNotPay, you won't have to pay for every single burner phone number. No matter how many fake numbers you may need, DoNotPay will provide!
Getting a temporary phone number on our platform is far from complicated. You need to follow these instructions:
Create your DoNotPay account in your default

web browser

Log in and select the

Burner Phone

feature

Provide the name of the service or company and click on

Create a temporary number
You can use the fake phone number to continue the registration process on the company's website without any risks. The burner number will be valid for ten minutes. When you receive an SMS with a verification code, you will be able to open it in DoNotPay. Paste the code into the registration form, and off you go!     
Give Our Virtual Credit Cards a Go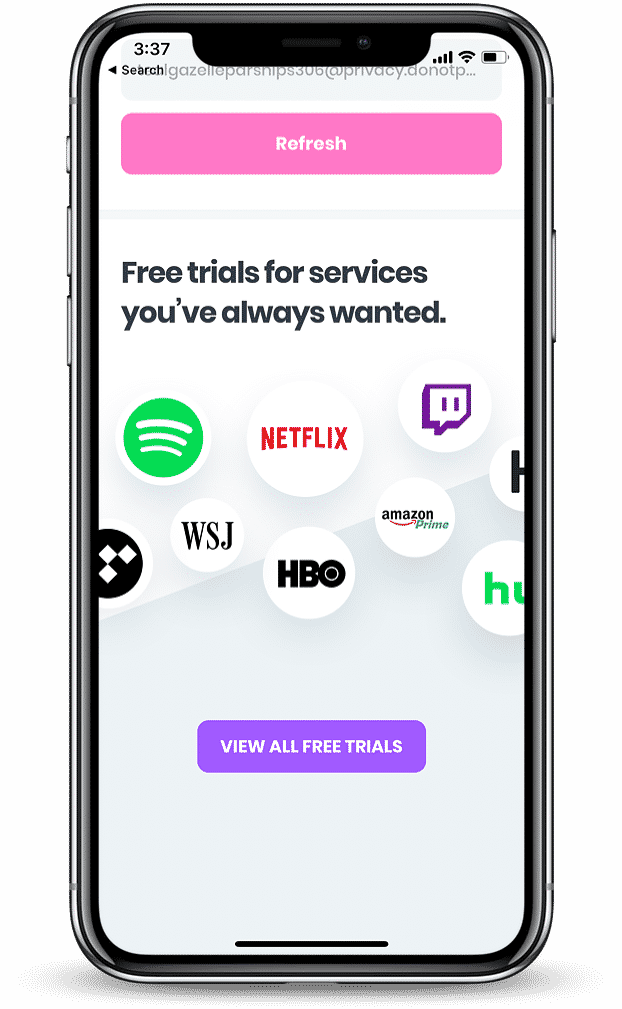 Because many people encounter text message verification when signing up for free trials to test new services, DoNotPay integrated two useful features into the same procedure. When you finish creating a fake phone number, our AI bots will ask you whether you need a free virtual credit card.  
Free Trial Cards have all the same details as regular credit cards, but they are not linked to bank accounts and have no funds. Virtual cards are a perfect safeguard if a company requires you to put down your payment information before accessing the free trial features—like Netflix or Amazon Prime Video. 
With DoNotPay, you can kill two birds with one stone—protect your phone number and your wallet in case you forget to cancel the free trial on time!
DoNotPay Is the Gift That Keeps On Giving

Our platform carries the name of the world's first robot lawyer and the recognition of the American Bar Association (ABA). Protecting your online privacy through fake phone numbers is just one of our useful facets. DoNotPay can come in handy to California residents in multiple ways. 
With our help, you will be able to get your driver's license faster, find clinical trials in Los Angeles, deal with parking tickets, or understand the intricacies of California's stalking and harassment laws.
All those solutions to your daily administrative problems and many others will be available once you sign up for DoNotPay in your default web browser. The comprehensive list of DoNotPay's features includes:
Disputing traffic tickets

Fighting speeding tickets