Sign Up for the
Amazon Prime Video Free Trial
—No Credit Card Needed
Amazon Prime Video is Amazon's online streaming service that allows its users to watch a variety of TV shows, films, and other video content for a fixed monthly fee.
Subscribers can enjoy many of Amazon's original programming, including the widely acclaimed shows such as The Last Tycoon, The Marvelous Mrs. Maisel, and Jack Ryan.
The service had its debut in the U.S. in September 2006 under the name of Amazon Unbox but was renamed Amazon Video on Demand two years later. In 2016, Prime Video became available worldwide.
Prime Video is part of a wider subscription model called Amazon Prime—a service that provides a wide array of features and benefits to its subscribers, including free delivery, ebooks, streaming music, video, and others. As of January 2020, there are more than 150 million Amazon Prime users.
What to Keep in Mind About the
Prime Video Free Trial
You can watch Amazon Prime Video for free for 30 days. During the trial period, you will get unlimited access to exclusive Amazon Originals content as well as other movies and TV shows.
You can also sign up for Amazon Prime with Prime Video included in the price.
How to Get a
Free Trial for Amazon Prime Video
If you'd like an Amazon Prime Video dry run before committing to a subscription, do the following:
Go to the

Amazon Prime Video

website

Click on the

Start your free trial

button

Sign in with your Amazon account credentials or create an account

Add a payment method if it's not already linked to your Amazon account

Hit the

Sign up and pay

button
You could also consider getting an Amazon Prime free trial that gives access not just to Prime Video, but also to free Amazon deliveries, Amazon Music, Whole Foods groceries' discounts, etc.
Does the
Free Prime Video Trial
Automatically Become a Paid Subscription?

Yes, your Amazon Prime Video free trial will automatically turn into a paid subscription. 
Select the icon with your account name in the top right corner of the Amazon Prime homepage, then click on Account & Settings. Here you will see the date of your upcoming membership charge—in this case, when your free trial will renew into paid service.
It's now easier than ever to avoid any unwanted charges related to your account because you can cancel Amazon Prime Video or Amazon Prime with the help of DoNotPay.
If you cancel within three business days of signing up for a paid membership, Amazon will refund your full membership cost. The company reserves the right to charge you a portion of the refund amount to reflect the value of the service you used during this time.
If you cancel at any other moment, you will be eligible to receive your money back only if you haven't accessed the available digital content through your account since the cancelation request.
Would you like to demand a refund for your Amazon Prime membership? Again, our app has your back. We can also teach you some useful Amazon customer service hacks when dealing with the company's customer representatives.
How Much Does Amazon Prime Video Cost After the Free Trial Ends?
Amazon Prime Video is available for $5.99/month. If you decide to go with Amazon Prime, this will set you back for $12.99/month.
What Amazon Prime Video Fees Look Like on Your Bank Statement
Your Amazon Prime Video charge on your bank account will look the same or similar to some of the statements below:
| | | |
| --- | --- | --- |
| AMAZON UK PRIME AMZN.C | AMAZON PRIME, AMZN.CO.UK/PM LUXEMBOURG | AMAZON UK PRIME AM, AMZN.CO.UK/PM |
| AMAZON UK PRIME AM AMZN.CO.UK/PM | AMAZON UK PRIME, AMZN.C, AMZN.CO.UK/PM LU | AMAZON PRIME AMZN.CO.UK/PM |
| AMAZON PRIME, AMZN.CO.UK/PM LU | AMAZON UK PRIME AMZN.C AMZN.CO.UK/PM LU | AMAZON PRIME MEMBE, AMZN.CO.UK/PM |
| AMAZON PRIME, MEMBER FE, AMZN.CO.UK/PM LU | AMAZON PRIME, AMZN.CO.UK/PM | AMAZON PRIME MEMBE |
| AMAZON PRIME AMZN.CO.UK/PM LU | AMAZON PRIME MEMBE AMZN.CO.UK/PM | AMAZON UK PRIME AMZN.C, 5 RUE PLAETIS, AMZN.CO.UK/PM, 00000 LUXLUX |
| AMAZON UK PRIME AMZN.CO.U, AMZN.CO.UK/PM LUXEMBOURG | AMAZONPRIME MEMBER, AMZN.COM/PRME | AMAZON PRIME, AMZN.CO.UK/PM LU, REFUND |
| AMAZON PRIME AMZN.CO.UK/PM LUX | AMAZON UK PRIME AMZN.CO.U AMZN.CO.UK/PM LU | AMAZON PRIME MEMBER FEE A AMZN.CO.UK/PM LU |
| AMAZON UK PRIME AMZN.C LUXEMBOURG LUX | AMAZON UK PRIME AM | AMAZON PRIME AMZN.CO.UK/PMLUX |
| AMZN PRIME MEMBER FEE AMZN.CO.UK/PM LUX | AMAZON PRIME, 5 RUE PLAETIS, AMZN.CO.UK/PM, L2338 LUXLUX | AMAZON UK PRIME AMZN.CO. |
| AMAZON PRIME MEMBER FEE A, AMZN.CO.UK/PM LUXEMBOURG | AMAZON UK PRIME AMZN.CO.U | AMAZON UK PRIME AMZN.C AMZN.CO.UK/PM |
DoNotPay Wards Off Any Unwanted Charges After Your Free Trial Ends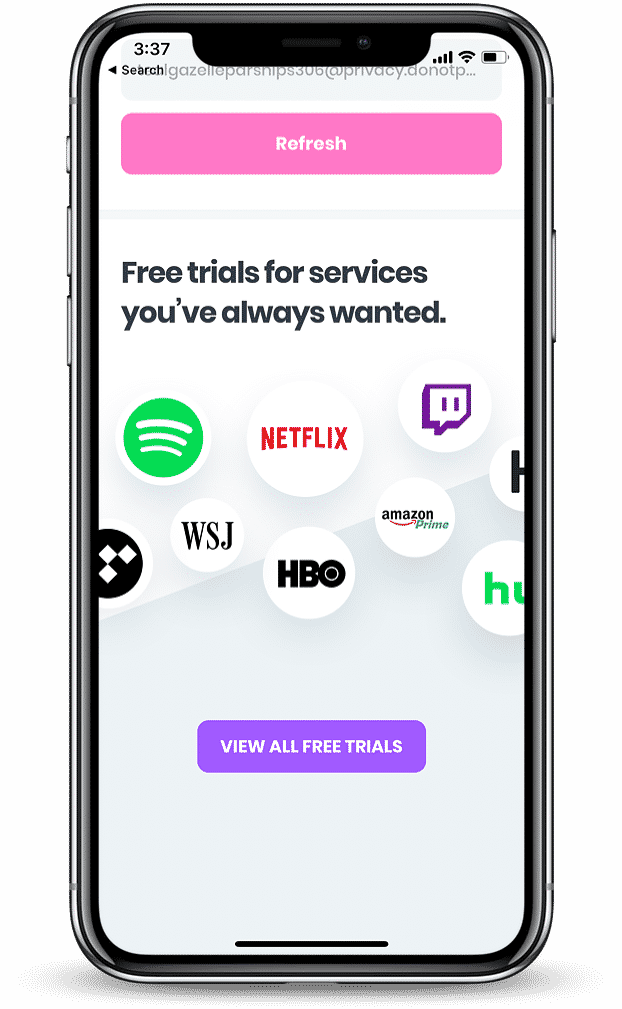 If you're finding it tricky to keep track of your recurring memberships and subscriptions, particularly when they're in the free trial phase, DoNotPay's virtual credit card might be the perfect solution.
Our Free Trial Card generates random credit card details, including the 16-digit credit card number that you can use when you're signing up for a free trial online. 
The card's unique selling point is that it has no connection to your bank account, which means that you're not risking a single dime of your hard-earned cash. By not providing your personal payment details, your data will also be protected from online credit card fraud attempts.
Our app shields your privacy, too. The Free Trial Card also provides a separate email address that you can use when you're signing up, so you don't have to divulge your own one.
By using the DoNotPay-provided email address, you will:
Prevent the company from sending you promo and

spam emails

 

Stop it from collecting your data and using it as a sales lead

Disable it from keeping track of your location 
Of course, we'll make sure that we forward all relevant emails from the company—for example, those concerning your account—automatically.
To create your new virtual credit card, make a DoNotPay account in your web browser.
Your Legal Issue With Amazon Doesn't Have to Be an Uphill Battle

Amazon may well be one of the largest and most powerful corporations in the world, but if they wronged you as a consumer, it's your prerogative to take them to small claims court. And now, with the aid of DoNotPay, you can do it in the simplest way imaginable.
Our app has been tagged as the world's first robot lawyer because it empowers you to sue anyone in small claims court—no pricey legal fees necessary. You no longer have to navigate the complicated paperwork or convoluted legal processes by yourself. DoNotPay will guide you along every step of the lawsuit.
All you need to do is start the conversation with our app's chatbot and explain your issue with Amazon Prime Video. The app will collect the information it needs to know about your case, then:
Generate the required legal documentation and fill it out in your stead

Prepare a script with the best legal argumentation you ought to use

Outline the entire court process, so you know what to expect
Did you know that The American Bar Association honored our app with the 2020 Louis M. Brown Award for Legal Access?
Thanks to DoNotPay, you no longer have to be reluctant about protecting your consumer rights. Getting a settlement from Amazon—or any other company, for that matter—is now within reach of every American. 
When You Are In Over Your Head, DoNotPay Comes to the Rescue

The workaday world of running errands, dealing with never-ending bureaucratic issues, and keeping track of your bills and other expenses can get overwhelming quickly. The good news is that from now on, you no longer have to manage everything by yourself. Our app is the virtual assistant you never knew you needed.
DoNotPay is based on leading-edge technology that automates problem-solving for a broad-ranging list of tasks. Let us know if you need a hand with getting an Amazon Music refund, canceling Hulu, or reporting Netflix spam email. 
By downloading our app, you can get assistance with:
Appealing speeding tickets

Disputing traffic tickets
Open DoNotPay in your web browser and start crossing things off your to-do list.