Dispute California parking tickets in just two minutes

DoNotPay is a superstar when it comes it comes to fighting parking citations. The app has a 73% success rate in voiding tickets! Even if you are guilty, disputing the ticket with DoNotPay can lead to a fine reduction. The world's first AI lawyer is a pioneer in this field and as the BBC reported, it managed to beat hundreds of thousands of parking tickets since it was first launched. 
DoNotPay helps you dispute your parking tickets fast and easy
DoNotPay makes contesting parking infringements as simple as ABC. With only a couple of clicks on your phone or computer, you will have a great shot at voiding your fine. Here's what you need to do:
Open the app. The easiest way to access the app in your favorite

web browser

.

Describe your case. Our chatbot will ask you several questions about your parking offense and all you gotta do is answer them. Attaching a photo of your citation will also be helpful.

Once the app has all the necessary info, it will generate an appeal for you. You can also use this text as a script for your court hearing. 
Watch how to dispute parking tickets in any city in California:
I'm fairly busy. How long will contesting citations take?

The main advantage of using DoNotPay when contesting your citations is that it will save you a lot of time and effort. Once you download the app, it won't take more than two minutes to get your appeal letter made. Writing the letter on your own, in contrast, may take several hours. You might also forget to mention some information that is crucial to getting your ticket voided.
Appealing in the traditional manner requires much more time than using DoNotPay. If you decide to make the payment in person, you will have to suffer through traffic jams, wait in never-ending queues, and probably miss a day at work. The whole thing will probably take your whole day. 
Don't waste your precious time like this. Use the DoNotPay web app and you'll get rid of that nasty fine before you know it!
Do I have to hire an attorney to dispute parking fines in
California
?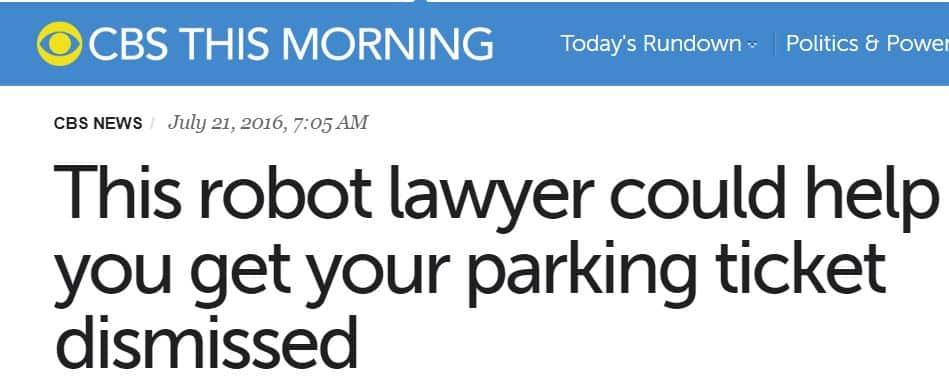 Hiring a professional may seem like a good way to ensure your ticket gets voided, but it is completely unnecessary. The process of contesting is quite simple, especially if you use our app. Still, if you're considering hiring someone, make sure to take these steps:
Don't hire the first person you find. There are many frauds out there and you can easily get scammed. Do research on your potential lawyers, check their credentials, and compare the pricing.
Look for lawyers with experience in the parking violations field. Someone who's great at immigration or estate planning processes won't be of much help.
Calculate the costs. Hiring a legal representative might cost you more than paying the fine.
How much would hiring a lawyer cost me?

How much you will pay for a lawyer greatly depends on their experience and reputation. A good attorney in California may cost you anywhere between $150 and $1000. In most cases, these fees are way pricier than the cost of paying for the citation. 
There is no need to waste your time and money on a lawyer. The only lawyer you may need is the world's first robot lawyer, DoNotPay.
Is disputing fines worth all this time and money?

We can all agree that contesting your ticket traditionally is a time-consuming endeavor. If you decide to hire a lawyer, the whole process will also cost you quite a lot of money. Most people would rather pay the fine and get it over with. 
Now that DoNotPay has a fine contesting feature, disputing your parking tickets is absolutely worth it! The app is free and it won't take almost any of your time. It also increases your chances of winning the case as it is able to identify circumstances that will get your fine voided. Some of these circumstances include:
Unclear parking restrictions in the street

Street signs with faded paint

Illegible tickets

Factual errors on the ticket

Missing information on the ticket

You didn't own the car when the parking violation happened

You weren't the one driving the car when the parking violation happened.
Even if there are no grounds for voiding the fine, simply disputing it will probably get you a reduction. Whatever the end result may be, you will surely benefit from it. 
Can I use DoNotPay to fight tickets issued by private parking companies?

DoNotPay's services aren't limited to government-issue tickets. You can also use the app to fight infringements from any private company, including:
ABM Parking Services

Lanier Parking

Imperial Parking, aka Impark

Towne Park

Ace Parking

SP+, aka Standard Parking 

Douglas Parking
How can I pay parking fines in California?
If you just want to pay and get over with it, you can choose between several methods of payment:
Online payment using your credit card

: this is the most convenient method but it comes with a $2 fee.

Pay with your credit card over the phone

: all you need to do is call (866)561-9742

Visit the closest office and pay in person

.

Pay by mail
When paying for the citation by mail, make sure to send it to the right P.O. box. Here are the addresses for the major cities:
Los Angeles

City of Los Angeles

P.O. Box 30420

Los Angeles, CA. 90030-0968

Oakland

City of Oakland

Parking Citation Payment Processing Center

P.O. Box 54916

Los Angeles, CA 90054

San Diego

Port of San Diego

C/O Citation Processing Center

P.O. Box 10479

Newport Beach, CA 92658-0479

Sacramento

City of Sacramento Revenue Services

P.O. Box 2551

Sacramento, CA 95812-2551.
Unfortunately, you cannot ask for more time to pay for the fine in the state of California. If you are unable to pay, you can request to do community service instead and hope that the judge will grant your wish. 
Dispute or pay: what is better?
| | | | | |
| --- | --- | --- | --- | --- |
| | Ease | How long it takes | Expenses | Advantages |
| Dispute | Traditionally complicated. With DoNotPay, it's easy peasy. | If you use the app, it won't take more than a couple of minutes | You won't have to pay a dime! | Your fine will either get voided or reduced. In any case, you will save some time and money |
| Pay | Can be quite complicated unless you pay online (which comes with additional expenses) | It will probably last a whole day. By mail, it can take weeks | Costs more than it's worth it | None |
Can I avoid paying parking tickets in California if I live in another state?
If you make a parking violation, you will have to pay for the tickets. Even if you're not a resident of California, your fines will catch up with you eventually and you will receive the bills at your home address. You can read about similar experiences on this Reddit thread. 
Can I get away with the fine if I was driving a rental car?
Car rental agencies, such as SIXT, demand that their clients pay for their citations. We suggest paying while the car is still in your care. If you return the car to the agency, they will pay the fine for you but you will get a bill for all their expenses, including administrative taxes. Don't ignore these bills as the company may sue you.
Can I get a parking citation while I'm sitting in the car?
Of course. If the car is parked in an inappropriate spot, it doesn't matter if there's anyone sitting inside. You may be tempted to drive away before the officer serves you a ticket but we strongly advise you against that. If they have your license plate number, you will receive the ticket anyway. 
I don't want to pay the fine. What's the worst thing that could happen?
Pretending that your ticket never happened won't bring you any good. The allotted time for paying the infriction is 21 days. If you fail to make the payment within this time period, you will have to pay a late fine which will probably double your costs. As time goes by, the interest and fines will keep increasing and, in the end, you may have to pay hundreds of dollars. You may even get a visit from a collection agency.
Not paying for your tickets can lead to even more serious consequences. If you pile up five or more unpaid tickets, you can expect these to happen:
Your car will be booted

Your car will be towed away and you will have to pay the storage fees

You won't be able to renew your driver's license

You won't be able to register your car
Fortunately, you cannot get arrested or serve time. In these situations, we highly recommend disputing your ticket. Even if you don't feel like going through the process, if you use DoNotPay, it will only take a couple of minutes and you will have your peace of mind again.
Can my car insurance go up?
Car insurance companies, such as State Farm, do not increase insurance rates because of parking infringements. Still, that doesn't mean your parking violations won't have any consequences. If your license gets revoked because of unpaid fines, most companies will decline to insure your car. 
Will the parking ticket be seen on my record?
This is not an issue you need to worry about. Your tickets won't end up on your record. 
How much does the state of California earn from parking fines?
Prices of parking citations vary from city to city. On average, a fine costs around $65. Some violations, like leaving your car in a disabled parking zone, come with more serious costs. With such high prices, it's no wonder that parking violations are a huge source of income for the state of California. The government receives hundreds of millions every year. In 2013, San Diego earned $81.5 million, and Los Angeles $250 million from parking tickets!
DoNotPay helps users fight and beat tickets in any city
DoNotPay helps users fight parking tickets in every city in the US and UK. Here are a few cities we've helped users dispute the most tickets in:
DoNotPay Is Your Pocket-Sized Treasurer
To pay or to DoNotPay—that is the question! Our nifty app finds money where you didn't even know you had it.
With our app, you can avoid college application fees, cancel unused subscriptions, explore free trials, and get out of paying for unfair parking tickets.
We can also help you with high bills by composing due date extension letters or reducing property taxes, just as we can locate missing money that you can reclaim in any state you've ever lived.
To top it all, we'll even assist you in requesting compensation from any airline—whether it is for poor in-flight Wi-Fi, a delayed, or a canceled flight.
Can't Find Your Head in All the Paperwork? DoNotPay Sorts It Out for You!
You no longer have to cash out on pricy legal advisors to do simple paperwork for you—our app is a capable robot lawyer that can draft legal documents for you in a matter of minutes!
We can write small claims court scripts, dispute letters for chargebacks and refunds, personalized letters to connect with inmates, DMCA takedown notices for copyright protection, and cease and desist letters for stalking and harassment protection.
If you need to get a DMV appointment before taking a driving exam or any other government test, we're there to schedule it in your stead!
A Quick Recap:
| | |
| --- | --- |
| What is DoNotPay? | DoNotPay is a robot lawyer that has beaten over 160.000 parking tickets |
| How can I use DoNotPay to dispute my fine quickly? | Download DoNotPay, answer several questions, and the app will generate an appeal letter for you |
| How much time will I lose? | With DoNotPay, you won't spend more than two minutes disputing your ticket |
| Do I have to get an attorney to dispute my fine? | No, you can do it all by yourself |
| How much do lawyers specializing in this field cost? | The prices range from $150 to $1000 |
| Is disputing fines worth all the hassle? | With DoNotPay, there's no hassle to worry about! Disputing always brings great results. |
| Can DoNotPay help me with tickets issued by private companies? | Yes, it can dispute any parking citation, regardless of who issued it |
| How can I pay for the ticket? | You can pay online, by phone, by mail, or in-person |
| Do I have to pay for citations issued in California if I live in another state? | Yes, your ticket will find you wherever you are |
| Do I have to pay the fine if I was driving a rental car? | Yes, the sooner the better |
| Can I get an infringement while sitting inside the car? | Yes, it still counts as a parking violation |
| What's the worst thing that could happen if I don't pay for it? | Your fine will increase, you will have problems registering your car and renewing your license, and collection agency workers might show up on your doorstep |
| Can parking tickets increase my insurance rates? | No, they can't. |
| Will the tickets get to my record? | No, it won't |
| How much does the state of California earn from parking fines? | Hundreds of thousands of millions of dollars every year |
| What other things can DoNotPay do for me? | DoNotPay can help you protect your money from subscription companies, get compensation for delayed and canceled flights, get you an appointment with the DMV, reach customer service for you, and sue anyone on your behalf |