Everything You Need To Know About a Catholic High School Scholarship
To motivate youth to nourish their faith and follow the path of Christianity, certain funders offer scholarships to high school students who enroll in Catholic schools.
With over 1,200 Catholic secondary schools in the U.S., it is no surprise that various financial foundations and organizations offer gift aid to deserving students. The challenging bit is discovering which type of financial aid you can apply for.
Do you want to find a suitable Catholic high school scholarship? Read our guide and educate yourself about:
The best scholarships for Catholic high school students
Eligibility requirements
We offer the ultimate tool for discovering all scholarships you can apply for within minutes and with minimal effort!
Who Can Receive Catholic School Scholarships?
Scholarships for Catholics can be awarded to students at different education stages—including elementary school, high school, undergraduate, and graduate studies. The requirements are usually that a student belongs to a certain parish or attends a Catholic school. The eligibility criteria depend on the funder, so you'll need to look into what each program asks for.
If you are interested in or attending Catholic high school, you can get a scholarship as a:
The aid can be gifted based on:
Academic achievements
Financial need—for low-income families
The region where the student resides
Parish to which the student belongs
Students who come from unique situations or belong to an inclusive group can apply for additional scholarships. Apart from the programs for Catholic students, you can apply for the ones that award:
Students with learning disabilities
Where To Look for Catholic School Scholarships
How to find scholarships that match your specific situation? That is the issue that most students struggle with. There is no unified place of information, so you can begin your search by taking the following actions:
Look for information on the school's website—Most schools put up details about their scholarship programs on their websites
Contact school administrators—If you can't find information on the website, ask the program administrators or send a request for aid by stating your case
Ask your local church—Talk to the leader at your church about their funding opportunities
Turn to Catholic organizations—Try to find local and regional organizations that provide financial support to Catholic students
Search the internet—You can find lots of information on the web by entering relevant keywords—for example, "Arizona Catholic high school scholarships"
If the process sounds exhausting, we offer a simpler way of handling the research—by . You won't need to rummage through different sources to find scholarship information since we can centralize the search. Answer a few questions, and we'll curate a complete list of available scholarships for you within minutes!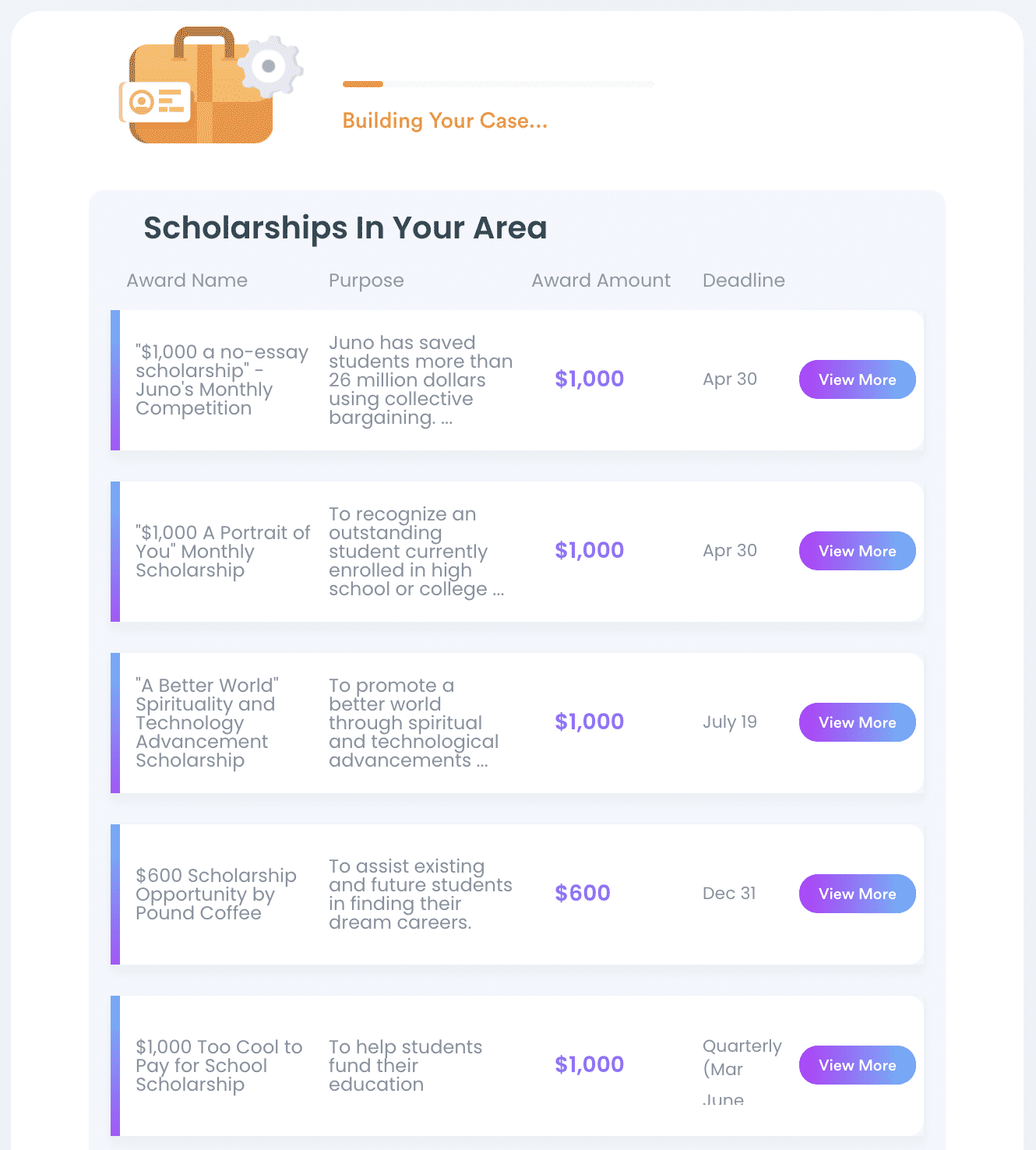 Scholarships for Catholic High Schools You Should Check Out
Review your possibilities by checking out some of the best scholarships classified into these groups:
Nation-wide scholarships
Regional scholarships
Nation-Wide Catholic High School Scholarships
You should take advantage of national resources. Take a look at the prominent nation-wide scholarships and grants for Catholic high school students:
A Better Chance Scholarship
Jack Kent Cooke Foundation Scholarship
The Catholic High School Scholarship Grants Program
The Children's Scholarship Fund
Regional Scholarships for Catholic High School Tuition
Every state offers financial aid opportunities for Catholic students. You can look into scholarships available in your region—and the table below can help you with that mission:
Area
Scholarship Program
Los Angeles
Catholic Education Foundation of Los Angeles Scholarships
Baltimore

Partners in Excellence
Knott Scholarship Funds

Massachusetts
The Catholic Schools Foundation Scholarships
Chicago
Big Shoulders Fund
Washington
Archdiocese of Washington
Boston
Catholic Schools Foundation
Missouri
Bright Futures Fund
New York

Futures in Education
Tomorrow's Hope Foundation

Philadelphia
Business Leadership Organized for Catholic Schools (BLOCS)
Pittsburgh
Extra Mile Education Foundation
Seattle
Fulcrum Foundation
Applying for Scholarships for Catholic School—Essential Tips
Every scholarship funder mandates specific application steps you need to take to become a potential candidate. When applying for Catholic school scholarships, you need to keep the following in mind:
Check the eligibility requirements, and apply only if you meet the criteria
Don't forget to indicate your parish membership, if asked
Fill out the online application form with care
Focus on your contribution to the Catholic community in your

scholarships essay

, if you need to write one
Ask your parents to prepare the financial paperwork in advance
You might also need to supply a personal statement, letters of recommendation, proof of your community work, and other documents.
Save Time and Win a Scholarship for Catholic High School With DoNotPay
Instead of wasting days on extensive research, use DoNotPay to discover relevant financial aid programs. It's the fastest and easiest way of finding and applying for scholarships. You can also make good use of our app when the time for a college scholarship search comes.
Here's how our app works:
Click on the Apply for Scholarships tool
Fill out a short questionnaire regarding your:

Education level
Grade, e.g., a

high school senior

State
Interests
Special qualifications—such as being a catholic, child of a

veteran

, or international student
Type of scholarships you'd like to get
We'll curate a list of scholarships, grants, and prizes designed specifically to match your student profile. You'll get to revise Catholic high school scholarships and numerous others you qualify for!
We'll include the amounts, deadlines, and requirements for each program, so you can make an informed decision on which to apply for. Let us know if you're interested in any no-essay scholarship, and we'll apply for them in your stead.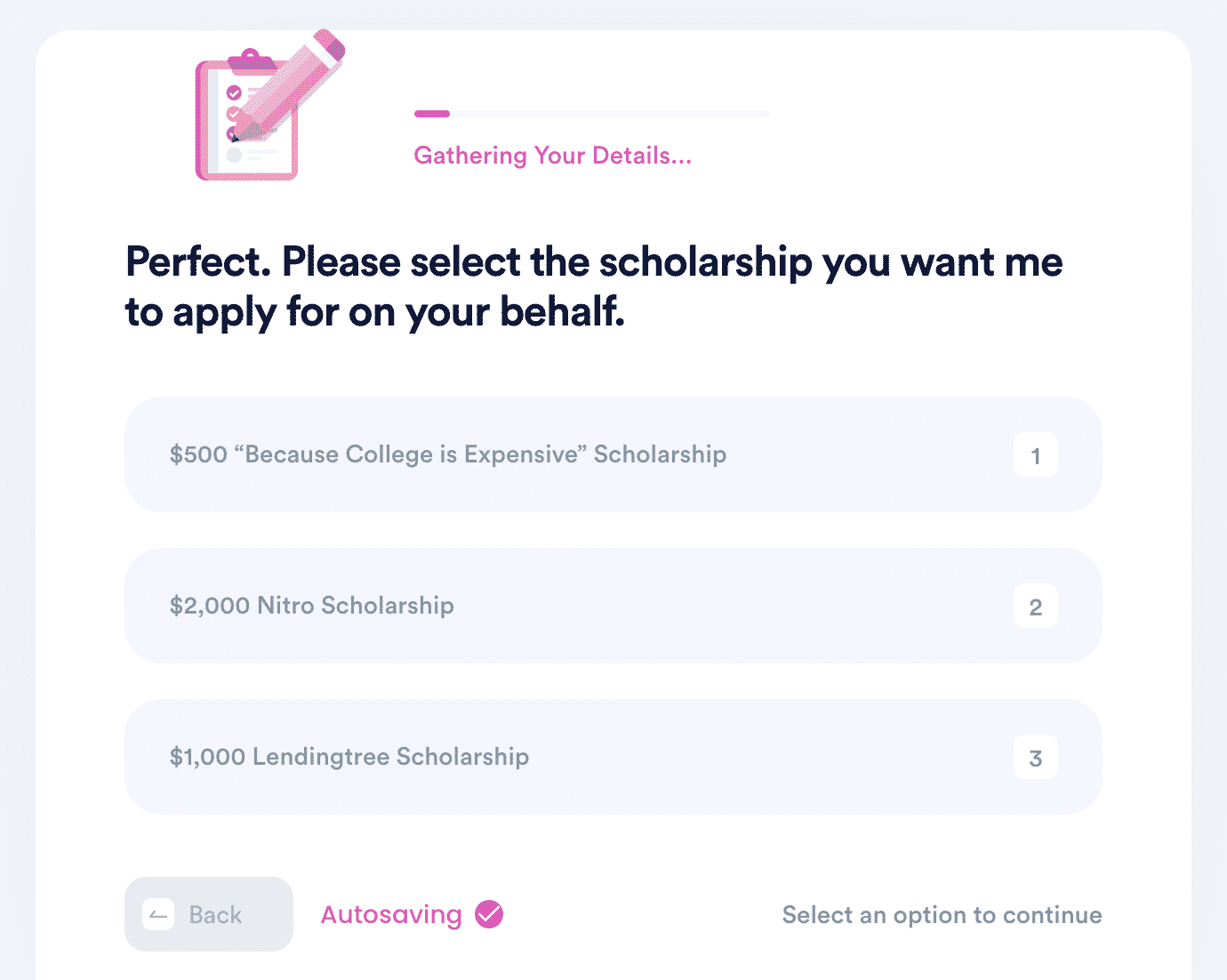 Anything Else You Need?
DoNotPay offers an exhaustive range of products and services for one low monthly fee. You can take full advantage of our offer once you resolve the issue at hand.
Our app can both save you money and help you earn it—sign up to appeal parking tickets, get assistance with utility bills, get compensation from airlines, request a refund, have your college application fees waived, find your missing money, reduce property taxes, enter any sweepstake, or send a financial aid appeal letter to any school.
We can also turn your gift card balance into cash, help you apply for scholarships, and assist you in getting compensation as a victim of crime.
There's Even More to Our Offer
The world's first robot lawyer can turn any nightmarish admin or legal procedure into a piece of cake. Look into our knowledge base to find out how to send a letter of warning to your bad neighbor, submit an anonymous complaint to your HR, fight workplace discrimination, get access to public records, deal with a stalker or harasser, put an end to robocalls, and file a complaint with any company.