Internet Fax Machine—Myths and Legends Debunked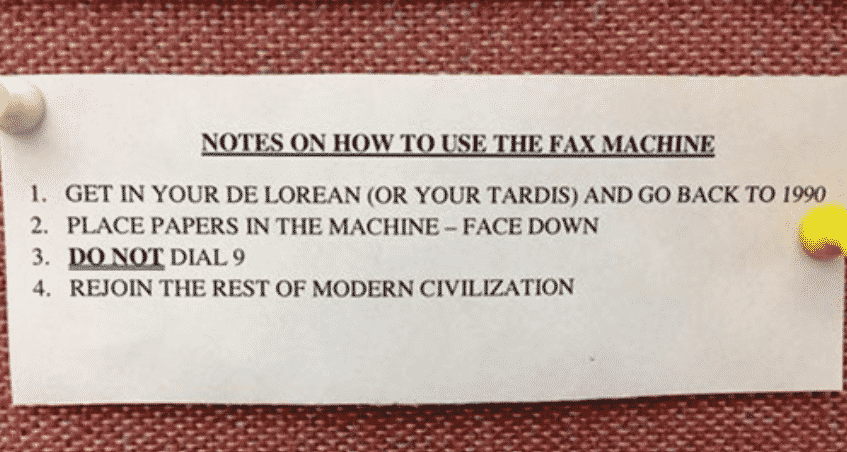 If you occasionally have to send legal or medical documents, you understand why faxing is still important today. Many companies prefer faxing over sending emails, especially when sensitive information is involved.
Internet faxing has made fax machines obsolete. There is no comparison when it comes to the functionality, practicality, and affordability of online faxing. If you want to know more about how online faxing works, DoNotPay has all the answers!
What Is Internet Faxing?

In the age of the internet, there is no need to use fax machines for faxing documents. There are myriads of online fax services and apps that make faxing much easier.
While fax machines have to be connected to a phone line to transfer documents, online faxing services send files over the internet straight to your email inbox. You can fax from your computer, laptop, Mac, iPhone, or Android, as long as you have a strong internet connection. You can fax online in several ways, depending on the online fax service provider. Some of the methods are:
Via email

By downloading a fax app to your mobile phone

By accessing your account on an online fax provider's website
The process of faxing documents online is similar for every method and includes a few basic steps:
Faxing via Computer
Sending a Fax by Using a Phone or a Tablet

Choose an online fax service

Access the program and find a

Create New Fax

option

Type in a message in the subject field

Enter the

fax number

in the required field

Attach the document (scan or take a picture of the document and upload it)

Hit

Send

Access the fax app

Enter a short message and the fax number in the required field

Attach the document you wish to fax

Click on

Send
Can I Send an Email to a Fax Number?
Yes, you can! Many online fax providers can integrate with email services and enable you to fax via email. You only need to type the recipient's fax number in the field where the email address usually goes. The number should have a fax online provider's extension at the end to be valid. The rest of the process is identical to sending an ordinary email.
Can I Send an Email to a Fax Machine?
Most people choose to receive a fax in their email inbox, but you can also send it directly to someone's fax machine.
Online fax services allow you to send an email to a fax machine by converting an email into a fax document. All you have to do is attach a document to your email and provide the recipient's fax number, followed by the online fax provider's extension. The document you fax will be sent straight to the recipient's fax machine.
Can I Send a Secure Fax Online for Free?
One of the main advantages of online faxing is security. When you have to send sensitive documents, you need to make sure that they are safe from hackers.
The great advantage of online faxing is that your files are encrypted during transmission. After they reach their destination, the receiver can access them from their personal account, which adds to the security level.
Many online fax providers offer free trial periods, but with limited faxing services. If you want to make sure your faxed documents have a high resolution and are safely transferred, you should opt for a paid plan.
Fax Online With DoNotPay
DoNotPay offers a comprehensive faxing service at a low price. By accessing our app from your , you will be able to:
Fax easily from any digital device

Send up to 100 pages per month

Snap a photo of your files or upload them the usual way

Avoid scanning by snapping photos of bills and checks

Combine our

fax feature

with our

legal documents feature

to create, sign, and send contracts from the same place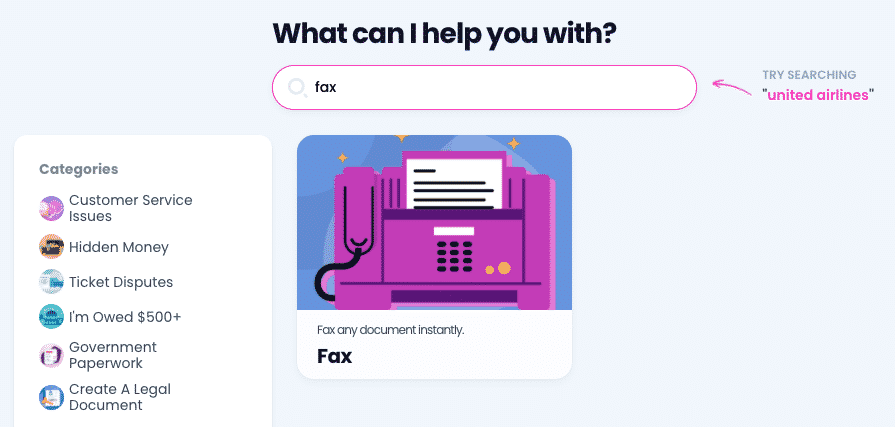 How Can You Send Faxes Online by Using DoNotPay?
Faxing with our app is simple and straightforward. You only need to open our app in any and:
Locate our

Fax

feature

Select the option of sending a fax

Take a photo or upload the file you want to fax

Enter the recipient's fax number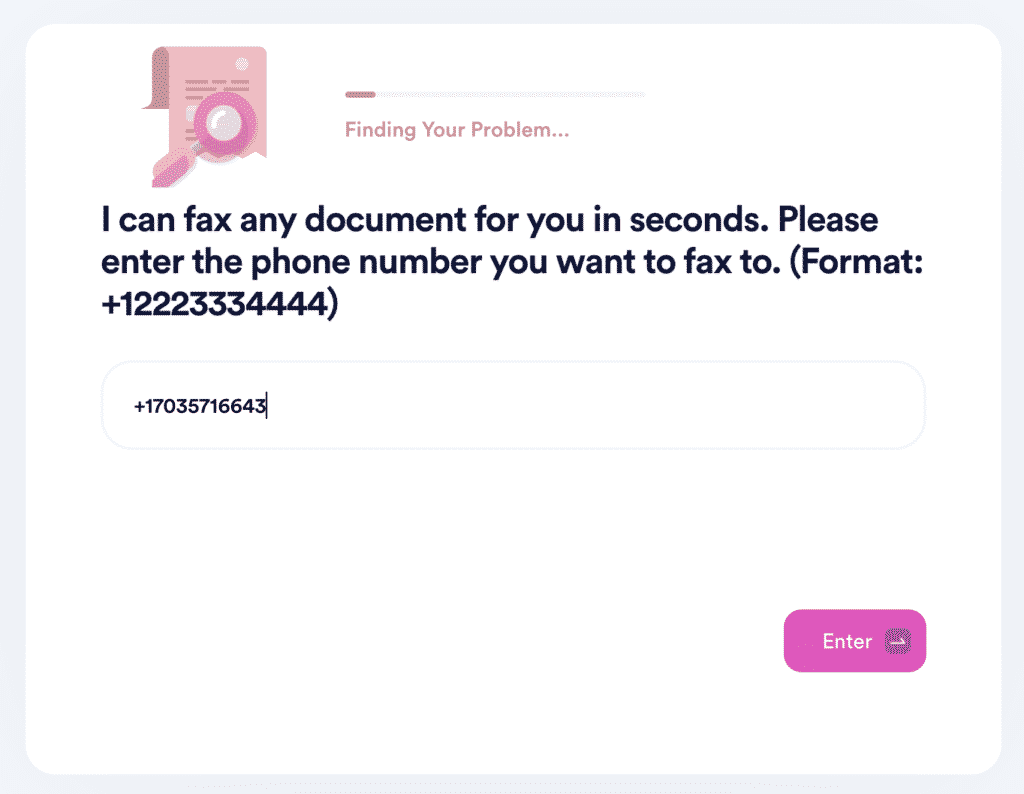 Our app will notify you that the fax has reached its destination in no time!
DoNotPay Can Teach You More About Online Faxing
By accessing our knowledge base, you will learn everything there is to know about online faxing, including:
Forget About Bureaucracy With DoNotPay
There's no end to what our app can help you do. From drafting legal documents and asking for bill extensions and reducing property taxes to connecting with an inmate in federal prison and contesting parking citations, DoNotPay can handle it all and cut through the red tape.
Need to pass a government test? Use our practice tests database to nail it. Looking to file an insurance claim? You've come to the right place. College applications drained your accounts? Request college fee waivers with our assistance.
The DoNotPay app is so versatile that it can easily locate any unclaimed funds under your name or any clinical trials that you're eligible to participate in. We can also schedule DMV appointments and take care of your small claims court documents.
Check Out What Else DoNotPay Has in Store
DoNotPay never stops upping the game. You can explore some of our latest features and see how you can access public records, receive free online fax, submit a warranty claim, or get compensation if you were a victim of a crime.
Alternatively, check out some of our most popular products that aim to reclaim your funds—from getting airline flight compensation and submitting refund and chargeback claims to canceling your unused subscriptions and getting class action cash from email, text, and robocall scammers.