Use Your Computer To Send Documents via Windows 10 Fax
If you spend lots of time on your computer and almost as much sending faxes, you should know there's an option to ditch the fax machine and switch to a Windows 10 fax app. 
You don't need to purchase a fax machine or print out a file to fax it. A computer can help you send faxes online.
In case you're interested in other fax-related matters, DoNotPay can show you how to get a fax number or send faxes from your laptop or phone. You can also go through a review of fax services to choose the one that meets your needs. 
How To Set Up Your Windows 10 Computer To Fax Documentation
Even if you spend plenty of time in front of your computer, you may still be unaware of everything it can do for you. One such option is the Windows Fax and Scan app that can transform your computer into a fax machine in the blink of an eye.
Before you start faxing people and organizations from your computer, you need to make sure that your PC has:
A fax server

An analog phone line

A fax modem
If you'd like to fax files from home, you'll need to plug a Windows 10 fax modem into a standard analog phone line. 
You won't need a modem if you work in a company that has a fax server. In this case, you should set up a connection between your computer and the fax server to enable the Windows 10 fax service. 
If you still haven't used Windows 10, maybe you can start a free trial and see if it suits you. 
How To Fax With Windows 10
Make sure to configure the Windows Fax and Scan app properly by setting up a fax modem for your home or a fax server for your office computer. If you're not sure how to do that, check out this Windows guide. 
You can use Windows 10 to both send and receive faxes automatically or manually. 
How To Send a Fax With Windows 10
Here's how you can fax documents using your Windows 10 computer:
Click on the

Start

button

Select

All Programs

Choose

Windows Fax and Scan

Go for

New Fax

Configure all the settings in the fax wizard

Snap a photo or upload a document

Click on

Send 
Receive a Fax From Windows 10
You can receive faxes on your computer automatically or manually. Here's how you can receive faxes automatically using the Windows Fax and Scan app:
Click on

Start

Enter

Fax

in the search box

Select

Windows Fax and Scan

Choose

Fax

in the bottom left corner

Go to

Tools

in the upper left corner

Select

Fax Settings

Choose

General

 

Tick the

Allow the Device To Receive Fax Calls

button

Select

Automatically Answer After ___ Rings

Set up the number of rings 

Hit

OK
If you prefer receiving faxes manually, you can do it while the phone's ringing. Here's how:
Click on

Start

Enter

Fax

in the search box

Select

Windows Fax and Scan

Choose

Fax

in the bottom left corner

Click on the

Receive a Fax Now

option in the upper right bar
Use DoNotPay To Fax From Your Phone or Laptop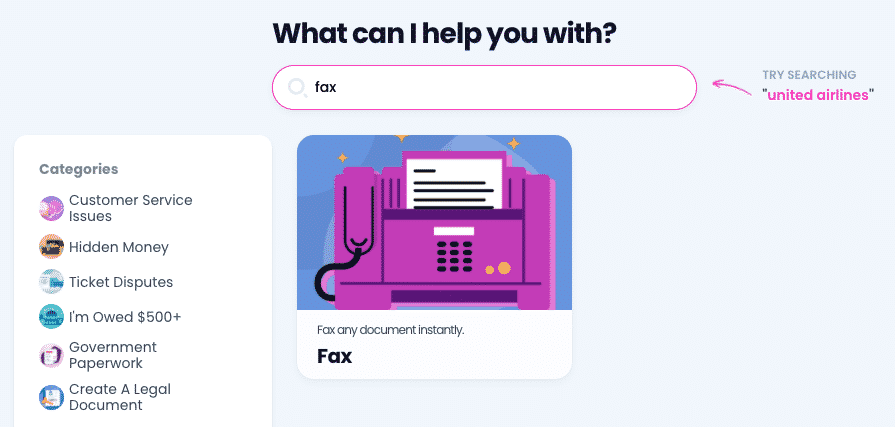 Although faxing with Windows 10 isn't complicated, you must have a landline phone, desktop computer, fax modem, or fax server. 
With DoNotPay's Fax Product, you don't need any special software or hardware configuration. We offer you an option to send your documents via fax securely. To do that, you only need an internet connection. Fax files wherever you are from your phone or laptop.  
Unlike pricey online fax services that charge between $10 to $50 per month, DoNotPay provides a convenient and affordable solution. 
With our app, you'll be able to send up to 100 pages per month wherever you are. 
In case you need to send contracts, payroll details, or anything else that you have in a paper form, you can take a photo with your phone and fax it. Uploading a file on your phone or laptop is another option you can use to conveniently access and send that image or file. 
Would you like to review all your faxes from your email? You can do that with DoNotPay. If you think we might've forgotten about the documents you need to create and fax, you're wrong. Our app allows you to:
Generate a file

E-sign it   

Fax it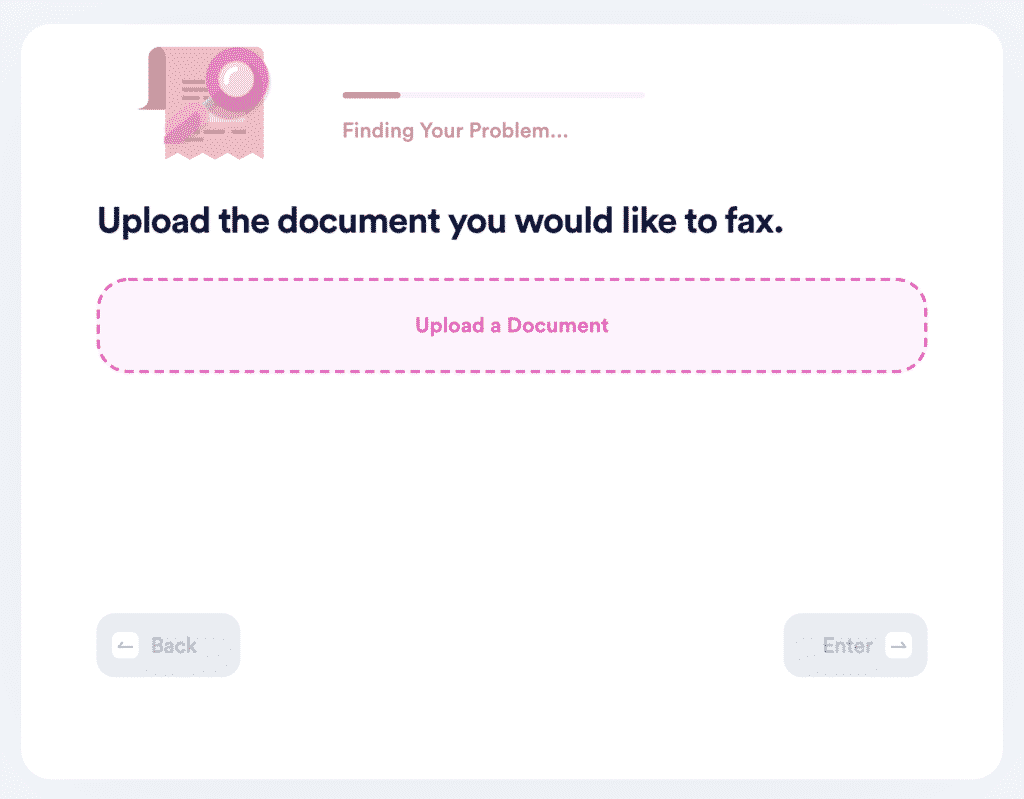 Your client, doctor, or any other fax recipient will get your contract, scanned receipt, or any relevant file fast. 
DoNotPay Fax Saves You Time and Money 
Send your paperwork with DoNotPay seamlessly at reasonable prices. Here's how you can send faxes:
Access DoNotPay from any

web browser

Choose the

DoNotPay Fax Product

Upload the document you want to send
That's all! Our app will now send your fax for you. You can put your mind at ease and let DoNotPay handle your correspondence efficiently. 
We can assist with other fax-related issues, including introducing a way to send free faxes and use fax software.
Here's a useful comparison between Windows 10 and DoNotPay fax services:
| | | |
| --- | --- | --- |
| Requirements To Fulfill  | Windows Fax and Scan | DoNotPay Fax Product |
| An internet connection | ✔ | ✔ |
| A landline phone | ✔ | ∕ |
| A fax modem/server | ✔ | ∕ |
| Specific configuration | ✔ | ∕ |
As you can see, the only requirement you need to meet to send and receive faxes via DoNotPay is an internet connection. 
Clear Out Your Daily Tasks Fast With DoNotPay
Are your parking tickets piling up, but the process of appealing them is way too complicated? Do you struggle to pay your bills but are not sure how to get an extension? Is it time to extend your driver's license, but reaching DMV is a nightmare?
DoNotPay will turn all of these dreadful tasks into easy-to-do items you can check off your agenda quickly!
Get rid of spam emails, texts, and calls quickly using our AI-powered app!
Learn how to secure compensation from airlines, get your college fees waived, claim your lost funds, or reduce your property tax—all with a few clicks!
Subscription Issues? DoNotPay Can Help!
If you are looking to test out a service, think twice before disclosing your payment info. Companies will often ask you for your credit card details even when signing up for a free trial—they charge you once the trial expires. 
Use our virtual credit card, and don't worry about unwanted charges! 
Our credit card gets automatically approved for any free trial, but it rejects any real charges since there is no money on it.
DoNotPay will locate and cancel all your unwanted subscriptions without you having to deal with customer service reps.
We can also help you request refunds from companies or take them to small claims court if they refuse to cooperate.